These are the days of our lives. To learn everything from time & date to weather & temperature — Montessori calendars offer the most enriching children's learning.
Planning and scheduling is an important life skill — and an essential part of any homeschooling curriculum.
For a wooden calendar Montessori families will absolutely love, we've picked out the top 6 for you to explore.
Save the date! It's time to find the best wooden Montessori calendar for your child's learning objectives.
Affiliate Link Disclosure – If you see a product you like and click through to buy it, I would genuinely appreciate it. I may earn a small commission — at no extra cost to you. It would mean a lot, thanks!
Save the date!
You'll miss out on all sorts of helpful kids calendar tips and tricks we talk about later in this article…
But if you've already got a tight schedule — here's your fast track to finding the perfect wooden Montessori calendar for at-home learning and play.
Montessori Calendar Benefits: Top 5 Reasons To Love
(A) Learn date & time vocabulary
While setting the calendar, your child will learn the days of the week, the months of the year, and how to talk about them with other people.
(B) Build planning & scheduling skills early
Imagine the day your little one turns to you and says "Mom, Dad, I've got a plan!". By teaching your child the art of planning early in life, you'll empower them to lead a more purposeful & intentional life.
(C) Practical math for life
Toddlers & kids learn basic addition & subtraction while dealing with times & dates. Through a real-life context, your kid will connect the dots between abstract math concepts & real-life application.
(D) Weather, nature & astronomy
Professional-level Montessori & Waldorf calendars are part of a comprehensive homeschool & preschool learning curriculum — one that connects the time of the year with the changing seasons and moon phases.
(E) Deadlines & consequences
"Accountability" has become a term we use at work more than at home — by setting time limits & due dates for your child's chores you'll teach the value of follow-through & keeping your word. Who knows? Maybe your little one will gain a little compassion for all the responsibilities mommy & daddy manage every single day.
Best Montessori Calendars: Educational & Eco-Friendly
(01) Melissa & Doug My First Daily Magnetic Calendar
The world's most popular wooden children's calendar.
With a wooden frame and magnetic board — the calendar set comes with a total of 80 magnet pieces for your child to tinker with.
Recommended for toddlers 3 years old to children 7 years old — in addition to the normal calendar stuff, you get dedicated learning space for holidays, emotions, weather, and lots more.
Like a Montessori schedule chart — you've got all the info you could ever need about the day at hand!
One more thing you love is this one folds up like a suitcase for storage — so you won't lose pieces as easily.
Melissa & Doug brand's wooden days of the week calendar has over 8,000 five-star reviews (at the time of writing).
(02) "From Jennifer" Wooden Homeschooling Calendar
The most well thought out multi-functional month calendar for homeschooling families.
From Jennifer brand's wooden kids' calendar is the perfect balance between serious homeschoolers and parents who just want an educational calendar around for their kids.
Although it's shaped like a classic office calendar — technically it is a perpetual calendar because you can use the same wooden calendar board and pieces for the entire year — year after year.
Since you can set it up month to month with less hassle than a daily calendar — this is a good option for parents and teachers to use as a Montessori school calendar.
One more interesting tidbit — if you ask, it's available in different languages like Mandarin and French.
Day Numbers hand on smooth child-friendly pegs — so you can reorganize the numbers to match the month. Easy as that — and use the same sustainable reusable children's calendar month after month just like that.
(03) Pidoko Kids Montessori "All About Today" Board
Best wooden kids' day calendar and learning clock to plan out your kid's day.
Let's see, what time is it now? 11:30 a.m. is about lunchtime. It's cold and rainy this Saturday November 7th 2021 — so let's just eat inside.
Learning how to collect inputs about the day's schedule is an important skill for functional adults. That's why we love this toy.
Age-appropriate for toddlers and preschoolers, Pidoko Kids Montessori "All About Today" Board is the perfect way to get kids active in planning out their own day.
Learn to read an analog clock. Set the date in weeks, months, weather, and season.
Where other calendars focus on weeks and months — Pidoko Kids "Toddler Today Board" is the best way to plan an afternoon with your child.
(04) Mirus Toys Wooden Waldorf & Montessori Perpetual Calendar
Most aligned with Montessori & Waldorf curriculum for a homeschooling calendar both perpetual and sustainable.
Kids love a little consistency and rhythm in their lives!
So why not start the day by gettings situated about what's special about today?
Here's a top-rated Montessori calendar and weather chart to get into that rhythm on a daily basis. That's a positive habit to keep in mind all the wonderful things you can do with each day.
The idea behind Mirus Toys brand's wooden perpetual calendar is to display calendar learning activities visually and in an intuitive format.
Also available is a smaller days-of-the-week wheel as a simpler alternative to the full-on perpetual learning calendar.
It includes 6 educational sections and is available in two versions for where you live — Northern or Southern Hemisphere.
(05) "From Jennifer" Natural Wooden Weather Wheel
Montessori weather and temperature learning wheels made with eco-friendly materials — Mother Nature approved.
If you love the From Jennifer brand's eco-friendly wooden toddler calendar we looked at already — you'll be happy to know they offer a weather wheel too!
From Jennifer brand's wooden Montessori weather chart includes one 360-degree wheel to indicate the weather and one 280-degree knob to set the temperature.
If you don't plan to hang it from the way, From Jennifer offers a matching calendar stand so that your child can play with their calendar materials face-to-face with an upright board (sold separately).
If you're an educator yourself — this makes a perfect weather chart for a preschool classroom.
With its circular design, this one's a more affordable and easier-to-find alternative to Grimm's perpetual calendar — at just about 1/5th the price (at the time of writing).
(06) Woodinout Montessori Moon Phases Calendar
New moon to full moon — here's the best Montessori calendar for kids to learn about waxing and waning.
Getting outside to do some moon and star gazing is a great kids activity — and helps expand kids' wonderment about the universe.
Talk about a meaningful parent-child activity!
Woodinout brand's wooden moon phases calendar is the perfect addition to enhance your child's first astronomy lessons — and connect the moon with seasons and the rotation of the earth.
The educational moon board is made of all-natural solid wood and plywood with a beautiful child-safe finish to give the wood a dark earthy look.
So nice-looking — it's both a Montessori learning material and a wonderfully trendy piece to display in your home.
One more reason to buy is — Woodinout is a handmade wooden toymaker. If you ask for it, they can personalize your calendar by engraving your child's name on the back.
Wooden Kids Calendars: What To Look For
Calendars are an essential part of Montessori home play. Kids learn how to plan and put passing time into perspective — plus it's a hands-on toy your little one can touch and handle and explore by themselves.
Time, dates, months, and years are abstract concepts — and toddler calendars create a space for your child to connect these concepts with day-to-day life.
Here are some quick things to look for while shopping for a Montessori calendar.
Perpetual Kids Calendars: Sustainable & Reusable
I recommend you buy a perpetual calendar. Perpetual calendars are universal for days, months, and years so that you can use the same calendar board month after month, year after year. That kind of flexibility means you get more learning time for your money.
Day vs Month vs Year: Different Calendar Learning Objectives
Some Montessori calendars focus on the day alone, on the month, and some for the entire year. Choose a calendar with the appropriate time period depending on your learning objectives for your child. Day calendars are great for planning a single day. Month calendars are most popular and help kids plan week to week. Year-long calendars (often a long horizontal paper calendar) are best for putting the entire year into perspective — how seasons transition and when summer vacation begins.
Calendar Compatibility: Montessori Sets That Work Together
If you're new to Montessori at home, you might not know that many Montessori materials brands make entire lines of toys that are compatible with each other. For example, "From Jenniffer" brand's month calendar and weather board are the exact same height so your child can do Montessori work on them side-by-side. A perfect match!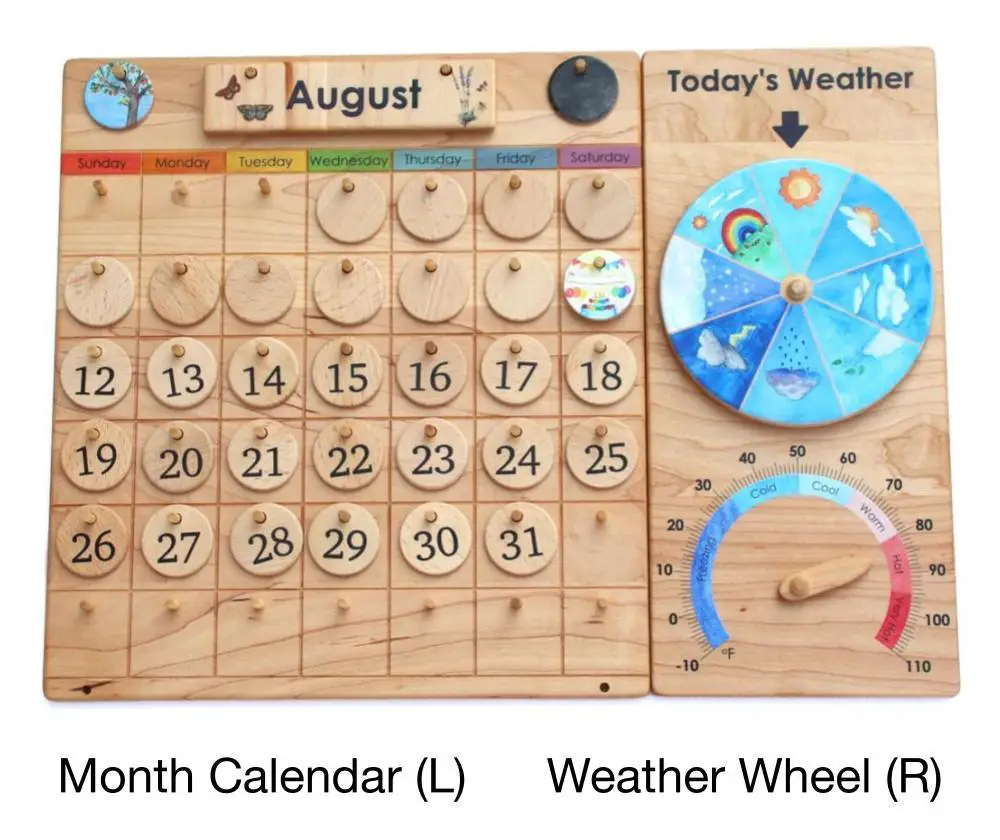 Cheers to keeping track of time!
Calendar play goes far beyond learning about date and time. Your child will improve their scheduling and time-management skills — plus learn how to communicate plans with other people.
Montessori calendars help prepare your kid for school studies too.
By bringing together concepts from all different mathematics, biology, and astronomy — it's a fun and experiential way to incorporate school subjects into your home activities.
You don't need to be a certified Montessori educator to foster a healthy educational environment for your child. You got this!