From planets & constellations to feminists & sailors — the trendy Uncle Goose brand draws design inspiration from all corners of the known world.
As far as ABC blocks go — today, we'll be diving into "the alphabet and the omega" — with a curated collection of Uncle Goose's best-selling blocks.
Did you know Uncle Goose blocks are made in Michigan, USA? In wooden toys we trust!
Thoughtfully designed and play-ready for ages 2 and up — we're talking the best ABC blocks in the universe!
Affiliate Link Disclosure – If you see a product you like and click through to buy it, I would genuinely appreciate it. I may earn a small commission — at no extra cost to you. It would mean a lot, thanks!
Top Reasons To Love Uncle Goose
There's good reason why Uncle Goose claimed the number one spot in our American-made building blocks review.
It's not every day a toy company gets 100% positive reviews for an entire year (at the time of writing). Uncle Goose has a reputation to keep up!
You've found a top-notch toy block company — and here's proof. Uncle Goose blocks are:
[A] Clear Learning Objectives
Each set has a unique theme to match your kid's personality — all the while helping them learn to spell, crunch math, sequence numbers, match colors.
[B] Fine Motor Skills
By building, stacking, and sorting the blocks into limitless combinations your little one will practice eye-hand coordination and spatial awareness.
[C] Baby & Toddler Friendly
Uncle Goose blocks measure 1.75 inches — a perfect cube that's perfectly sized for tiny hands. Recommended for ages 2 and up, but with proper supervision appropriate for active babies too.
[D] Handmade In USA
Uncle Goose's has deep Midwest roots — a family business based in Grand Rapids, Michigan who captured the love of the nation. Most big toy brands outsource their manufacturing to massive industrial grids overseas. Uncle Goose keeps jobs local with skilled American woodworkers.
[E] Wood Sourced From USA
The natural basswood used to make Uncle Goose's entire line of toy blocks is sustainably sourced from within the United States. That's an important detail most companies hide from you — because they source cheap wood from foreign tree plantations.
Your Uncle Goose Express
For the toddler alphabet blocks aged two and up — Here's your fast track to finding the right Uncle Goose blockset for your little explorer.
(In our guide to foreign language blocks — we cover all Uncle Goose's best foreign language blocks.)
Best Uncle Goose Blocks
(01) Alphabet
By far Uncle Goose's bestselling blocks — the classic ABC blocks are renowned for their fresh design and endearing charm.
Each face of each block contains a tiny learning opportunity for growing minds.
Toddlers as young as 24 months old learn organically through play. Letters and spelling are just the beginning — this thoughtfully designed blockset incorporates animals, numbers, math symbols, and more.
Little known fact — Uncle Goose offers a lowercase classic alphabet block set too.
To give your growing baby a boost towards important developmental milestones — Uncle Goose classic building blocks can't be beaten. With embossed details on opposite sides of the block — it's quality craftsmanship you can feel.
Full alphabet, colorful numbers, math symbols, animals, and the whole kit-and-kaboodle!
(02) Chemistry
I don't think it's controversial to say — Uncle Goose periodic table blocks are the world's most playful periodic table of elements.
It's got all the minute details a scrupulous chemist would approve of. As a 20-piece set, it includes all 118 elements — one element per block face.
You never know what kind of useful facts you might pick up from learning the periodic table — like how "He" stands for helium and that's laughing gas "He He He".
Or… When I heard that Oxygen and Magnesium were dating — I was like "O Mg"!
(03) Presidents
(Discontinued…)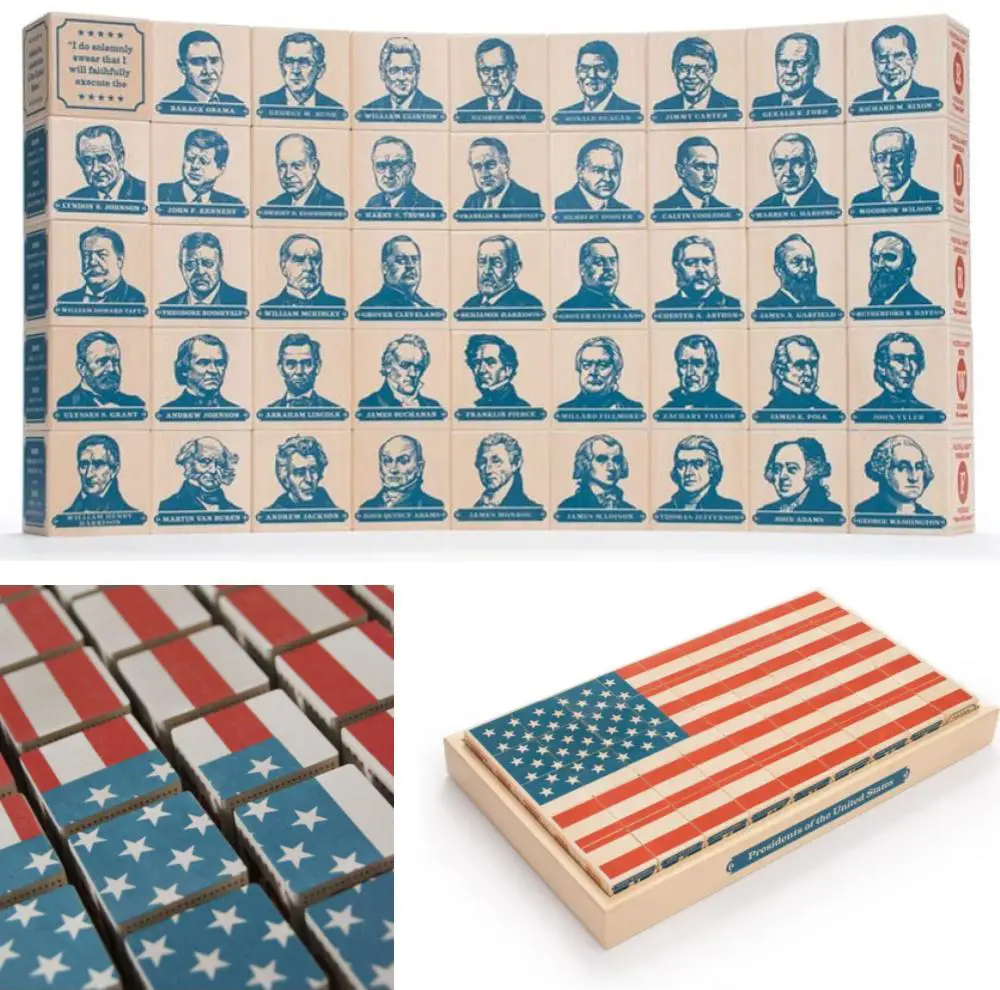 Unfortunately, Uncle Goose president blocks have been discontinued. But they're so cool — I just wanted to show you patriots out there what the buzz is about.
Two of three key reasons why Uncle Goose stopped making them are:
Their basswood case only holds 45 blocks and we've had 46 presidents.

The polarized political climate in the US sucked the fun out of making them.


— Uncle Goose Representative (January 28, 2021)
They're officially called "Presidential Blocks" because each of 46 blocks has a president on one face of the block.
With a wooden tray included — you can lay out the blocks into a USA Flag. Honestly, that's my favorite thing about them. If it were me — I'd call them "USA Flag Blocks" instead.
No matter which of the blocks' 6 patriotic sides is your personal favorite — I guarantee you this All-American block set will be your child's favorite American History lesson.
I've been watching the Olympics, and I've got to say — I'm really proud of Team USA's female role models — like Allyson Felix (track and field) and Sunisa Lee (gymnastics).
So I think it's about time someone made a blockset to celebrate bold women. Thanks, Uncle Goose — for the "Women Who Dared" blocks. It features 32 women from modern history who made a lasting positive impact on the world.
(04) Planets
Uncle Goose planet blocks are special in my heart — I remember they're the very set from when I discovered Uncle Goose for the very first time.
For outer space exploration in the form of blocks — to infinity and beyond — Uncle Goose offers moon phase blocks and star constellation blocks too.
For all those shiny objects in the sky — Uncle Goose's relentless search for the galaxy's most creative alphabet blocks starts and ends here in the space blocks abyss!
(05) Cubelings
Uncle Goose cubelings blocks take the cake when it comes to being cute! Just like other Uncle Goose toddler blocks — "Cubelings" are the same identical 1.75" inch basswood cube block.
Just this time — they're painted like adorable little block animals.
Pick a set with animals from your favorite climate — Forest, Jungle, Sea, or Safari.
Or choose your favorite type of critters — Pets, Farm Animals, or Insects — this time in block-form!
(06) Dinosaurs
From critters you see on this earth today to dinosaurs who roamed the earth during the Mesozoic Era 66 million years ago.
For kids who love everything dino-related — Uncle Goose dinosaur blocks make the gigantic prehistoric lizards come alive.
Each face of the blocks has a different dino tidbit to engage with — cartoon figure dinos, drawn-to-scale dino skulls, dino names spelled out help your toddler get a jumpstart spelling dinosaur names
Micropachycephalosaurus? Yeah, it's a real dinosaur (says Scholastic), and the word is 23 letters long.
And with their fossil blocks there's even more where that came from — compressed under the earth for millions of years to come.
Check out our full roundup of the best wooden dinosaur toys to discover more eco-friendly Jurassic playthings besides Uncle Goose.
(07) Nature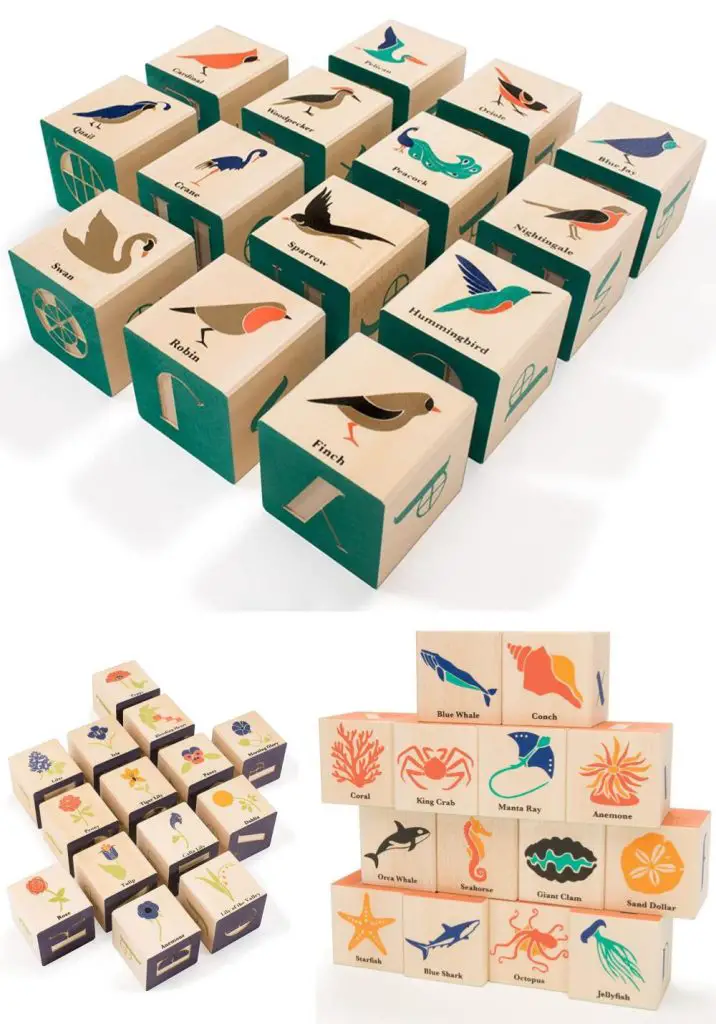 Inspired by Mother Nature's finest — uncle goose nature blocks are a lifesaver for life-science-oriented families.
No matter which kingdom, phylum, or class of living organism your little scientist who likes to study,
Our friends down at Uncle Goose present all walks of life to pique your little one's interest. Printed on the blocks — enjoy expertly orchestrated feature photos, fashionable Art Nouveau style letters, and debossed textures you can feel.
Biology buffs rejoice! They're available in whichever of nature's wonders you fancy most — Birds for ornithologists, Flower for botanists, or Ocean for marine biologists.
(08) Buildings
I'm just delighted to finish off with a peculiar pick like this one.
Uncle Goose Gosling Square set is comprised of little wooden building blocks in earthy pastel colors — that look just like Holland during the tulip festival.
(Holland Michigan is just 30 minutes drive from Grand Rapids Michigan — where Uncle Goose blocks are made. Coincidence?)
Beyond the 1.75" inch basswood blocks loyal Uncle Goose fans have come to know and love — Gosling Square set includes right-angle triangle block pieces — two of which stack side by side to form a roof for your Uncle Goose block tower.
Cheers — To Discovering Your Favorite Uncle Goose ABC Blockset
From the periodic table & prehistoric dinosaurs to animals & plants — Uncle Goose is a fan favorite for their contemporary approach to the classic building blocks toy.
We've seen "the alphabet and the omega" — and now it's over to you.
With a sweet nursery rhyme block set — yes, made by Uncle Goose — I wish you goodnight.
Did you know Uncle Goose blocks are made in Michigan, USA? In wooden toys we trust!
Thoughtfully designed and play-ready for ages 2 and up — we're talking the best ABC blocks in the universe!