Shoutout to all those toddlers who've got lunchtime on lockdown — with the yummy and nutritious for their favoritest baby doll in the world.
The very same life skills you taught your child — cooking, communication, and caring for others.
The world's lucky your little one's got so much love!
You'll guide your kiddo through baby lunch prep steps and bib-wearing best practice.
You'll expand your child's universe of doll play possibilities.
Affiliate Link Disclosure – If you see a product you like and click through to buy it, I would genuinely appreciate it. I may earn a small commission — at no extra cost to you. It would mean a lot, thanks!
Top 5 Wooden Highchairs For Babydolls (14″ to 24″ Inch Dolls)
Open wide! Here comes a big bite of baby doll high chairs — to find the perfect babydoll booster chair.
For your child's one and only loving snuggles baby doll — quality counts!
(01) Badger Basket White Doll High Chair (18″ Dolls)
Pure baby white plus pretty in pink. Fit for standard 18″ inch American Girl dolls.
American Girl brand sets the standard doll size at 18″ inches.
Badger Basket follows with a pure white wooden high chair precisely purposed for 18″ inch standard dolls. (A baby doll chair made for 18″ dolls is ideal for American Girl dolls.)
Its pink-trimmed plate and spoon plus adorable baby bib and seat pad might be the "Pretty in Pink" style that turns you on.
The so-called personalization set is underwhelming — however — basically a set of stickers you could pick up at Dollar General.
(02) KidKraft "Lil' Doll" Scalloped Back High Chair (18″ Dolls)
Economical and fit for a princess — nursery color appeal from a well known brand.
White and pink — it is apparent — is both parents' and toddlers' top pick for their precious princess babydoll.
KidKraft's cost-effective option is an even more well-known brand than Badger Basket, but less focused on doll play accessories. The full line of KidKraft wooden play furniture is impressive.
Also fit for 18″ inch dolls — the three-tone pink abacus counting beads really move 1-2-3!
(03) Lapp's Toys Amish-Made Wooden Doll High Chair (20″ Dolls)
100% Made in USA with solid wood — enjoy traditional Amish toy making craftsmanship.
Amish-made from the hills of Lancaster County, Pennsylvania — the generations of craftsman at Lapp's Toys make simple perfection.
See those bold natural wood grains? That tells you it's solid wood cut straight from the tree!
But if you prefer, it's available in white, pink, or grey too.
Expect meticulous attention to detail — hand cut, hand shaped, hand sanded — a family woodworking tradition for a chair that lasts.
(04) Palumba (Camden Rose) Cherry Wood Doll High Chair (24″ Dolls)
Solid wood in rich cherry hues. Heirloom quality — literally generational.
Palumba (Camden Rose) hails from Michigan, USA — where they hand make all their toys with top-quality natural materials.
As proponents of Waldorf principles, you get an ultra-simple wood look with premium quality cherry wood and all-natural beeswax finish.
Other brands add on flashy adjusting and moving doodads. Palumba (Camden Rose) has zero moving parts. No pinched fingers, solid sturdy dense wood durability that could very well last over 100 years.
Big doll? Check! This high chair accommodates large dolls under 24″ inches. (Or smaller dolls 14″ and up.)
(05) Melissa & Doug "Mine to Love" White High Chair for Dolls (20″ Dolls)
Ever-popular and for good reason — a pure-white wooden high chair for baby dolls.
Melissa & Doug claims a wipe-clean surface — but honestly, any wooden baby doll food tray is technically wipe-clean, right? (It's not a unique feature.)
Removable tray? Check? White wooden chair frame? Check. Fits dolls up to 20″ inches. Check. You've seen and understand these standards — Melissa & Doug checks all the boxes.
Plus a delightful little heart shape fashioned into the back of the chair.
Wooden Doll Chair Design Awards: Other great-looking options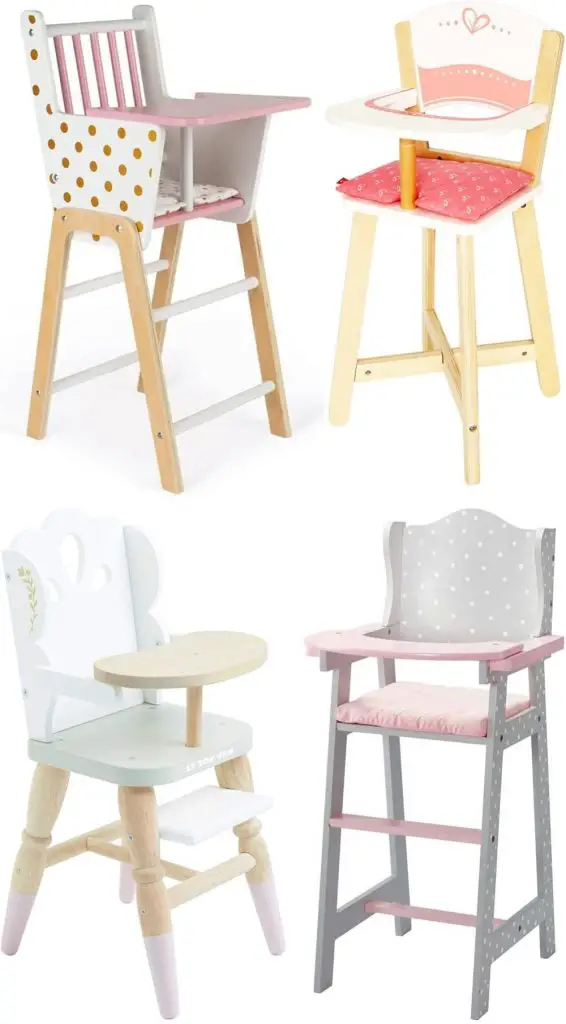 Nope, they're not best-sellers. But they're snazzy polka-dotted, modern minimalist, or otherwise visually distinct.
For design-centric families, these aesthetically appetizing baby doll chairs — made from wood — may be your "Princess princess on the wall, Who's the fairest of them all?".
Eco-Friendly Babydoll High Chairs: What to look for
Environmentally conscious parents have high standards for earth-friendly materials.
Wood is choice for real-life baby high-chairs.
So it's only the best for babydoll shall we?
Make it more like a real-life precious parent-child moment with a wooden toy high chair.
In terms of life-like pretend play features, wood is on par with plastic and won't end up in a landfill. To show you what I mean — here's what to know before you buy:
Big enough for your doll or stuffed animal
The essential number to look for before you buy any babydoll highchair is the recommended doll size — most commonly between 14-20″ inches doll length. (American Girl standard doll height is 18″ inches, for example.)
When Dolly's legs fit through the leg-holes just right, and Dolly's arms can reach the healthy snacks in front of them — you'll be glad you got the right sized setup. 
Dazzling doll play food accessories galore
Bowls, plates, forks, spoons, knives, bottles, bibs, safety belts, removable trays, and more — just like the real thing! Know which accessories matter to you most — which color scheme and which style to match your baby-fabulous lifestyle!?
Trust the brands that know doll play
Baby doll high chairs cost much less than real-life high chairs. But low cost can turn into an assembly nightmare when the high chair parts things don't match up.
Particularly for removable trays and adjustable seat heights — they make doll play feel all more life like — as long as the thing fits.
Certain toy brands specialize in doll play with entire lines of baby doll furniture and accessories — those are the ones who year-after-year deliver wooden doll chairs you can trust. 
Keep a close eye to avoid a "climb-and-fall"
Curiosity got the best of them — your toddler climbed into the baby doll high chair — not safe. Before you're toddler can understand the difference between a "people high chair" and a "play high chair" — keep a close eye.
Most accidents from confusion about the smaller-than-normal high-chair happen within the first few days of play with the new high chair. During the initial days — please make sure your toddler knows this high chair is for baby doll to sit in only!
High chair toys take lunchtime doll play to the next level. Prep, feeding,  and cleanup — plus that extra special mommy daddy love!