Wooden toys that look like eggs?
Now that's a eggs-celent idea!
Wooden egg toys are an Easter holiday essential that stays fun long after the Easter basket is put away.
With a little imagination and a carton of wooden eggs, you can turn the everyday things Mommy and Daddy do into Montessori-inspired games your kids will love! (And learn from, too.)
You and your little ones will crack open all sorts of fun activities — from serving up make-believe breakfast, to baking an imaginary cake, to role-play grocery shopping.
Even better? Wooden egg toys are completely mess-free!
We've rounded up about a dozen of the best wooden egg toys money can buy. Get ready for an egg-ceptional variety of premium-grade, top-shelf toy eggs.
(And a few too many egg puns.)
Let's get cracking!
Affiliate Link Disclosure – If you see a product you like and click through to buy it, I would genuinely appreciate it. I may earn a small commission — at no extra cost to you. It would mean a lot, thanks!
Best Wooden Egg Toys (With Yolk!)
Most Popular Wooden Play Eggs
Here's a half-dozen highly-acclaimed wooden egg toys, from brands you well-known brands — and none of them are too "eggs-pensive" either!
Color-Matching Wooden Egg Toys by Melissa & Doug
Leave it to the popular learning toys brand Mellissa & Doug to come up with an eggs-tracurricular educational toy! Each wooden egg in this set of six has a different colored yolk hidden inside — red, orange, yellow, green, blue, and purple — making this set a top-notch color-matching activity for toddlers. Mismatch the colors, give them to your toddler, and let him or her match the right colors together!
The yolks are made with velcro, so the two halves hold together until you slice them apart. The set comes with a toddler-friendly wooden knife to do just that, and a nice wooden crate for safekeeping. An all-around awesome toy!
Cooking Role-Play Wooden Egg Toys by Hape
This is the ultimate egg toy set for imaginary cooking. Perfect for teaching kids essential lessons about cooking, baking, and nutrition.
Each of the six pretend eggs crack open in one of two ways. Just peel apart the shells to find what kind of egg is inside.
Three of them are boiled eggs, with velcro yolk holding the halves together, just like we saw from The Mellissa & Doug set. The other three are fried eggs, with felt-material eggs inside the eggshell.
All-Natural Wooden Egg Toys by Tender Leaf Toys
The Tender Leaf Toys brand — known for their sustainable wooden toys that inspire children's imagination and creativity — have stayed true to their eco-friendly roots with this natural wooden egg toy set.
At first glance, this set is very special because each of the six eggs come in a unique color completely its own — white, brown, light-wood-colored, dark-wood-colored, pale-yellow, and pale-blue. Plus little feather shapes painted onto some of the eggs will leave your child wondering what kind of bird laid the egg. (Maybe a goose or a robin?)
The other not-so-obvious special thing about this set is that one of the eggs comes with a felt-material fried egg inside. That's a little surprise that's sure to make your playtime sunny side up!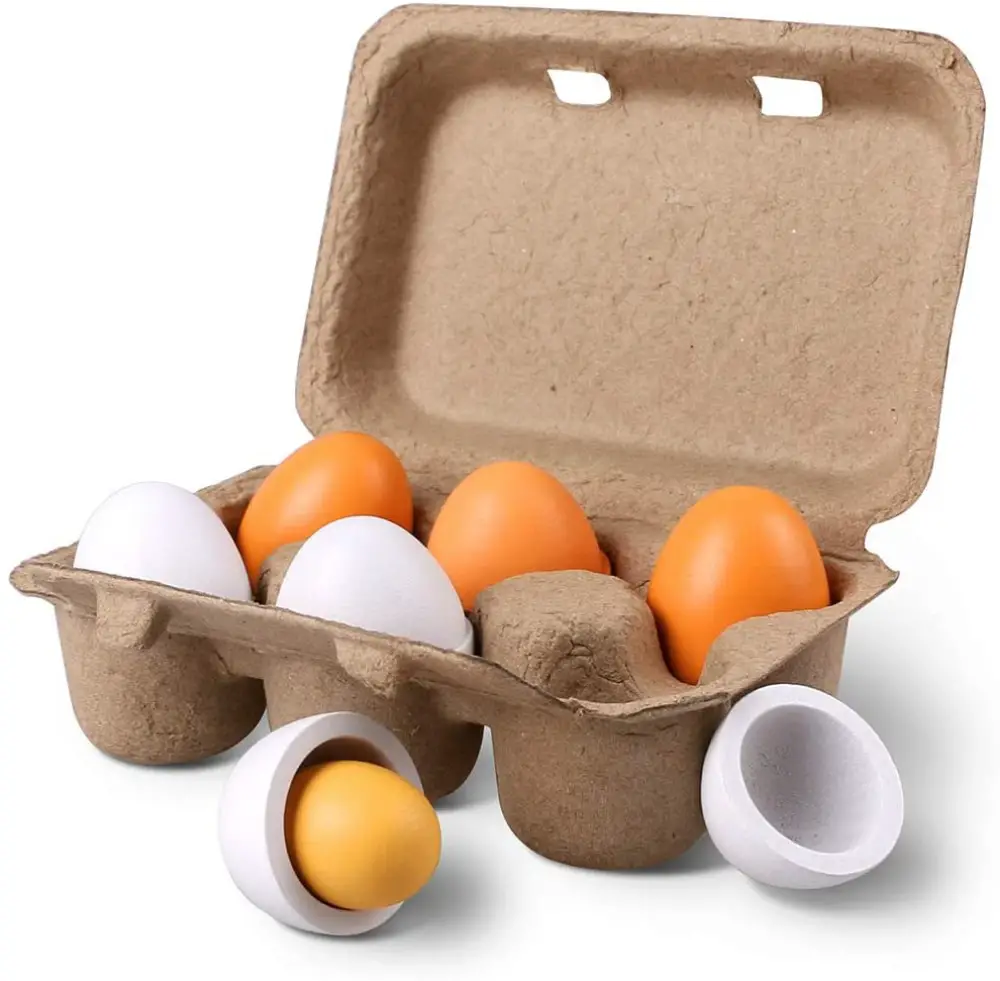 Classic Wooden Egg Toy (Brown & White) by StillCool
Can't choose between white and brown eggs? Now you don't have to! This set of six by StillCool comes with three white eggs and three brown eggs, so it's the best of both worlds!
Added variety aside, playing with both white and brown toy eggs will help boost your toddler's color recognition. Plus, it's a grey way to teach your kid comparison skills — the same skills it takes to be a smart shopper. Be ready when he or she asks, "Why are eggs different colors?" There's a hen hizzy of differences between real eggs to explore. Here are just a few:
Color. The color of the eggshell depends on the breed of chicken that lays the egg. White-feathered chickens lay white eggs, and red-feathered chickens with red earlobes lay brown eggs.
Nutrition. Eggs have the same number of calories regardless of color, but some studies claim brown eggs are richer in Omega-3's.
Price. Brown eggs are more expensive than white eggs because most people think brown eggs are healthier and more natural. (But we know that's not exactly true!)
Three eggs can be opened with an egg yolk inside, and three others cannot be opened. Your kid will have to get hands-on to figure out which ones.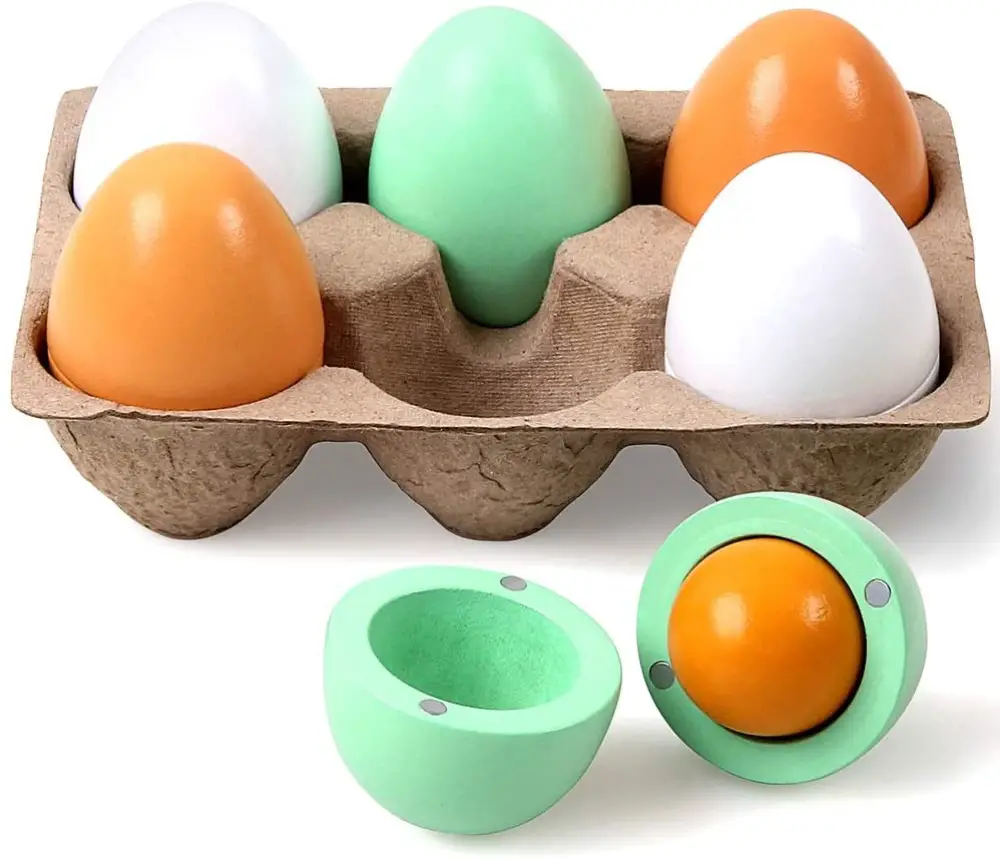 Magnetic Wooden Egg Toys (Green, Brown, and White) by StillCool
So far we've seen white eggs, brown eggs, natural-wood-colored eggs, pale-blue eggs, and pale-yellow eggs. But bright seafoam green duck eggs? That's a first. Remember what Dr. Suess says, "You do not like them so you say. Try them! Try them! And you may!"
Beyond the variety of colors, but it's also magnetic! Each side of the wooden eggshells have magnets to hold together and keep the yolk inside. Take them apart, put them back together, and match (or mismatch) the eggshell colors.
Just like the other set by StillCool, 3 of the eggs can be opened while 3 others cannot. What an eggs-citing little mystery for your kid to explore.
Handmade Egg Toys
If the big brands just aren't your thing, don't fret. Here are some of my favorite independent wooden toy makers offering eggs-tremely unique wooden egg toys.
American Handmade Wooden Egg Toys by Autumn Creek Custom Toy
Handmade by a family-run business in Washington state, the folks down at Autumn Creek Custom Toy offer an eggs-ceptional selection of wooden egg toys. Featuring flat wooden fried eggs, grey-speckled eggshells, and jumbo-sized felt egg breakfast sets — Autumn Creek serves up some peculiar wooden egg toys made right here in the USA.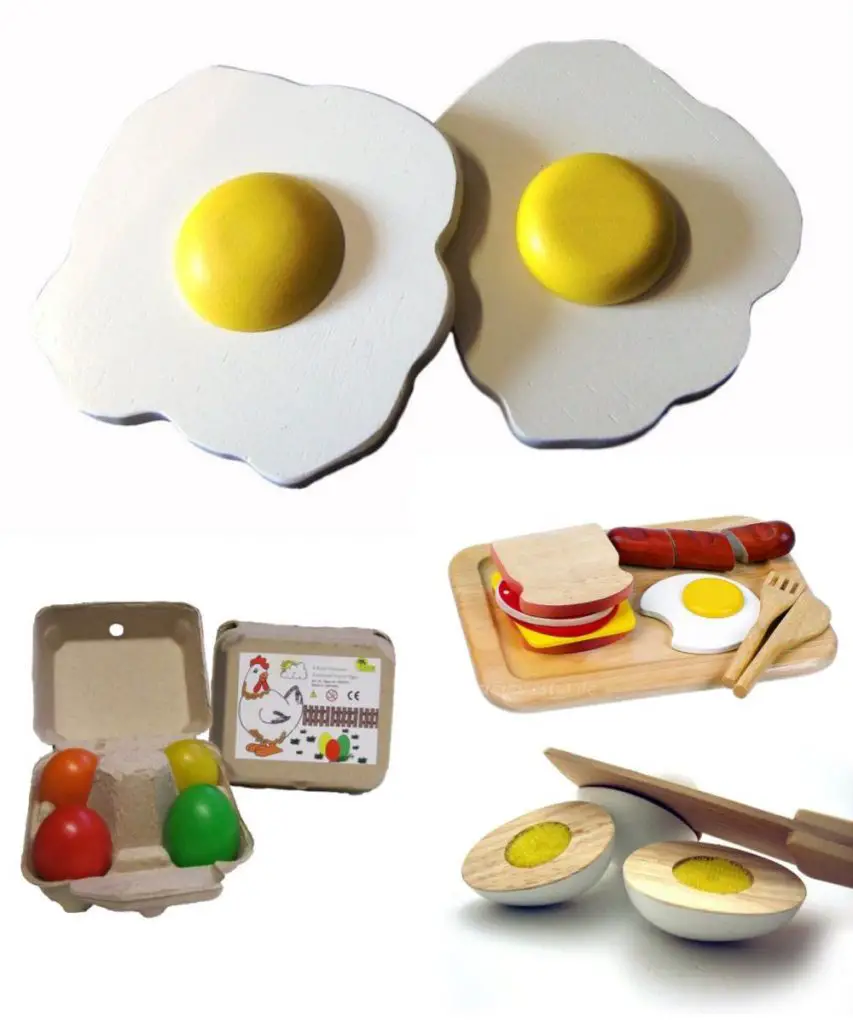 German Handmade Wooden Egg Toys by Estia Holzspiel Design
I'd known about Estia Holzpiel Design long before I found out they sell wooden egg toys. They're one of my favorite makers of high-quality classic wooden toys, so it's not surprising they're located in Germany. Teach your child what a European breakfast looks like with Esta Holzpiel Design's awesome selection of wooden egg toys. Is it possible in Europe a carton of eggs comes with only four?
Bonus: Other Unusual Egg Toys
When other people zig, you zag. Here are my favorite special-purpose wooden egg toys — different from the rest.
Emotions Learning Wooden Egg & Book Set by Hape
A set of wooden eggs with faces on them? Learning emotions can't possibly get more fun than this!
The Hape Eggspressions set comes with six wooden eggs in a range of emotions, a colorful stand for each (for color-matching activities), and a kid-friendly idea book with a spin-wheel of emotions. One of the eggs is left blank, so your child can paint it however they feel.
How do you feel on a weekend when we spend a day at the beach? How do you feel on a Monday when mommy goes off to work? This expressive set will teach your kid it's OK to talk about their feelings, teach empathy for others, and help your youngster build up emotional maturity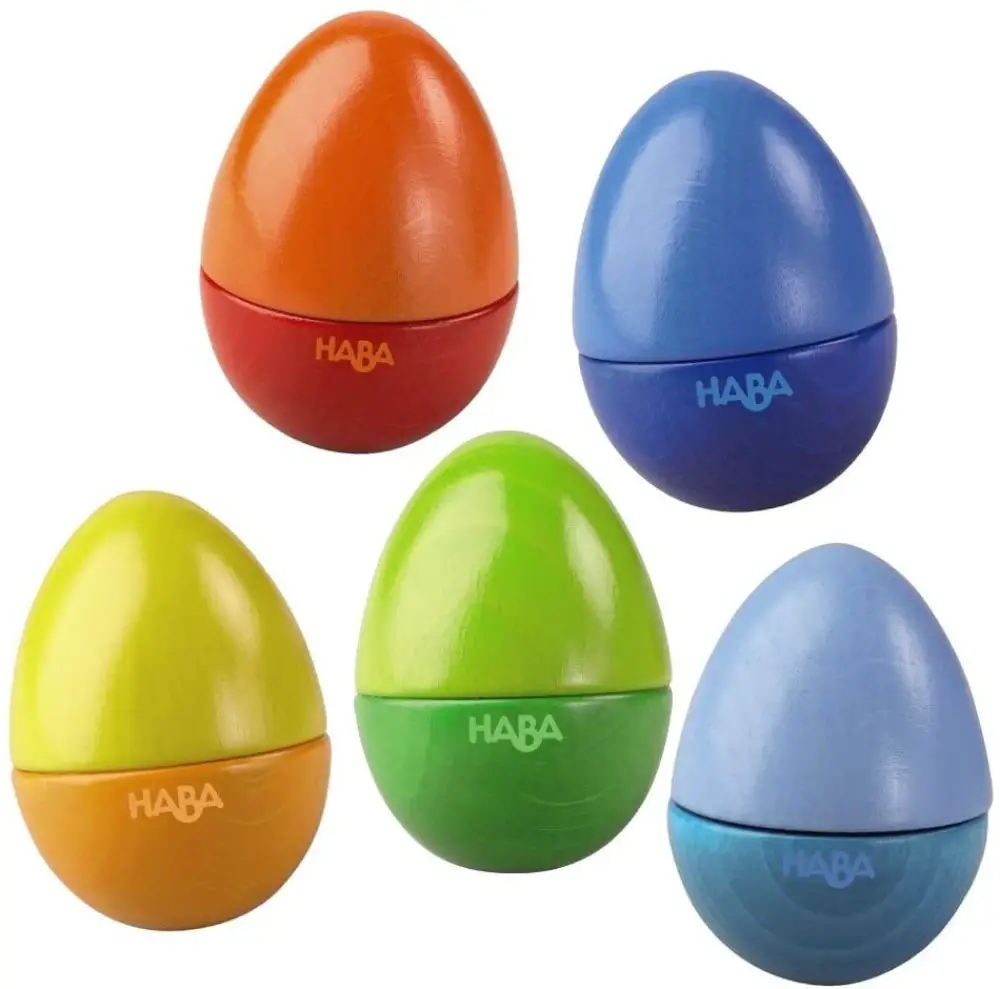 Musical Wooden Egg Shakers by HABA
Cha cha cha! These colorful wooden eggs are like little maracas for the family band. Each makes a different sound when shaken — three rattle, one jingles, and one chirps (as if there were a baby chick inside).
As an age-appropriate musical ensemble for your toddler, these musical eggs will help your little one develop rhythm and learn to distinguish sounds. All in wooden glory with an eye-catching color scheme, what's not to love?!
Are wooden egg toys safe for toddlers?
Most of the toys on this list are toddler-friendly with a recommended minimum age of three or even as young as two years old.
With toddlers in mind, most egg toys are made with natural wood and non-toxic paint materials, so they are completely safe for hands-on play and occasional contact with the mouth. Before you buy, definitely check the recommended age and materials used for the specific egg set you're looking at.
The biggest safety concern with wooden egg toys is the possibility of swallowing or choking. But since egg toys resemble real eggs (the food), it's important to make sure your kid knows the difference.
Wooden egg toys are NOT edible. Parental supervision is highly recommended — just like most toys for youngsters.
Egg Games & Play Ideas
There are dozens of different games that can be played with eggs — either real or wooden. Here are a few eggs-citing play ideas to get you started!
Memory games. Does your egg toy come with a variety of colors hidden inside the eggs? Challenge your child's ability to remember which color's inside which egg.
Egg hunt. Make any day into an Easter Sunday egg hunt! Hide your eggs around your home in cunning little places, and see who can find the most eggs!
Role-play cooking & baking. Whether your kid wants to cook up a healthy breakfast or a tasty dessert, eggs are a main ingredient in all sorts of imaginary culinary creations.
Role-play grocery shopping. Make a shopping list and hit the aisles running. Heading down to the supermarket might seem like one more responsibility to parents, but it's a fantastic world of fun for kids modeling their parents' behavior.
Egg sensory bin. With its unique shape and smooth texture, the egg is one of nature's miracles. Place eggs into a bin with fine textures like rice or beans, soft toys like stuffed animals or playdough, or other fine threads like rubber bands or yarn — you've got a blend of textures to entertain your little one for hours!
Hidden treasures. Many of the wooden egg toys are hollow with yolk or a felt egg on the inside. Replace that with a tiny treasure, like a piece of candy or a tiny handwritten note to give your child a pleasant surprise.
Egg and spoon race. Place an egg into the curved part of a child-safe wooden spoon, chart a course, and it's off to the races. The first person to cross the finish line wins, as long as the egg is still secure on the spoon.
Egg balancing game. Did you know that real eggs can be balanced upright. The first time I tried (in my mid-20s), it took me almost thirty minutes of intense concentration before I finally got it to stay. It might be too difficult for a toddler to do, but maybe you could show him or her how it's done. Patience is a virtue.
Learn about puns. The word "egg" is short enough for early reading levels. Puns like eggs-istentialism and eggs-potentiality are a bit too difficult for a three-year-old to read or write, but the eggs-pansive range "egg" puns are a great way to eggs-pose your child to eggs-amples of big kid words, and have a laugh while you're at it.
Over to you!
There you have it! We've looked at some of the best wooden egg toys available, and some egg-centric play ideas.
By now, you're probably eggs-austed reading egg puns, so I'll give you a break!
I hope you've found what you're looking for! Let me know in the comments below.