Time to talk about the elephant in the room!
Elephant toys are a "ton" of fun! They're just as essential for kids as they are for elephant-lovers of all ages.
Whether you're shopping for yourself or looking for a unique elephant gift, don't fret — I've done the "multi-tusking" for you.
Here's my safari-fresh collection of the best wooden elephant toys that "ivoryone" can love!
Get ready for some "ele-phantastic" elephant gift ideas!
Affiliate Link Disclosure – If you see a product you like and click through to buy it, I would genuinely appreciate it. I may earn a small commission — at no extra cost to you. It would mean a lot, thanks!
My Top Picks: Best Wooden Elephant Toys
Wooden Elephant Push & Pull Toys
Wooden Elephant Stacking Rings
Wooden Elephant Puzzles
Wooden Elephant Stacking, Nesting & Balancing Toys
Wooden Elephant Toy Figures
Wooden Elephant Push & Pull Toys
Wooden push and pull toys are an excellent choice for toddlers to help develop motor skills. They come in all different shapes and sizes — and you bet they come in elephant styles, too.
Classic Wooden Elephant Push & Pull Toy by Hape
Hape toys is a very popular wooden toy brand, and this elephant push and pull toy is no different. Perfect for ages 12 months and up, it's equipped with a pull-along rope and a handle etched out of the elephant's back to help your toddler practice hand-eye coordination and balance.
Contemporary Elephant Wooden Push & Pull Toy by Petit Collage
Petit Collage is another brand highly regarded for its wooden and educational toys. Their elephant push and pull toy's design is abstract and contemporary, perhaps more appealing. As a nice added surprise, the wheel axles are intentionally positioned slightly off-center, so the elephant will bob up and down when pulled around.
Wooden Elephant Stacking Rings
Stacking rings are a classic toddler toy — perfect for toddlers as young as one year old! You'll be pleased to know there's elephant-specific types, too!
Rounded-Bottom Wooden Elephant Stacking Rings by Melissa & Doug
As one of the most acclaimed children's toy brands, you can hardly find a mom or dad these days who's not familiar with Melissa & Doug. With its curved base and purple elephant top-piece, this wooden elephant stacking ring set is a fun, wobbly way to boost your toddler's fine motor skills.
Toddler Wooden Elephant Stacking Rings Toy by Orcamor
The Orcamor brand's wooden elephant stacking rings toy has a sturdy base, so it's easier to play with than the Mellisa & Doug model we just looked at. Even though both stacking ring toys we've looked at are recommended for ages 12 months and up, every child will develop at his or her own pace, so it's nice to have a simpler stacking toy to start with.
Wooden Elephant Puzzles
Since elephants are known for their excellent memories, it's no wonder they make some excellent elephant puzzles for kids to put together — as long as you can remember what an elephant looks like in the first place.
Educational Wooden Elephant Puzzles by Red Fish Toys
The folks down at Red Fish Toys in New York make some of the most colorful, educational, and wooden puzzles around. They offer two unique types of wooden elephant puzzles for kids — one with each letter of the alphabet and one with each number one through zero ten. Both are self-standing puzzles shaped like a mama elephant with her baby elephant calf.
Diverse Skin-Tone Wooden Elephant Puzzles by Puzzimals
The independent toymakers at Puzzimals celebrate diversity with their collection of self-standing wooden elephant puzzles. Grey-skinned elephants first come to mind for most people, but Puzzimals mashes together elephants of all different skin-tones — grey, black, tan, brown, and even pink! (Yes, pink elephants exist in Asia!)
---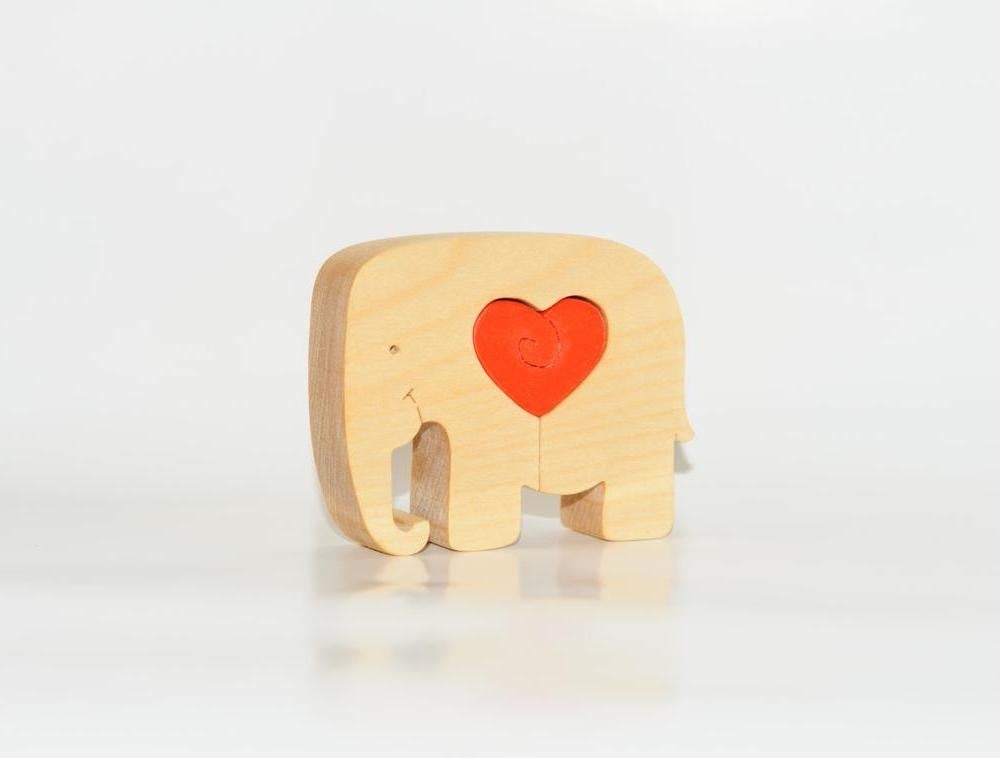 Small Unpainted Wooden Puzzles by Ecopuzzle
When simplicity is what you're after, the Ecopuzzle brand is right up your alley. They offer a range of smaller and simpler wooden elephant puzzles for babies and younger toddlers.
Wooden Elephant Stacking, Nesting & Balancing Toys
Part puzzle, part stacking blocks — these wooden elephant toy sets come with a variety of little elephant pieces, that you can stack up into structures or nest together into a snuggly-fit shape — all while building your kid's spatial perception, fine motor skills, and ability to carefully balance objects.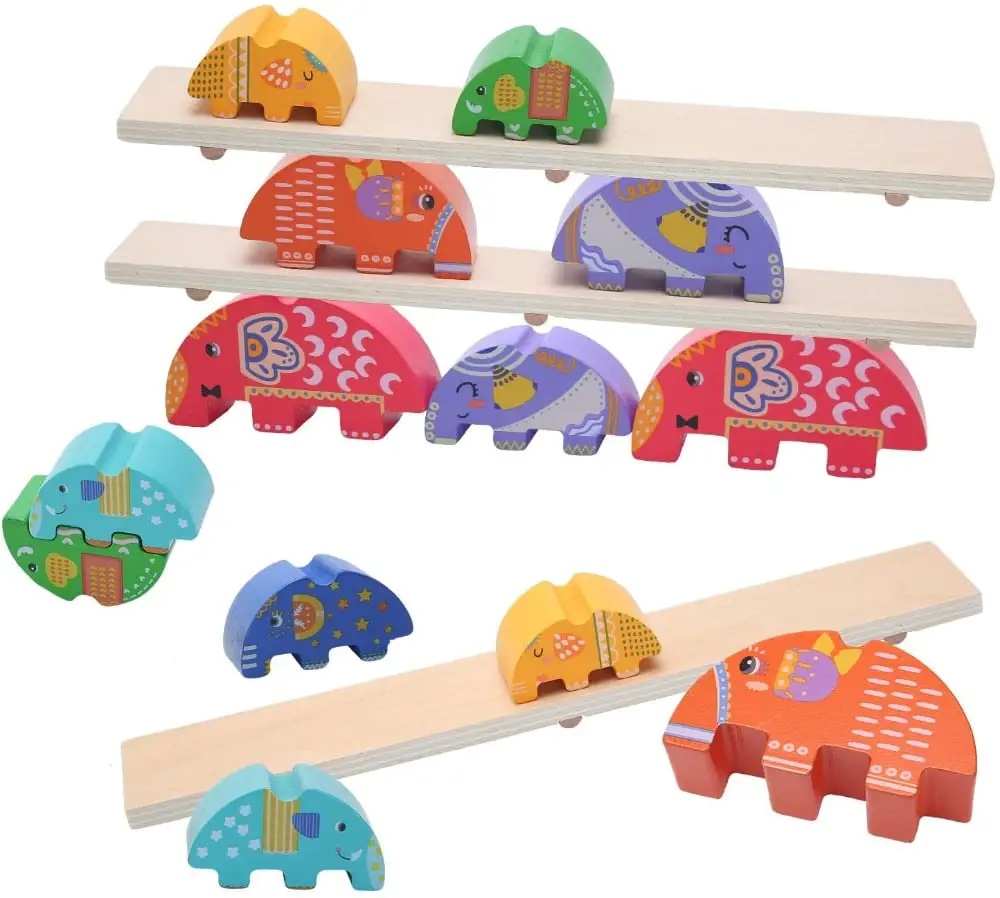 Wooden Elephant Stacking Game by Tangame
The Tangame brand's balancing toy comes with a set of chunky semi-circular elephant pieces and a series of long board pieces. By placing the board atop an elephant's back, the two combine into a fulcrum and lever for hours of balancing play. Plus, these elephants are fun-patterned and super-duper colorful!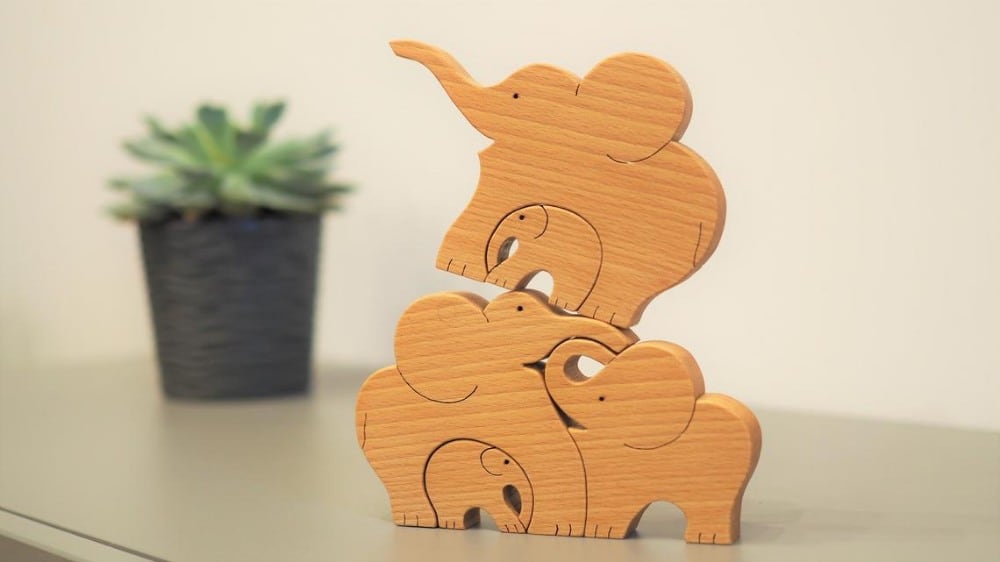 Wooden Elephant Stacking & Nesting Toy Sets by Your Wooden Master
Specializing in handmade wooden puzzles for toddlers and children, the Your Wooden Master brand offers all kinds of natural wooden toy sets shaped like families of miniature elephants snuggling together. Great for parents and children to play together.
Wooden Love Elephants Stacking Sets by Wooden Joy Toy
If you love elephants (and I bet you do), the family-owned wooden toy brand Wooden Joy Toy presents a line of wooden love elephants — stackable, nestable natural wood color elephant toys with one bright red heart. Elephants spreading the love? Talk about a unique elephant gift for a baby shower or few family!
Wooden Elephant Stacking Puzzles Sets by Puzzleson
I admire the craftsmanship coming from the Puzzleson workshop. They've specially created sets of wooden stacking elephants that fit together in a variety of ways. So-called "elephant towers" make for a simple yet challenging game, where your kid can create hundreds of elephant shape combinations.
Wooden Elephant Toy Figures
Sometimes keeping it simple is the best way to go. The simpler the toy, the more your kid will stretch his or her creative-muscles come up with imaginative play scenarios. To a boring adult, these wooden elephant figurines are just solid blocks of wood carved into an elephant shape, but to the inner-workings of a child's mind, they're an entire world of playtime possibility!
Two separate German wooden toy brands — Ostheimer and Holztiger — are uber-popular in circles of Waldorf and Montesorri moms and dads. And they both offer quaint variations of wooden elephant toys.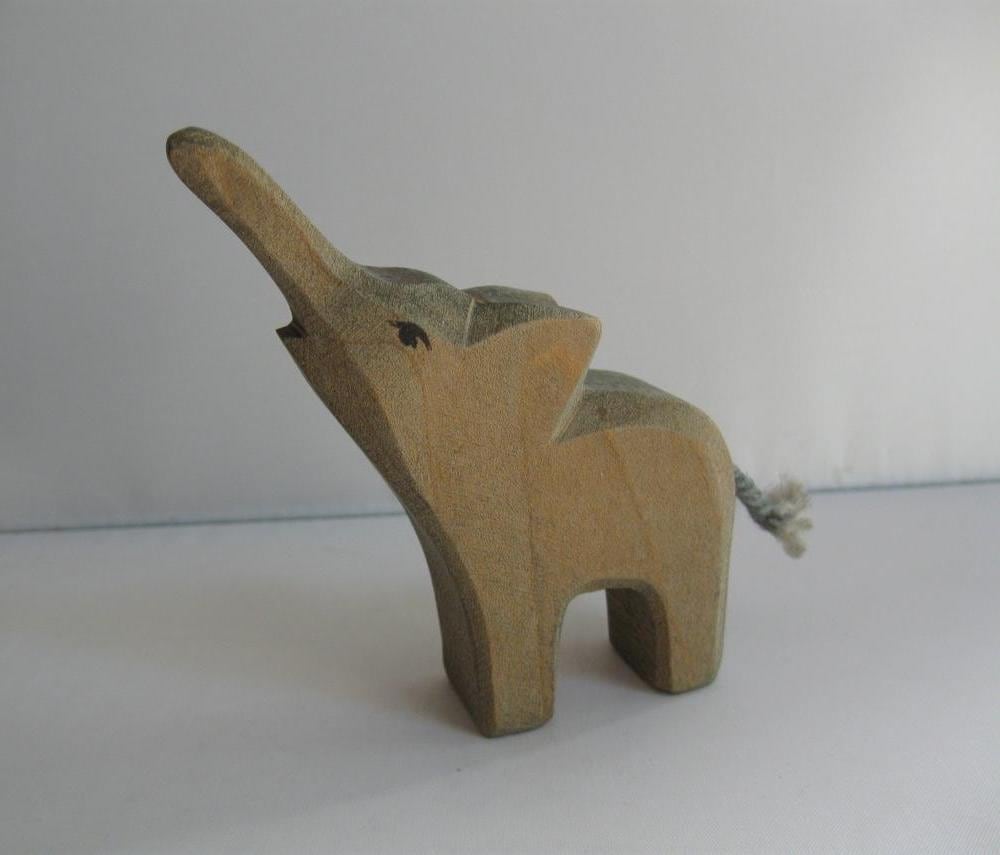 Wooden Elephant Figures by Ostheimer (sold by Ideen Reich Berlin)
Idee Rich Berlin has a wide selection of both Ostheimer and Holzinger elephant toys. What's the difference? Ostheimer is usually more abstract and a little higher priced, while Holztiger is slightly more realistic and a little bit easier on the wallet. The Modern Mindful Mom blog wrote a great comparison piece about the two if you're interested.
Wooden Elephant Figures by Holztiger
Holztiger elephant figurines can also be purchased on Amazon. I like the one with the elephant trunk raised-and-a-tooting.
Wooden Elephant Figures by The Wood Pecker Factory
The Wood Pecker Factory brand is a family-owned business known for organic wooden toys. With a bright and colorful line of wooden safari animal figurines, including mama and baby elephants, they're a colorful alternative to Ostheimer and Holztiger.
Wooden Elephant Figures by Wooden Caterpillar
The handmade wooden toys brand Wooden Caterpillar is another excellent place to check out. They only offer one style of wooden elephant, but they specialize in a fantastic array of creatively painted wooden figures for infants and toddlers.
Unpainted Wooden Elephant Figure by Happy Bungalow
I saved the very simplest for last! The Happy Bungalow brand offers wooden elephant shapes as simple as could be. You can even choose whether to order the toy with or without a natural beeswax finish.
Over to you!
I hope you've enjoyed this "mammoth" collection of the world's best wooden elephant toys — with an elephant gift idea for "ivory body"!
Let me know about your favorite elephant toy in the comments below!