Making messes is a part of growing up!
But as a parent, you can only ask your kid to clean up so many times before you reluctantly do it yourself.
Look Familiar?
Cleaning toys are a great way to teach your kids to start cleaning up after themselves — even before they're big enough for heavy-duty house chores.
Young children learn best by copying their parents' behavior. By making a game out of it, even the most boring chores can be turned into an activity kids love — just like Mommy and Daddy do.
Here's a list of the best wooden toy brooms, dustpans, and other cleaning toys for this very purpose. Some are exclusively for pretend play, and some are completely functional cleaning tools. All include natural wooden parts that environmentally-conscious parents will approve of.
When your kiddo starts asking to help out around the house, it'll be a huge sigh of relief!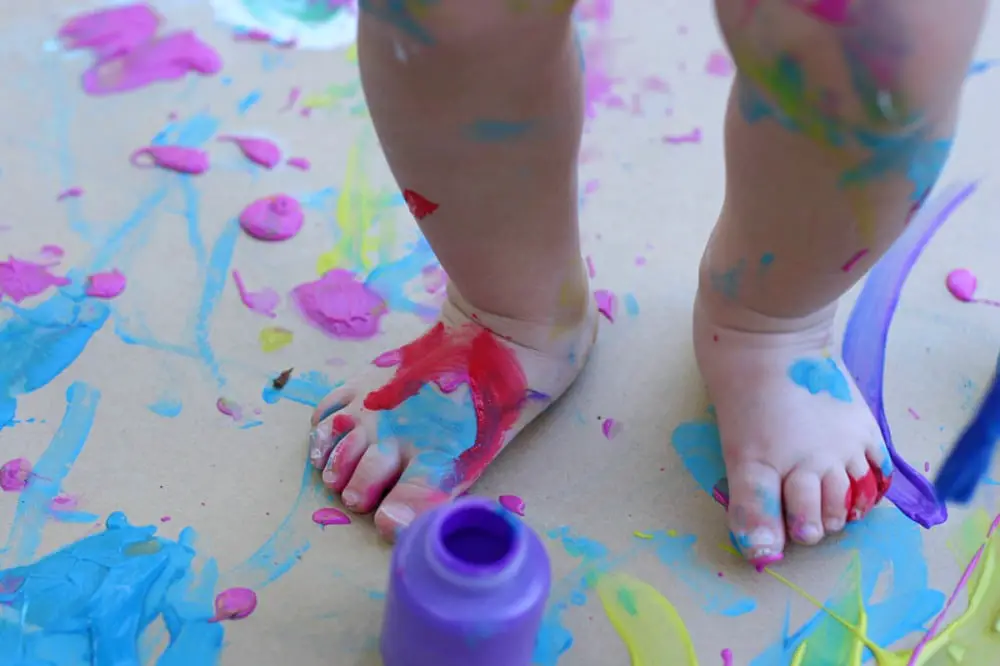 Affiliate Link Disclosure – If you see a product you like and click through to buy it, I would genuinely appreciate it. I may earn a small commission — at no extra cost to you. It would mean a lot, thanks!
Best Wooden Toy Brooms And Dustpans (And More!)
Let's Play House! Dust, Sweep & Mop Set by Melissa & Doug
2021's most popular wooden cleaning toy set with all the essentials.
Blue Broom, Sweeper, and Dustpan Playset by Toy Pure
The perfect no-frills set — when all you're looking for are a broom, sweeper, and dustpan.
Wood Cleaning Set by Moover
A well-designed wooden cleaning set painted in a contemporary turquoise color pallet.
Natural Wood Brooms & Wood Dustpans by Camden Rose
A collection of children's brooms and dustpans for environmentally-conscious families.
Kids Wooden Pretend Play Cleaning Cart by London-Kate
Another beautiful turquoise wooden cleaning toy set perfectly sized for young toddlers.
Wooden Pretend Play Cleaning Cart by MMP Living
A low-priced replica of the first wooden cleaning cart.
Best Selling Wooden Cleanup Toy Set with Broom & Dustpan
Let's Play House! Dust, Sweep & Mop Set by Melissa & Doug
15,000 parents can't be wrong! The last time I checked, this colorful kid-sized wooden cleaning toolset has over 15,000 reviews and a 5-star rating. Recommended for kids aged 3 to 6, this set not only boosts self-confidence and independence but also helps your child build good habits to last a lifetime.
It includes a broom, mop, duster, brush, dustpan, and sturdy rack for easy storage. Your child will enjoy hours of pretend play tidying up the house just like Mom and Dad.
Best Back-to-Basics Wooden Broom, Brush & Dustpan Set
Blue Broom, Sweeper, and Dustpan Playset by Toy Pure
Whether you're a minimalist parent who believes less is more or you're just trying to save space in your home — this is the set for you! It's a simple 3-in-1 set that comes with a broom, a brush, a dustpan, and nothing more. Perfect!
The broom and brush are natural wood, with highly-functional bristles that work well for children's cleanup chores (the real deal).
Recommended for kids aged 3 to 8 years old, this is a wooden broom set that will grow with your child! And if your little guy or girl likes the color blue, even better!
Most Stylish Wooden Cleanup Toy Set with Broom & Dustpan
Let's face it — sometimes style is just as important for kids' toys as it is for home decor. In a beautiful color pallet of turquoise, white and natural wood, this set is as stylish as they come!
The set includes a broom, mop, dustpan, spray bottle, cleaning cloth, and a stand for safekeeping. Most sets include a plastic dustpan, but this one is made of natural birch veneer plywood. As a broom and mop set for toddlers aged 3 and up, it's the perfect set to encourage role-play and imagination and build motor skills at the same time.
Best All-Natural Wooden Broom & Dustpan
Camden Rose Natural Broom, Camden Rose Rainbow Broom, Camden Rose Dustpan
As a family favorite for their natural toys and home goods, the Camden Rose brand has done it again with their selection of brooms and dustpans. Created heirloom quality to last many generations, these children's sweeping tools work just as well for real chores as they do for role-playing.
The child-sized brooms are made with solid maple hardwood handles, natural broomcorn bristles, and earthy leather loops for hanging. The dustpan is made of cherry and birch wood with a quaint and convenient leather loop, too. You'll need to buy each piece separately (as opposed to in a set), but that gives you the freedom to hand-select your favorites!
Best Pretend Cleaning Kit For Ages 1-3
Kids Wooden Pretend Play Cleaning Cart by London-Kate
Designed with safety in mind for children 12 to 36 months old (1 to 3 years), this is the perfect wooden cleaning kit for kids in the early stages of development. Most toys are branded "for babies" or "for toddlers", it's nice to find one specifically made for those awkward in-between months.
Built with solid wood and environmentally-friendly and kid-safe paint, this set has an 18.5-inch tall pushcart with all sorts of fun wooden cleaning goodies — including a vacuum, broom, mop, hand brush, dust pan, and (pretend) bottle of cleaning detergent. With its contemporary color scheme, it looks great, too!
Best Budget-Friendly Wooden Cleaning Cart
Wooden Pretend Play Cleaning Cart by MMP Living
This is a pretend play cleaning cart full of kid-sized cleaning supplies that won't break the bank. Other than the colors, it's exactly like the London-Kate model we just looked at — at less than half the price (last time I checked).
Just like the other cart, this set has knobs, hooks, slots, and other doodads — making it easy for young toddlers to keep all the accessories in place while practicing fine motor skills. With such a price difference, it just goes to show the price-hike you get when buying branded toys. Knowledge is power!
Over to you!
Imitating and working alongside Mommy and Daddy is one of the best ways for our little ones to learn good habits. Today, we looked at all the best wooden toy brooms, dustpans, and more — so your kid will have a ton of fun learning to clean up after him or herself.
What are your tips and tricks for teaching children to tidy up after themselves? I'd love to hear from you! Let me know in the comments below.