Wooden Castle Toys Fit For A King!
The dragon cometh, your majesty! What shall we do?
Today, we venture on a noble quest to discover the world's best wooden castle toys with figurines included.
Man the gates and prepare for battle! Onward to play time victory!
Affiliate Link Disclosure – If you see a product you like and click through to buy it, I would genuinely appreciate it. I may earn a small commission — at no extra cost to you. It would mean a lot, thanks!
Best Castle Block Sets
Behold the magic of wooden castle block sets! They're not exactly building blocks, but they sure act like it. This type of wooden toy castle is the best when it comes to open-ended play. Stacking up castle towers, your child will develop fine motor skills and spatial reasoning — and enjoy hours of creative play both building and re-building limitless castle layouts.
Tender Leaf Toys Wooden Castle Blocks
As a big name in eco-friendly wooden toys, the Tender Leaf Toys brand offers three models of specialized wooden castle building block sets — three different sizes, one for each budget.
These play sets come with the best variety of figurines, enabling more open-ended play than other castle sets on this list. For parents most concerned with creativity and imagination, you can't go wrong with Tender Leaf Toys.
The Royal Castle set comes with everything your child needs to conjure up an epic middle-ages battle scene. It's a 96 piece set with all sorts of wooden castle building blocks and battle-ready wooden figurines — armored soldiers wielding maces, jousting horseman, swordsman, archers, a dragon, and even a real working trebuchet!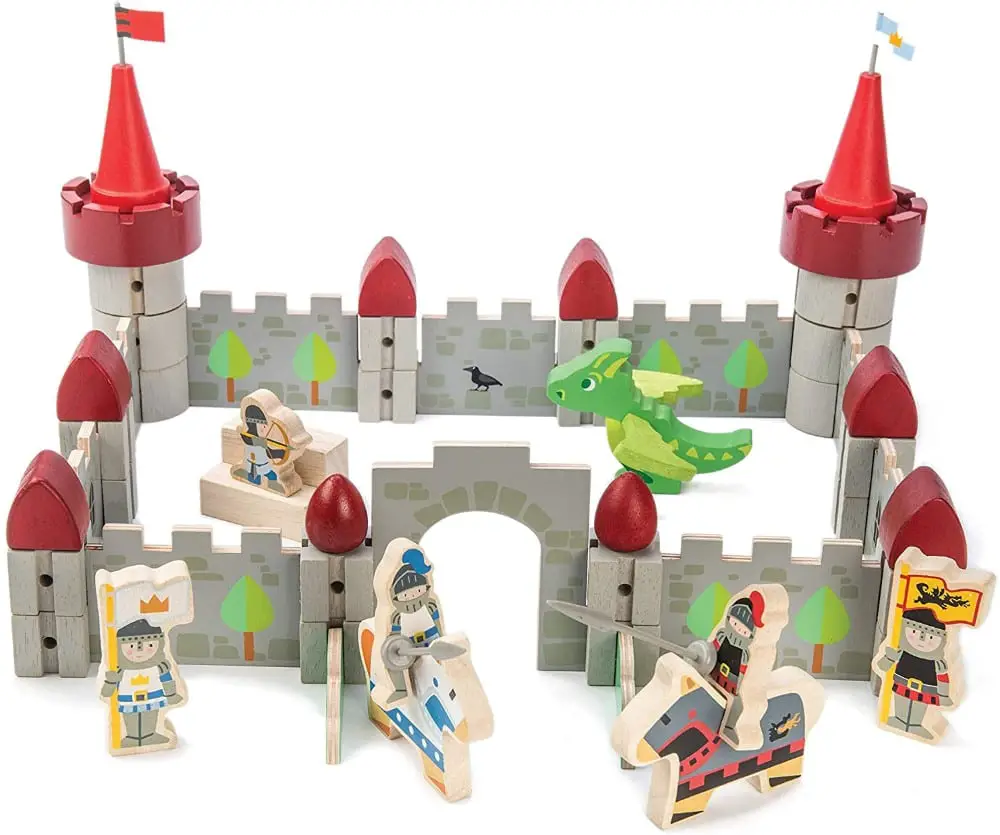 Tender Leaf Toy's Dragon Castle set is medium-sized with 59 pieces in total. Just like the first set, it has all you need to create and build out countless unique castle layouts — at about half the price. Just snap together the walls and posts, arrange the soldier figurines, and let the battle begin! 

If you're on a tight budget, this basic 8-piece set includes sizable wooden figurines including a castle gate, a damsel in distress, a knight in shining armor, and a winged dragon. A small set with play possibilities of epic proportions!
Melissa & Doug Castle Blocks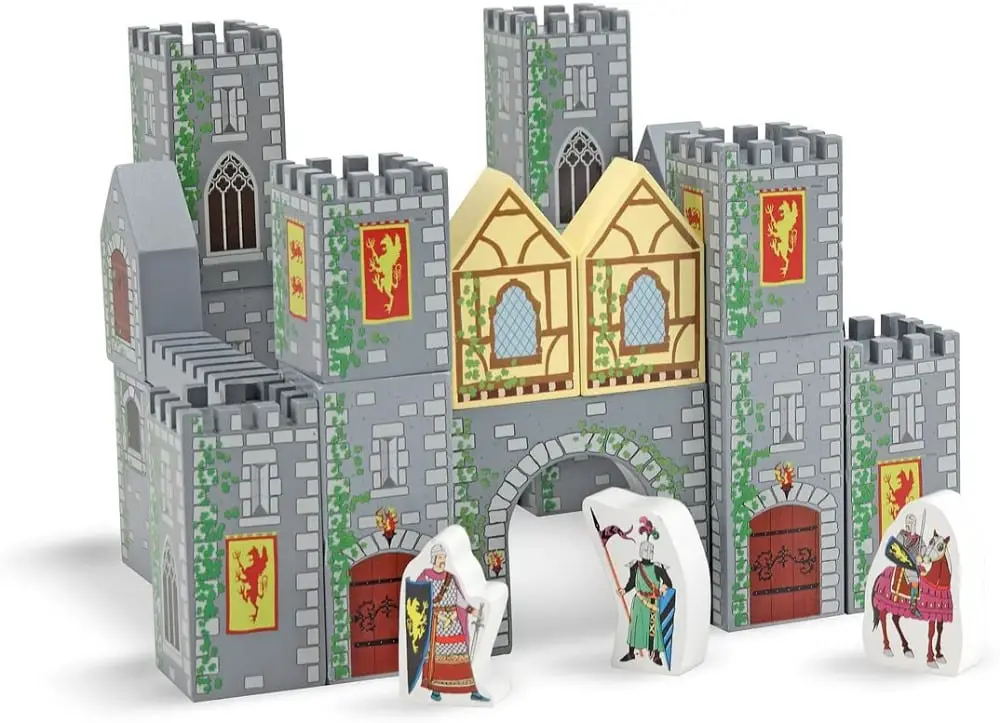 A 28-piece castle blocks play set from the popular Melissa & Doug brand. What's unique about this set is its block pieces are preassembled sections of the castle. That includes pieces for the arched castle entrance, walls, and windows. Plus, castle tower segments that you can stack on top of each other.
It'll be easy for your child to tell the difference between the top and bottom because the top of the castle wall has merlons and crenels — the tooth-shaped grooves along the top of castle walls.
This play set includes just three figurines — two soldiers and one cavalryman. They're thick white wood pieces with front-and-back figures painted on both sides.
Best Foldable Toy Castles
What's special about folding toy castles is they can be unfolded to open up an interior full of intricate little surprises, like rooms with furniture and other figurines. That's a big advantage — your kid gets double the play space, so an even wider range of pretend play scenarios become possible. Pretty nifty if you ask me!
Melissa & Doug Foldable Wooden Castles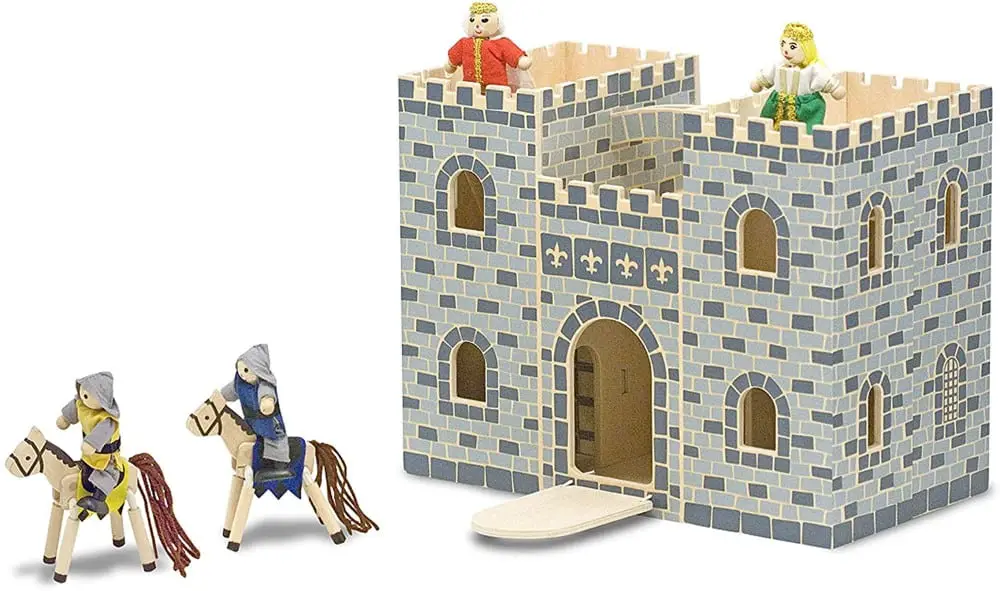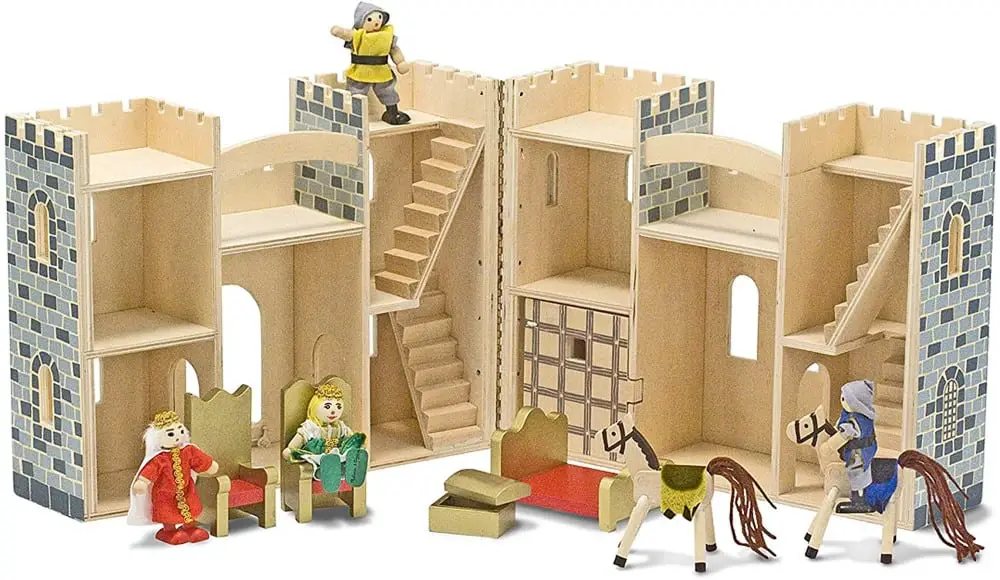 The Melissa & Doug brand offers some of the most fun and functional castle playsets available in their "Fold & Go" line — 100% portable wooden dollhouse with a convenient carrying handle so you can take your adventures with you wherever you go.
Melissa & Doug offer two distinct styles of folding wooden toy castles with figurines included — the original and the princess edition. The original comes with four wooden dolls to protect the castle — a king, a queen, and two horsemen.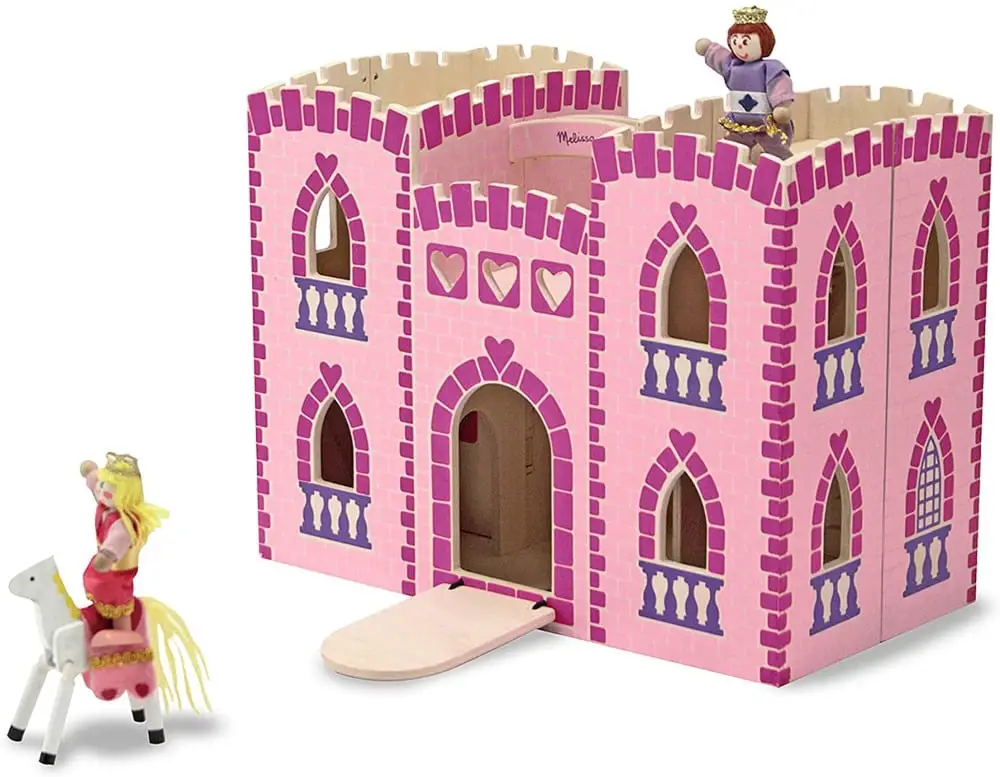 The princess edition is better tailored for a romance fable. The set includes four wooden play figures and four royal furniture pieces — a prince and princess, two ponies, two royal thrones, a bed, and a chest.
Hape Toys Foldable Wooden Castles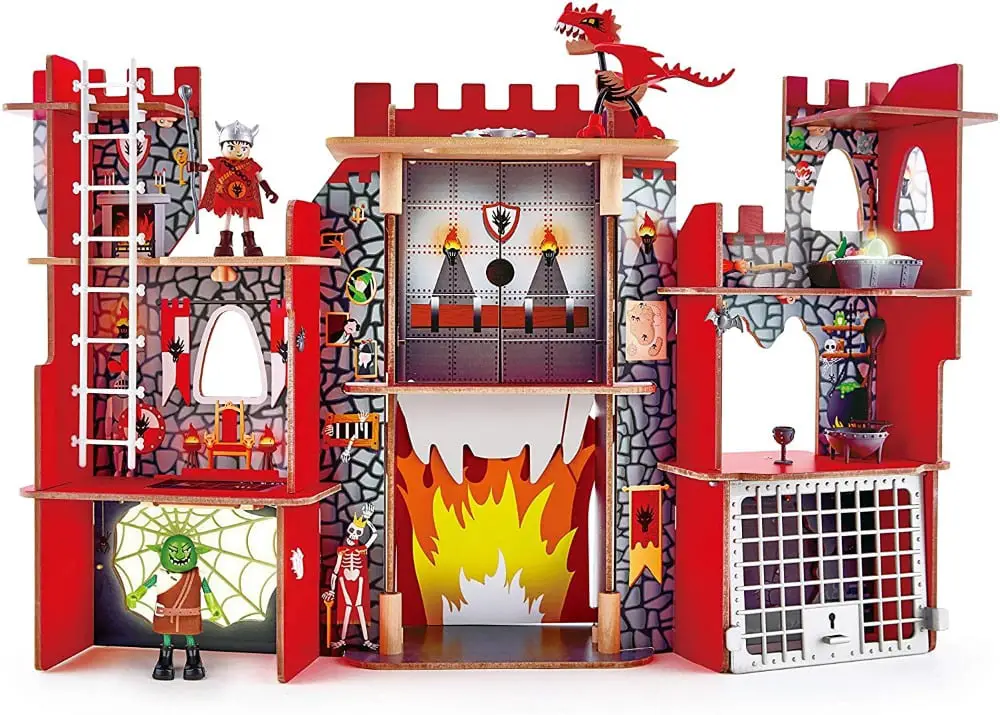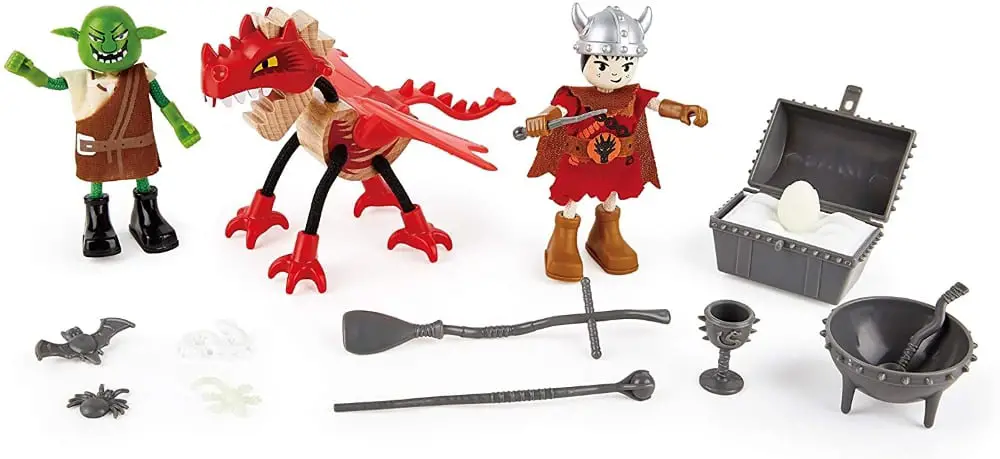 This vikings-themed castle dollhouse imaginative play set from Hape Toys boasts the boldest visual imagery and most surprising trinkets. The castle exterior looks like a dragon head mountain, and the interior is chocked full of peculiar magic figurines, like a rideable dragon and grouchy ogre.
Plus, the castle features all sorts of unique interactive rooms, like a spooky dungeon, a sorcery layer, and even a secret chamber.
Best Classic Toy Castles
Real-life castles have been around since the Middle Ages or even earlier. By adding modern doodads that never existed in ancient times, some of today's toys attempt to reinvent what a castle should be. For history buffs, that's not cool.
If you care about historical accuracy, there are still plenty of classic wooden toy castles with figurines to choose from. Here are my top picks!
Alex Classic Wooden Toy Castles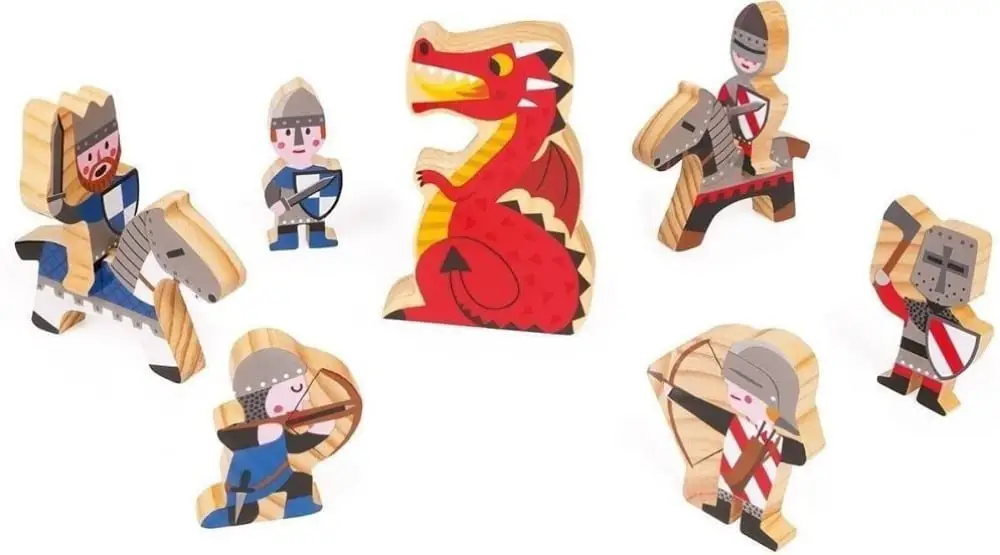 That's more like it! This one looks like a miniature version of a real castle. It's a durable, heavy-weight castle without anything new or gimmicky about it — a classic castle toy just like castles have been made since the medieval times.
There are tradeoffs, though. The castle layout is not as suitable for open-ended play as other kinds of wooden castles. Yes, this 55 pieces classic castle set includes a pulley-operated movable drawbridge, but it's just not as versatile.
After the castle is built, however, feel free to play with the figurines however you want! The set comes with nine figurines, including knights, horses, and a dragon. Each one is a thick two-dimensional piece of wood that can stand up on its own. 
Estia Holzspiel Design Classic Wooden Castles
Inspired by the old-age architecture of a town in Central Germany where a prince decided to plop his castle, this handmade wooden toy castle is the pinnacle of excellent German craftsmanship. It's made in Germany and shipped globally, so this model may be especially attractive if your family has German heritage.
Every detail boasts fine woodwork, including four large towers with removable tower roofs, eight castle wall pieces with battlements, freely placeable wooden stairs, and a classic drawbridge.
Do note that you will need to purchase your castle figurines separately, but don't worry, this independent maker Estia Holzspiel Design lists a variety of classic wooden figurines in their shop.
This caliber of quality comes at a price, however. This particular castle as one of the most expensive on the list.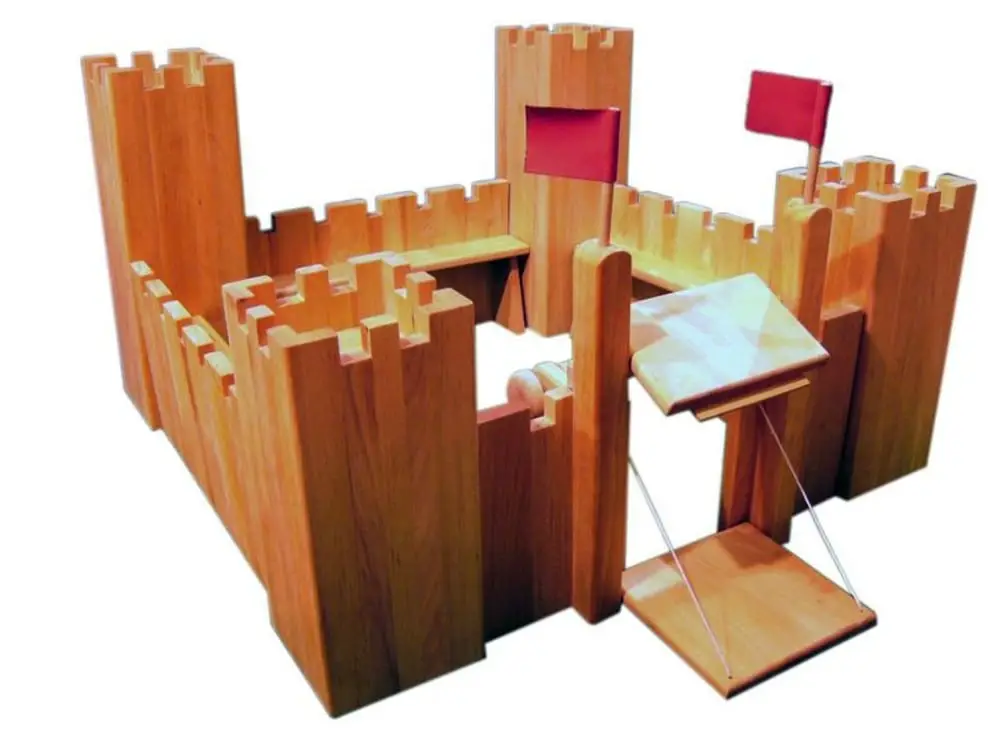 Styled after another 13th-century German castle, this is a somewhat smaller and simpler variation of the first German wooden castle we just looked at, at about half the price. It's got four towers, broad castle walls with battlements, and a gate with a drawbridge. 
Le Toy Van Classic Wooden Castles
The Le Toy Van brand adds a modern touch to the classic wooden castle toy. Two main castle models — one blue, one red — come with preassembled castle pieces that your child will fit together like a 3D-model. When he or she's done, the castle looks extremely well put together. An architectural accomplishment for the ages!
Most Unusual Toy Castles
At Oddblocks, we like to "Think Outside The Blocks" and add less common types of wooden toys into the mix. Popular brands are popular for a reason — they make great toys.
But before you buy, I think it's always good to expand your horizons just for a moment and check out what's available. You might be pleasantly surprised with what smaller brands or lesser known styles have to offer.
Who knows? You might find your favorite new kind of wooden castle toy!
Vulp's Toys Minimal Wooden Castle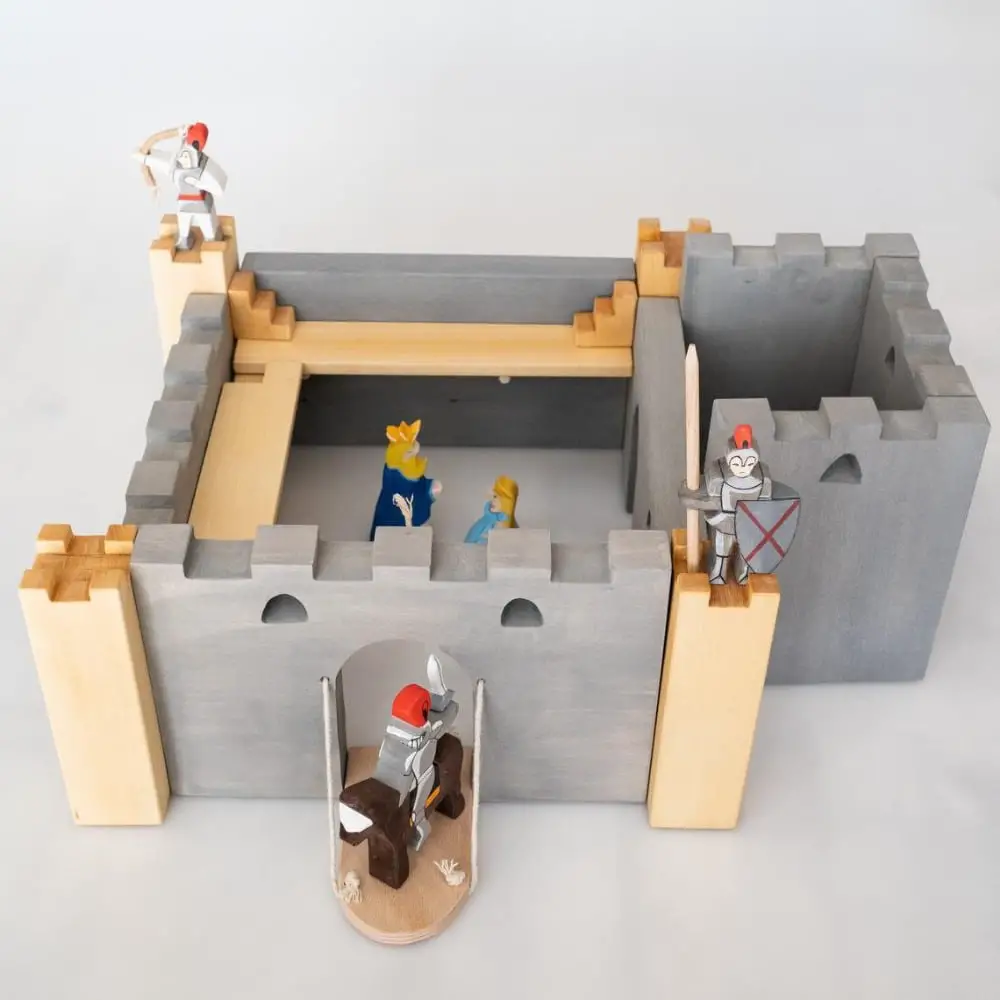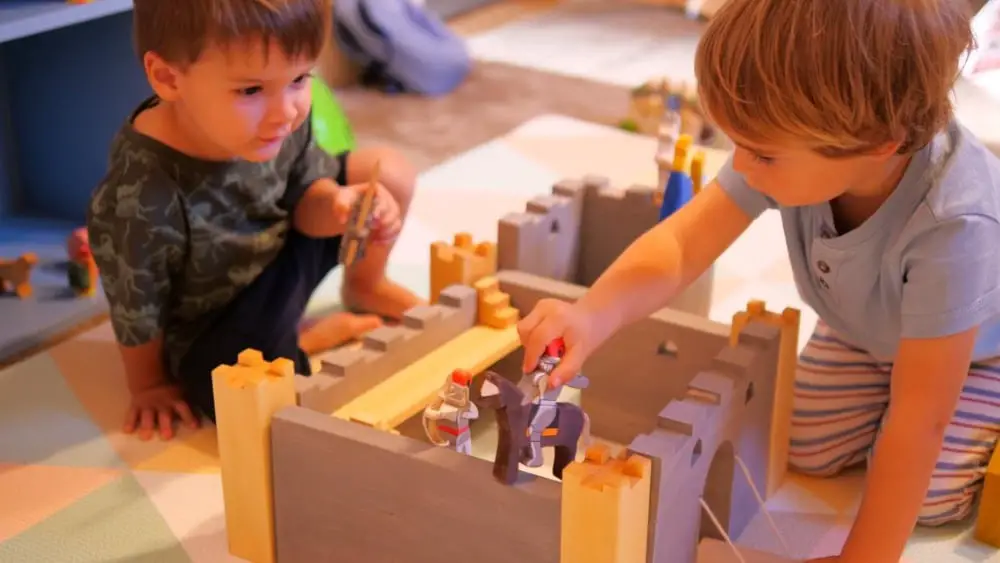 I really like the minimal style that independent maker Vulp's Toys has brought to the wooden toy castle game! The wall pieces are chunky, simplistic, carry a tasteful two-tone color scheme of just grey and natural wood.
The set includes ladders and catwalk pieces allowing the soldier figurines an advantageous vantage point from which to defend the castle. Personally, I think it would make a stylish home decoration even when the kids aren't around to play with it.
Holly and Fred Wooden Castle with Personalized Name
So many castle toys these days are painted in loud colors and feature dozens of little dings and whistles in the design, so it's refreshing to see a plain natural wood castle toy focused on simplicity like this one.
The folks at Holly and Fred brand will take custom orders and can laser-engrave a name or word above the castle entrance. For a child who loves medieval role-play, a castle toy personalized with his or her name is a most memorable gift. Without a doubt.
Prepped and ready for some intense role-play, this castle toy set includes thick two-dimensional wood figurines painted on both sides — three knights guarding the castle, a ladder, and a catapult.
Manzanita Kids Large Modular Wooden Castle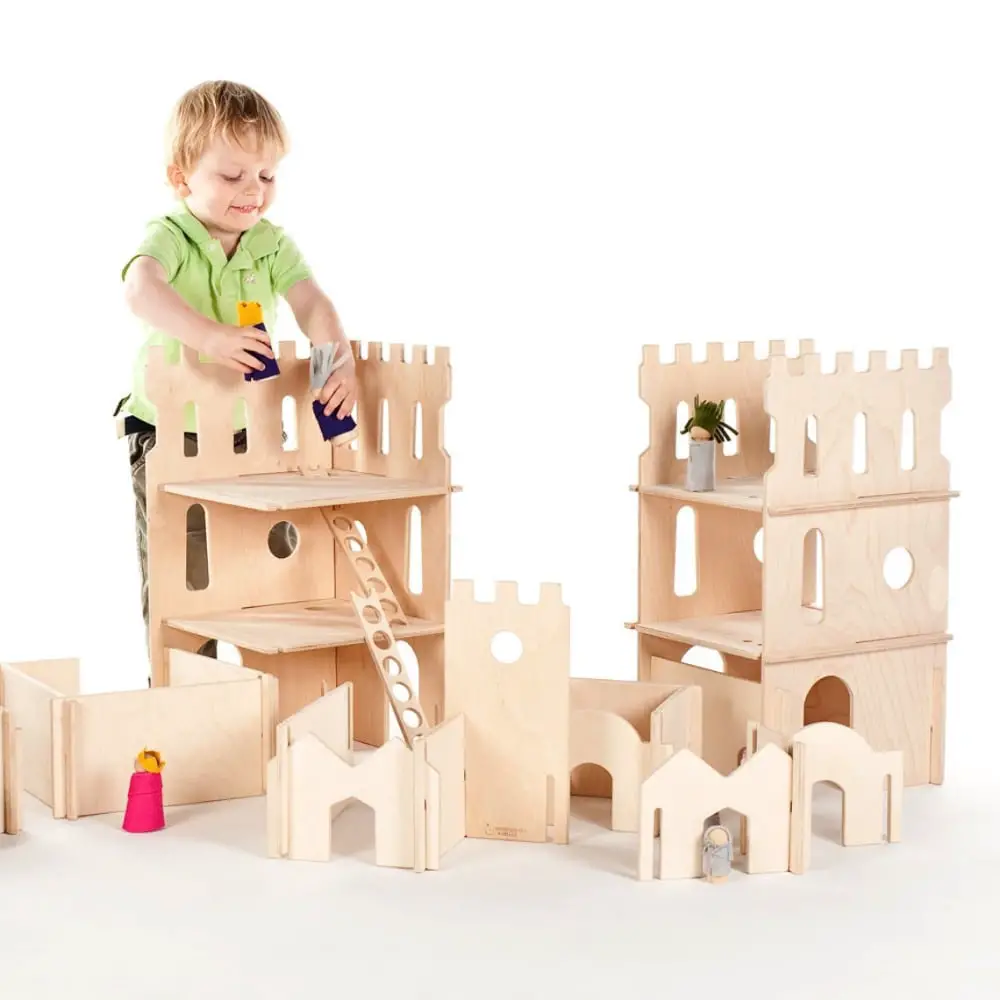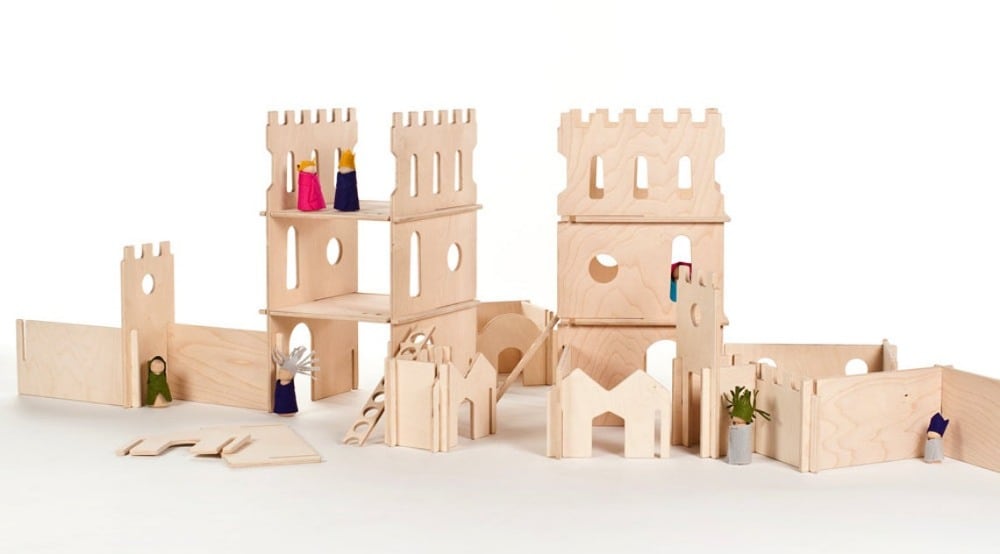 By far the largest wooden toy castle on this list, Manzanita Kid's modular set comes with large modular wood towers and walls so that your kid can build literally thousands of different castle layout configurations.
The set comes with six fun wooden peg people, that match the set perfectly. Since this set is so large, there's plenty of space to invite stuffed animals, plastic dinosaurs, and other large toys to play along, too!
As a simple, versatile, modern, and natural DIY modular castle toy set, it's definitely one of my personal favorites.
David's Wood Store Surrealist Wooden Castle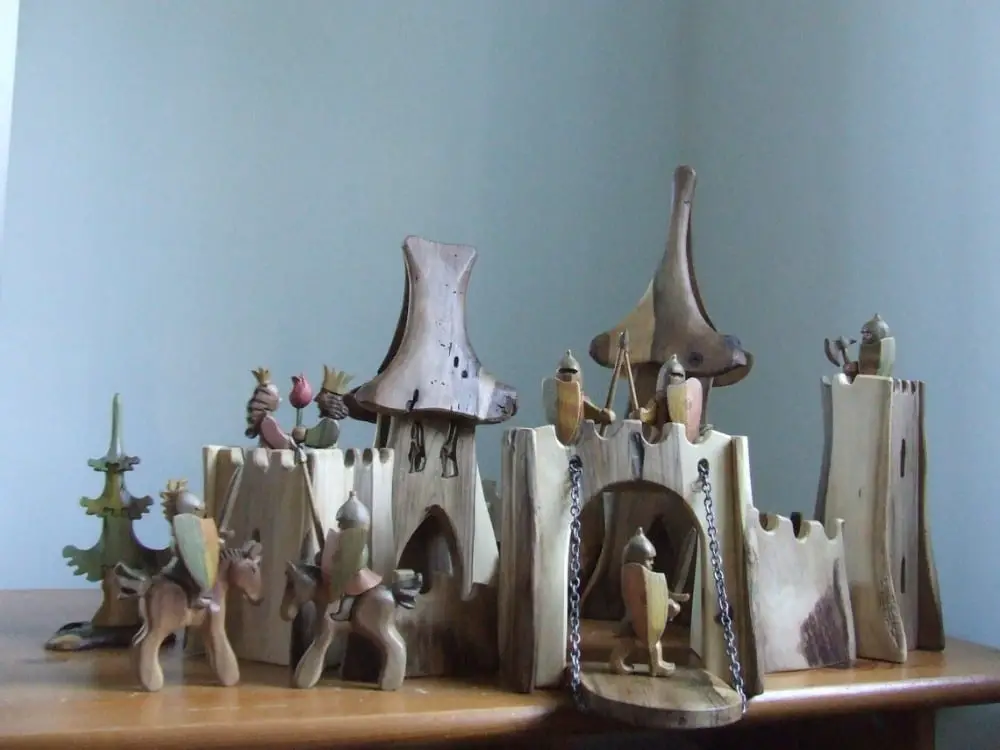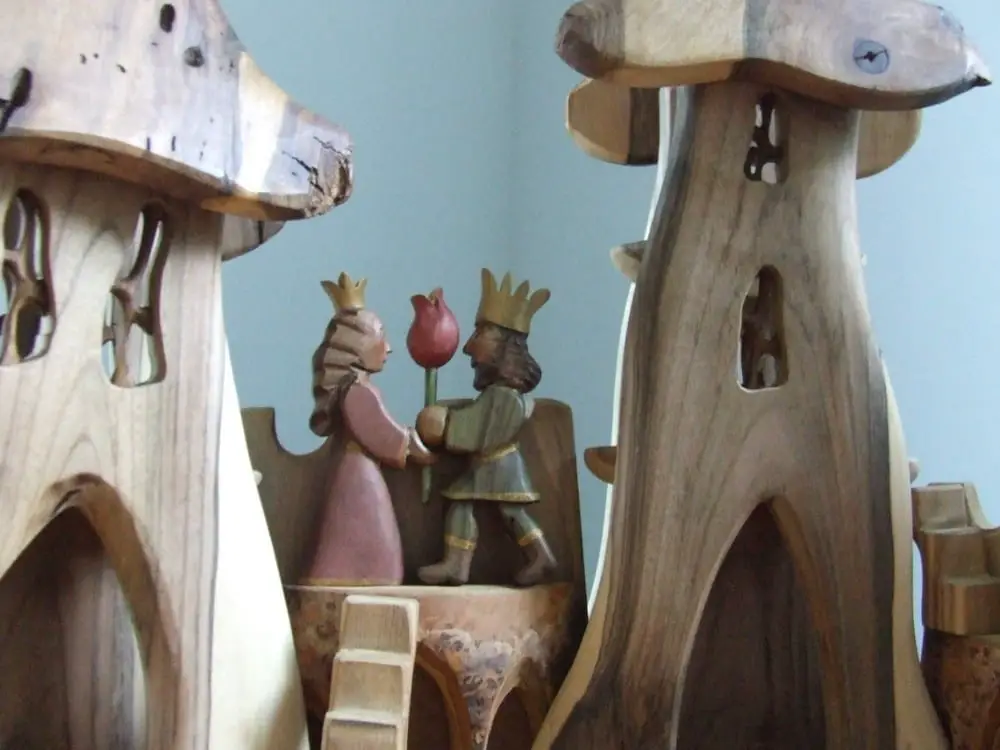 The Knith's Castle set is not for everyone — I'll say that much. But I think there are quite a few a wooden toy enthusiasts who particularly like this style. The independent makers at David's Wood Store are true artisans when it comes to expressive, surrealist wooden castles it almost more like a piece of art than a toy. But I assure you, it's made for children.
The set include a knight on a horse, a dragon, a foot soldier, a king, a queen, and the mysterious flower the king is giving to the queen. These figurines' every detail — even down to the facial expressions — are eerie as if they're going to come alive at night. Perfect — if that's what you're into!
Best Figurines To Match Your Wooden Castle Toy
Most of the castle sets we've listed come with an entire battalion of fun figurines right out of the box. Some sets' figurines are just two-dimensional blocks of wood. And for other sets, you'll need to buy your figurines separately.
With that in mind, you'll be happy to know just how many fun medieval puppets and figurines are available for purchase — without the castle. Here are my top picks for the best wooden figurines to match your wooden toy castle.
Spoiler alert — you're going to see some familiar names!
Le Toy Van Wooden Figurines
Le Toy Van has an amazing collection of creatively painted and clothed budkins-style wooden figurines, such as their 3-packs of posable knights figurines, and a cute-as-could-be wooden dragon figurine. As you might expect, they're perfectly sized for the Le Toy Van castle toys we mentioned previously.
Hape Toys Wooden Figurines
We've seen lots of knight and horse figurines do far, but a viking riding a dragon? From the creative minds at Hape Toys, this is a first! With sturdy and flexible limbs, your child will be able to pose the viking on when not in flight.
Melissa & Doug Wooden Figurines
The Melissa & Doug brand offers an excellent selection of clothed wooden puppets. From classic clothed budkins-style dolls to modern posable figures with wooden flexible limbs, the stories your child creates will be full of personality!
Estia Holzspiel Design Wooden Figurines
From the king of German-made classic wooden toy castles, Estia Holzspiel Design comes a complete lineage of flexible clothed wooden dolls with fun little facial expressions and cute wooden weaponry. What fun would a castle be without a king, queen, prince, and princess to call it home?
Over to you!
There you have it! We've covered some of the best wooden toy castles available today — and their figurines, too.
I hope you found what you were looking for, and I'd love to hear your thoughts.
What's your favorite wooden toy castle brand or model?
Do you have any tips for how to choose the best castle toy?
Which castle from this post do you like (or dislike) most?
Let me know in the comments below.