As a parent, you probably drink coffee to "get you through the day", but with these playfully delicious wooden coffee play sets, your kid will "get straight to the play"!
Words cannot "espresso" just how much fun these "perk-tastic" toys are.
Whether your little one is a budding barista looking to master the craft — or they just want to do what mommy and daddy do — these toys are perfect for bottomless coffee role play that'll last for hours.
Without further adieu, let's put on a fresh pot and start the morning right — with a list of the best wooden coffee toys.
No caffeine, no calories, and made to taste — however your child imagines!
Affiliate Link Disclosure – If you see a product you like and click through to buy it, I would genuinely appreciate it. I may earn a small commission — at no extra cost to you. It would mean a lot, thanks!
In a hurry?
Here's a quick list of my picks for the top 5 wooden toy coffee makers and espresso machines!
Wooden Toy Coffee Set Comparison Table
Here's a table to answer frequently asked questions about each wooden coffee toy. Questions like:
What's the recommended age?
It took me more than a few cups of coffee to gather all this info — but knowledge is power, and I hope it helps you make the right decision for your family!
| Toy brand | Recommended age? | Child-safe? | Made where? |
| --- | --- | --- | --- |
| Hape | 3 to 5 years | Yes – Child-safe materials, Non-toxic finish | China |
| Melissa & Doug | 3 to 6 years | Yes – High manufacturing & safety standards | China |
| KidKraft | 3 to 8 years | No Info | Overseas* |
| Wood Presents | No Info | Yes – Eco-friendly wood, carefully sanded, natural finish | Belarus |
| Imagination Generation | 3 to 5 years | Yes – Natural wood, Water-based paint | No Info** |
Wooden Toy Coffee Set Comparison Table
* It's not confirmed, but it appears to be "all around Asia" — China, Malaysia, Thailand, and Indonesia.
** If a toy company isn't up-front about where their toys are made, that usually means "somewhere in Asia".
---
Kid's Coffee Maker Wooden Play Set by Hape
Best all-around coffee set
Check on Amazon (Green, Black, White)
Let your little one make coffee just right — with this essential coffee playset! "Single sets" (Green, White) include one mug, a coffee token, a carton of creamer, a jar of sugar, a spoon, and the coffee machine itself — all parts made with wood. Or with Hape's "coffee time for two" set (Black) you get double the mugs, coffee tokens, and stirring spoons.
Available in three contemporary colors — green & orange, black & silver, and white & red — the bold and basic color choices are one thing I really like about this toy. Overall, this is a highly-rated toy coffee set that encourages role play and educational learning in all the right ways — and definitely something parents and kids can play with together.
"Brew & Serve" Wooden Coffee Maker Set by Melissa & Doug
Best-selling wooden coffee play set
With over 2,500 five-star ratings and a low price tag (at the time of writing), this 11-piece wooden coffee play set is a crowd-pleaser for sure. Aside from the paper card with coffee recipe instructions, all the play pieces are made of wood — even the adorable ice cube for making iced coffee!
In general, Melissa & Doug is one of the most well-known brands for wooden and educational toys — so when they make a realistic-looking pretend-play coffee set, you can expect child-safe quality standards at an affordable price. With detailed features like a coffee machine lid that opens and closes, plus a dial that turns to change the coffee settings — I'd have to agree this is a great kids' coffee set!
Children's Wooden Coffee Pods Set by KidKraft
Best coffee pods playset
Check on Amazon (Pastel Pink, Mocha Brown, White)
For the modern coffee drinker who's already switched over to coffee pods — this set will let your kids play coffee just like mommy and daddy! Just pop in the pod, close the lid, and let your pretend coffee brew.
The coffee pods are made of wood and realistically shaped just like Nespresso pods. But do note that other pieces in the set are plastic — like the water reservoir, coffee mug, and a stirring spoon. Another downside is some people say the water reservoir doesn't stay firmly secured and easily falls out of place.
I do think the set's color palette is a plus! It's one of the only wooden coffee makers painted in a lovely pastel pink — especially great for little girls. But for boys — don't worry — it comes in white and dark mocha brown variations, too.
Unpainted Wooden Toy Coffee Machine by Wood Presents
Best handmade coffee toy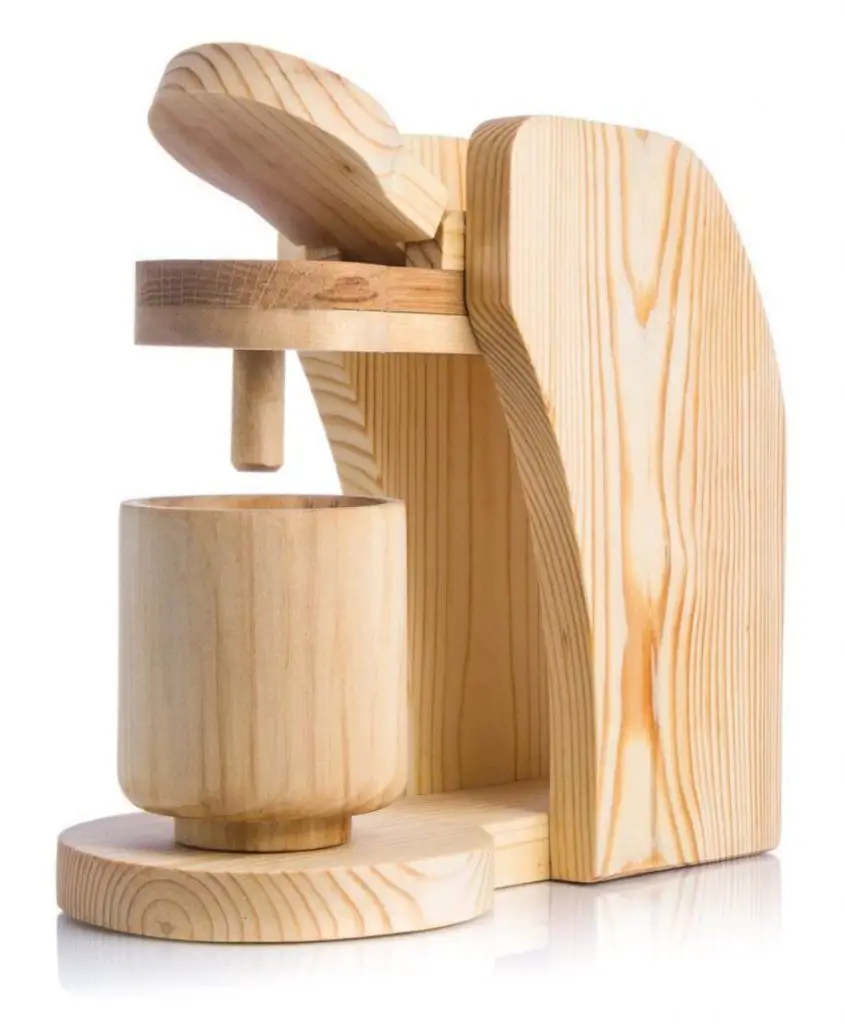 Here's one for those of you who appreciate the natural look and feel of plain wood. Handmade from natural wood and left unpainted — this eco-friendly wooden coffee maker toy is finished with natural oil to protect the wood and enhance beautiful wood grains' visual appeal.
Without all the busy widgets and accessories dictating what it is and how to play with it, this is the most open-ended coffee set on the list. Its simple construction just leaves more to your child's imagination — something Montessori parents can appreciate.
"Espresso Express" Wooden Coffee Maker Playset by Imagination Generation
Best for Starbucks lovers
I can imagine for lots of parents, grabbing a Starbucks is part of the morning routine. But just imagine how your kid feels when you tell him or her "you're too young for coffee"! Well, here's your solution.
The "Espresso Express" playset is made in a green color pallet just like Starbucks — and the logo? Let's just say it's not an exact rip-off. The set comes with everything your little one needs for pretend play as a "Starbucks-like" barista — two mugs with a "Starbucks-like" logo, two coffee pods, a carton of coffee cream, a packet of sugar, and of course the espresso machine itself — complete a portafilter just like professional coffee-mavens.
Honeybake Premium Wooden Cafe Machine Set by Le Toy Van
Honorable Mention: Cute lady-bug mugs
I just love the two adorable lady-bug-patterned mugs in this play espresso set — which also includes five espresso capsules, a stirring spoon, and the cafe machine itself. The front of the espresso machine has three unlabeled buttons, so your child can use his or her imagination to come up with what they mean. Maybe "light, "medium", or "dark" — maybe "Latte", "Cappuccino", or "Macchiato" — or maybe "mommy", "daddy", or "baby"!?
Since it's more expensive than other wooden espresso playsets on this list, I'm calling it an "honorable mention". But if you're a lady-bug lover or red-color fan, it's still worth a gander!
Wooden Toy Espresso Machine by Tender Leaf Toys
Honorable Mention: Fun color-matching activity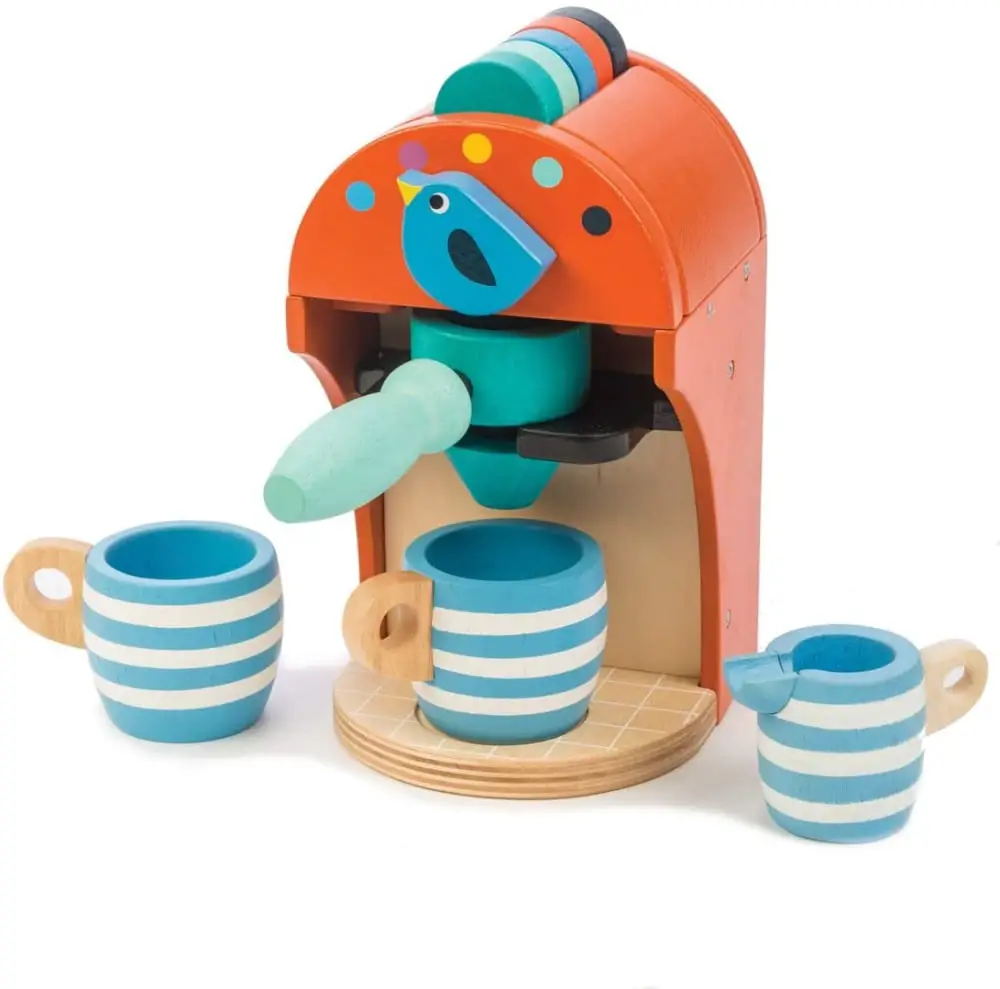 As the hefty price tag would reflect (just an "honorable mention" due to its high price), this is a premium toy espresso machine — including three mugs, five coffee capsules, and the machine itself.
Your child can use its espresso settings dial with five color settings corresponding to the colors of the coffee capsules themselves. (Did I mention, the dial is shaped like an adorable little bird!?) Not only does it reinforce color-recognition, but it also teaches kids how to follow instructions and operate settings — a real-life skill to grow up with!
Over to you!
There you have it! We've covered some of the best wooden toy espresso machines and coffee makers — "brew-ti-fully" designed for "perk-tastic" pretend play.
I hope you found what you were looking for, and I'd love to hear from you. Let me know in the comments below, and I'll "see you latte"!