You guessed it! Toy garages are designed for playing with toy cars. So, if your little guy loves toy vehicles, a toy garage is the perfect gift!
Adding a garage toy into your boy's collection of cars, trucks, trains, or any other toy vehicle is something he'll love — and will inspire hours of educational, developmental, and creative play!
Today, I'll show you some of the best wooden toy garages that will take your son's toy car collection to the next level!
Why wood? At Oddblocks, that's our focus.
Are wooden toy garages better? That's up to you!
I will say…
There are so many unusual and innovative styles of wooden garage toy you've probably never seen before. I think some of them will really throw you for a loop!
Plus, just because the garage is wood, doesn't mean all your other toys need to be wood, too! Wooden parking garage toys incorporate well with other toy vehicles of all shapes, sizes, and materials.
Sit back and relax. Here we go!
Affiliate Link Disclosure – If you see a product you like and click through to buy it, I would genuinely appreciate it. I may earn a small commission — at no extra cost to you. It would mean a lot, thanks!
Melissa & Doug: Best Value
Melissa & Doug is a very popular wooden toy brand — and for good reason. It offers some of the best value wooden toys for boys, well-known for their affordable prices and great quality. The people at Melissa & Doug are experts in early childhood education, and they describe their toys based on the educational benefits of your child. This is really helpful for parents, and one big reason I like the brand.
Melissa & Doug only offer a few different styles of wooden toy garages, but I still commend them for their low cost and high quality. They're a great first-purchase wooden play garage toy if you're new to wooden toys or don't know exactly what kind of wooden car garage toy you're looking for yet.
Here are two models I highly recommend, each with its own special play purpose:
Service station parking garage
This well-rounded play set includes everything your little guy will need for pretend play — two-levels, numbered parking, garage doors, an elevator, a car wash, a gas pump, and two painted cars.
Plus, the service sign doubles as a convenient handle, so the toy is easy to carry when you're done playing with it. That's definitely a parent-approved added feature.
Garage and cars for nesting and sorting
At first sight, you can already tell this toy parking garage is different than all the others on this list. The garage buildings themselves are designed for nesting. "Nesting" basically means the boxes will fit snugly inside of each other. Think Russian dolls — it's the exact same concept.
The garage pieces' cube shape and nesting ability mean a whole lot more than you think. Your son will enjoy a whole new dimension of open-ended play, stacking the buildings on top of each other just like a set of building blocks. That's something no other wooden garage toy can offer.
When not in use, the toy stows away in a nice neat nested package — a perfect perk if you're low on space or live in a tight city apartment.
Imagination Generation: Best Modern Design
The Imagine Generation brand is not as well known as Melissa & Doug, but across the board, they offer some excellent modern-classic wooden toys — safely-constructed and ready for educational and imaginative play.
I'll show you why. Here are my two favorites.
Wooden parking garage with elevator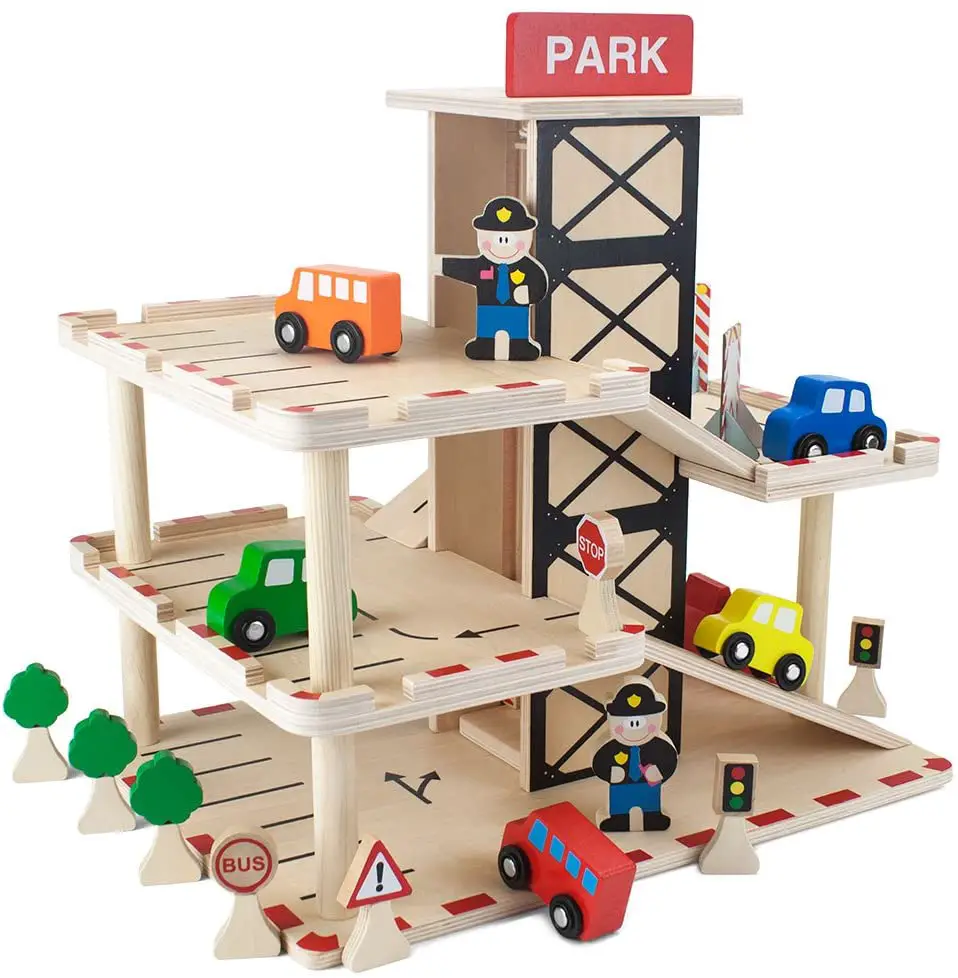 This one's got everything you need out of the box. It's four-stories all with a lift that can make stops at any level. It comes with service people, gas pumps, cars, and a fun collection of little wooden traffic signs. Those are a great way to jumpstart your boy's driver's ed learning. Understanding real-life traffic safety rules is an important practical skill for your son, even if he won't be in the driver's seat for years to come.
All that, plus I really appreciate the paint job on this parking garage toy set. It strikes a perfect balance between natural wood and semi-realistic solid color accents, in my opinion.
Wooden car wash and repair station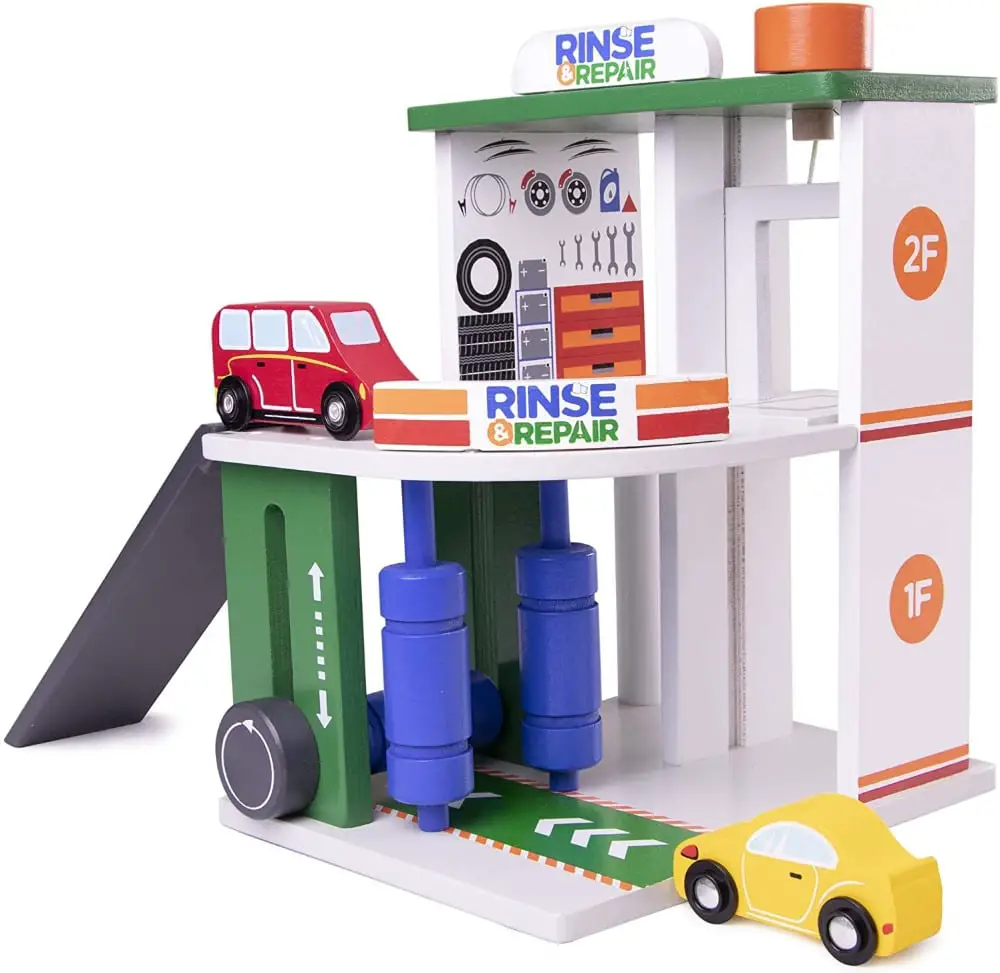 I remember the magic of going through the car wash with my mom when I was a young boy. It was exciting like a roller coaster ride, and something I looked forward to. Here's a set that brings the excitement home with you and lets your son relive that fun experience and right inside your own living room. He'll re-enact what he sees the hard-working people do at a life-size car wash, and learn the value of an honest day's work.
This one comes fully equipped with all the highlights of a real car wash and service station — like a corridor to clean and rinse and a spot for the mechanics to tinker under the hood, and an elevator lift so you can check underneath the chassis. When the tune-up is complete, your little wooden car will come riding down the ramp squeaky clean and in tip-top shape!
Plan Toys: Most Eco-Friendly
Today's toy industry is too focused on consumerist fast-fashion, but Plan Toys takes an alternative approach, capitalizing on "The Three R's": reduce, reuse, and recycle. Plan Toys really set the bar for eco-friendly manufacturing and social responsibility, so its a brand I truly admire.
It's not surprising that environmentally-friendly toy manufacturing costs a little more, so compared to the first two parking garage play sets we looked at, Plan Toys are a bit more on the pricey side.
Eco-friendly three-story parking garage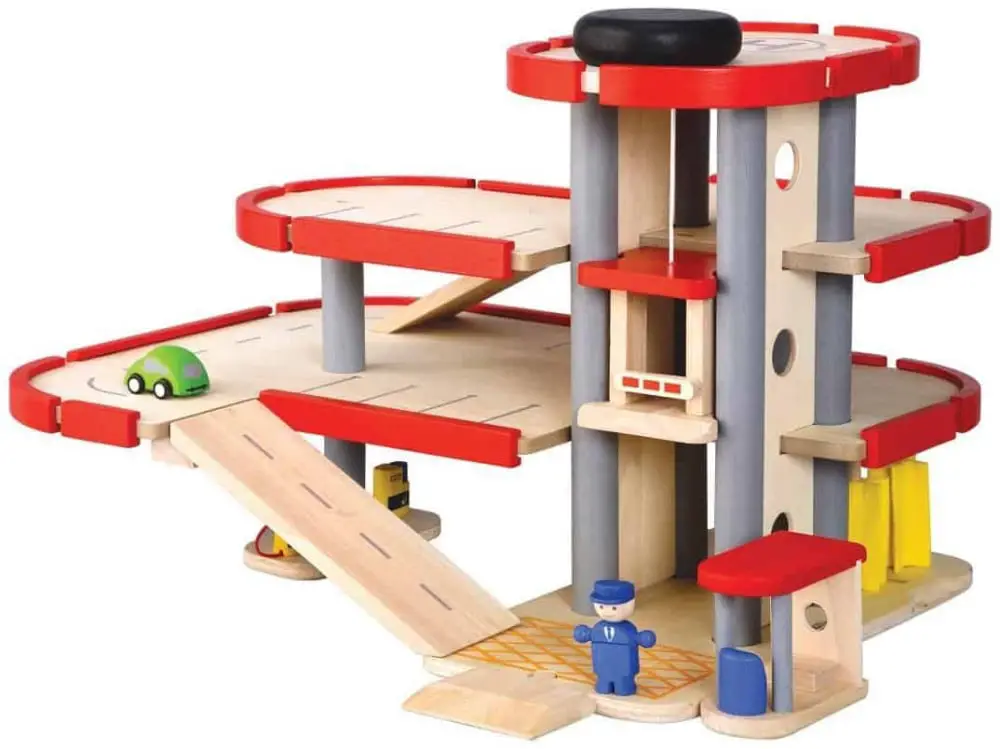 This wooden garage toy comes with a full-scale experience — a three-level construction with all the dings and whistles that we'd expect. 
What's special about this garage set is it's specifically designed to fit die-cast car toys, such as Mattel or Hot Wheels. If your kid collects die-cast toy cars already, then it's worth considering a larger garage toy set up like this one to make sure all your son can play with all his different sized cars.
Minimal race ramp parking garage
A simple, bold, and minimalist wooden toy garage that I'm pretty much in love with. It's true, I'm a sucker for their simple, modern-looking toy design — and this is exactly that.
It's equipped with a spacious helicopter pad, and the best car ramp of any parking garage set on this list. The ramp is so broad it can fit multiple toy vehicles zooming in a single go. The raised railings along the side of the ramps are a really important detail. When your child races his cars down the ramp, the railings will keep the racers on track all the way to the finish line! And that makes this toy uniquely functional.
Estia Holtzpiel Design: Best Classic Style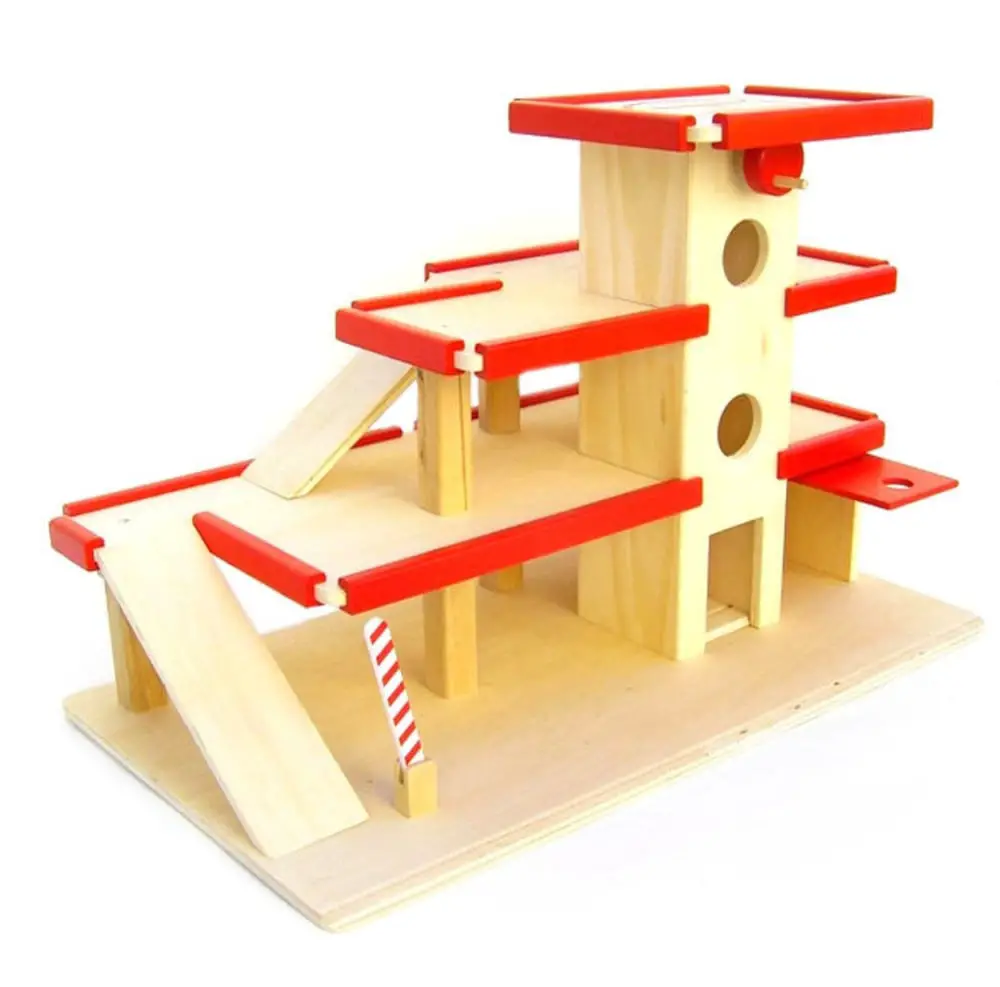 Estia Holtzpiel Design is a family-run brand hailing from Germany. Their motto is "Because childhood is too short for bad toys", and I agree wholeheartedly!
I've got to say — there's something magical about wooden toys from that part of the world. Germany is home-base to popular brands like Grimm's and if you look up the history of wooden blocks since the 1700s, that area of Europe is essentially where modern wooden blocks originate from.
Browsing through the Estia Holtzpiel Design store you'll find a range of expertly crafted large wooden toys. Their wooden toy garage is no different. It reminds me of a handmade version of Plan Toy's minimal style. Simple and functional, it's something true wooden toy aficionados can really appreciate.
On request, your car park toy can be shipped assembled or disassembled — whichever you prefer! That's one of the perks you get when working with an independent maker. 
Toy Box Addicted: Awesome Personalized Name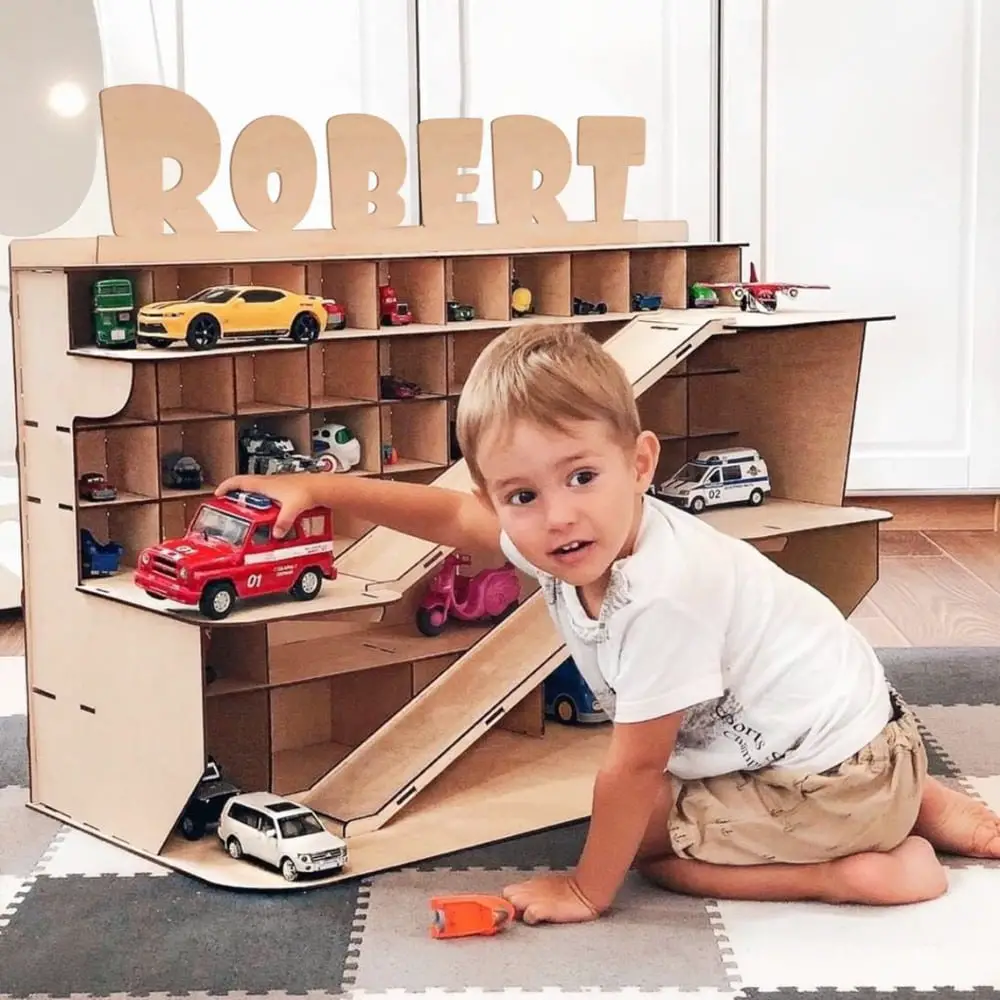 We've basically covered the most popular kinds of wooden toy car parks. So now we'll get into some of the lesser-known styles available.
The Toy Box Addicted brand, for example, makes innovative garage toys that double as a car storage shelf. This particular model comes with two large ramps and fifty slots where you can park your vehicle toys of all different sizes. 
And guess what? You can order a wooden play garage toy personalized with your boy's name. We're not talking about a tiny engraving. A plywood panel spanning the entire width of the toy will be custom laser cut to spell out your son's name! That's something very rare when it comes to wooden toy garages, and makes for a very memorable gift!
Your order will be shipped unassembled as a set of wooden panels you piece together when it arrives. In addition to developing your son's motor skills, it's the perfect father-son bonding activity.
Roadville: Toy Car Racing Champion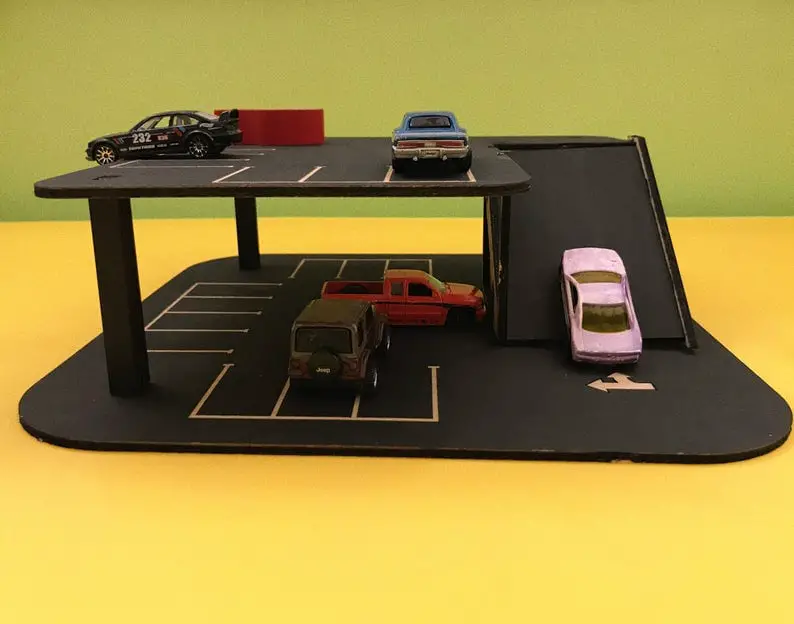 Roadville takes a fresh approach to the classic garage toy — by letting you build your own track extension. The garage pieces come with a modular car track that you can put together any way you want. Your son will combine creativity and spatial-reasoning to assemble, disassemble, and reassemble different sections of the car track. As far as I know, no other car park toy has anything like it!
One last thing. The roadway is really wide, so it will fit toy cars somewhat larger than the standard die-cast models. 
Decorative Wood Hobby: Best for DIY Painting
Last but not least! This one is a very special wooden garage toy from the Decorative Wood Hobby brand, an independent wood toy maker.
At first glance, it looks a little boring because it's just a plain unpainted wooden toy garage. That's because this car park toy is specifically designed for you to custom paint it in any color scheme you choose.
Don't worry, making a DIY craft project out of your garage toy is easier than you think. The makers recommend basic acrylic paint, which is one of the easiest kinds of paint to work with.
With some paper towel to wipe away any of your painting accidents, just roll up your sleeves and paint to your heart's content. You'll take this wooden toy garage from drab to fab.
It's another memorable father-son activity, and when you're finished, you'll own a one-of-a-kind wooden toy car garage completely your own!
Over to you!
I've read other buyer's guides and tried to mix things up a bit.
Instead of telling you exactly what you should buy, I tried to broaden your horizons, show you some lesser-known types of garage toys, and let you choose the style that's best for you and your boy!
If none of the garage play sets I listed are exactly right for you, that's alright. Nonetheless, I hope you've enjoyed reading, and I'd love to hear your thoughts!
Does your son have a favorite wooden garage toy? Which one?
Did any of the garage toys I listed surprise you?
What do you think is the most important factor to consider when shopping for a wooden toy garage?
Let me know in the comments below!