I've always loved Kickstarter for its forward-thinking products, inspiring design, and creator stories of domain expertise and entrepreneurial grit.
But it wasn't until recently that I discovered an entire ecosystem of innovative wooden toys on Kickstarter, and I'm simply in awe.
Someday — someday I aspire to develop my own blocks. For now, I'd like to applaud the wooden toy creators, and share them with you.
I've rummaged through Kickstarter's wooden toy campaigns 2010 to date.
Here are 14 of my top picks. Enjoy!
---
1. Woodas: Eco-Friendly Wooden Rocks
Funding Period: Now
Japanese made Woodas wooden rocks are eco-friendly wooden tumi ishi blocks, formed in those blissfully irregular shapes we've come to know and love. As a design-centric toy, these wooden rocks serve as both a contemporary wooden toy and a decorative art piece for your home. 
Most tumi ishi sets are made with a single wood type and then painted different colors. Each block in this Woodas set, on the other hand, is made with a unique type of quality natural wood and kept eco-friendly unpainted and untreated.
Fashioned from light and dark shades of walnut, maple, ash, pine, and sapele — Woodas blocks put natural beauty first.
When I close my eyes, I can just imagine its fresh forest scent.
---
2. ESNAF Toys: Wooden Magnetic Dinosaur & Animal Toys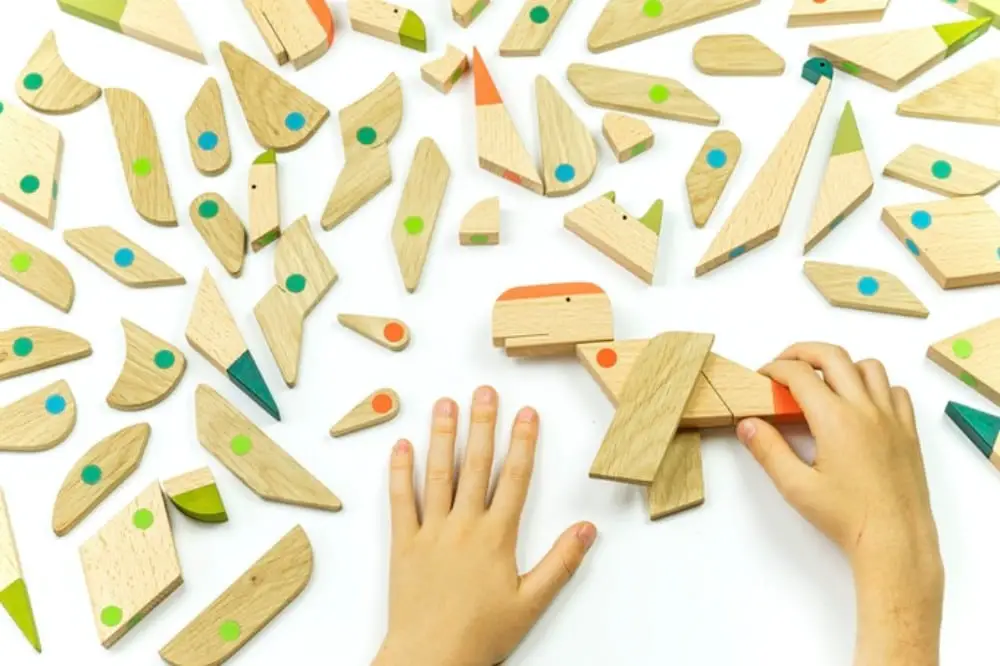 Funding Period: June 2020 – July 2020
ESNAF Toys is a family-run brand of wooden toys, started by two architects (husband and wife) when they had their first child. Ever since their son's birth in 2013, they've been drafting, developing, manufacturing, and selling innovative wooden animal figures.
Their Kickstarter campaign boasts 13 brand new magnetic wooden toys.
The toys are mostly natural wood color, but each separate figure has its own minimal painted color accents. This way, you can tell which pieces to belong to which animal figure. For example, yellow pieces make up the kangaroo. Orange pieces make up the tyrannosaurus rex.
Since the pieces are free-form and open-ended, you can get creative and invent a new animal. For example, a kangasaurus rex.
---
3. Cody Blocks: Wooden STEM Toy
Funding Period: April 2020 – May 2020
Frankly, most STEM toys are ugly. Somehow design aesthetics get forgotten in the entire product development process. But Cody Blocks are gorgeous.
They're fashioned like a contemporary cityscape, with simplistic skyscrapers.
Cody Block's slogan is "introducing coding one block at a time". That's because it's a STEM toy that teaches logic principles — a.k.a. the building blocks of programming.
How to play? The game works by "programming" a path for a motorized car to follow. Each block has a directional command symbol printed onto the block — like turn left, turn right, repeat and stop.
STEM learning comes alive when you set the car on its path. Just like real programming, there are limitless combinations of paths you can sequence.
---
4. Kolekto: Geometric Magnetic Wooden Blocks
Funding Period: January 2020 – February 2020
Made in Denmark by a mother of two, Kolekto blocks have everything you'd ever want in an essential block set. They come unpainted in the most basic shapes — square, triangle, and sphere.
Each piece has one or more magnets embedded into its surface. You can tell that the magnets are strong, able to defy gravity even when attached at a 90-degree angle with no support below.
Strong magnets aren't the only attractive feature, however.
The block set in aggregate has all the pieces you need to make little block people with a variety of personalities — even with fun geometric breasts and hats if you please.
---
5. Weaponized T-Rex: Wooden Rubber Band Minigun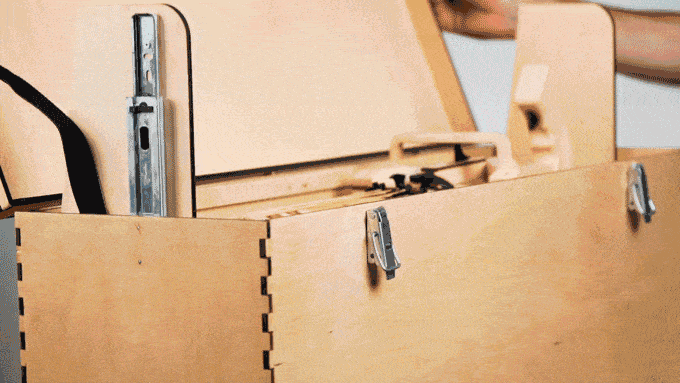 Funding Period: October 2019 – November 2019
Parental supervision required! Even if it's more for adults than children, this toy is just too cool to leave out.
The Rubber Band Minigun by Weaponized T-Rex is a fully-automatic, fully wood-omatic rubber band gun that will shoot rounds of rubber bands faster than any anything else out there.
12 barrels powered by an electric motor unleash the rapid-fire of 144 rubber bands. So, watch out and do wear protective glasses.
I can imagine my own dad taking this downstairs to his man cave, and not seeing him for hours.
This toy is not recommended for children. But it's the perfect gift for extreme wooden toy geeks.
---
6. PLOK Toys: Geometric Magnetic Building Blocks
Funding Period: November 2018 – December 2018
PLOK Toys is a start-up hailing from Amsterdam. Their magnetic blocks are built upon the principles of child development, geometric design, and environmental friendliness.
What really caught my eye about these blocks are their chunky large-sized geometric shapes, including hexagons, parallelograms, trapezoids, and triangles.
Pair the blocks' modern color scheme and magnetic powers — that's a really inventive block set sure to boost children's creativity and imagination.
---
7. Tinkerton Toys: Akamina Puzzle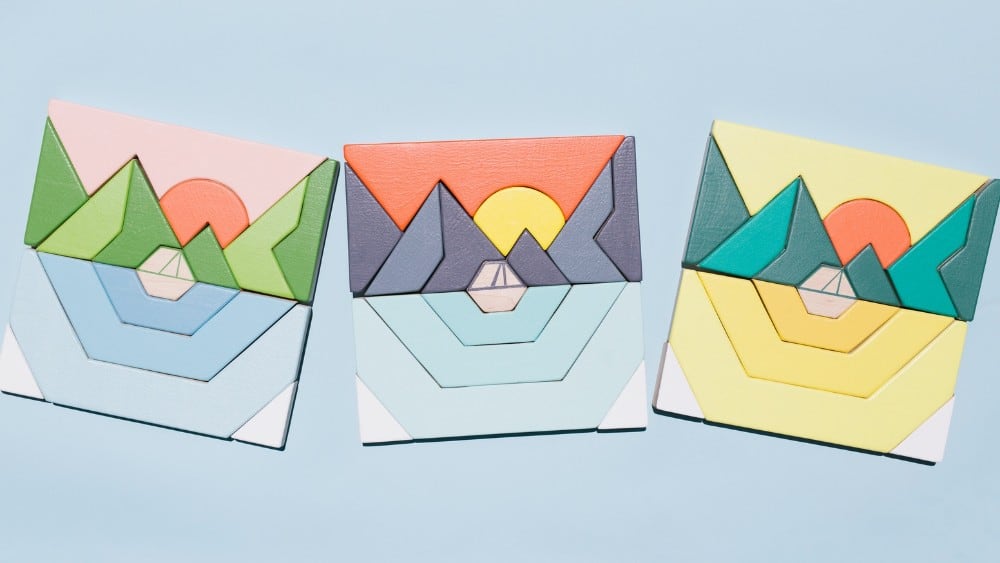 Funding period: June 2018 – July 2018
Founders of Tinkerton Toys, Amy and Charles Wood, are both mechanical engineers by trade. Raising their two daughters in a digital age, they quickly realized how important physical experiences are for children.
Amy and Charles started their mission to promote healthy child development through enriching physical play and interacting with the world around us.
Thus was born the Akamina Puzzle, a natural wooden tangram. The word "Akamina" is the Native American Kootenai tribe's word for "valley".
Each puzzle set is designed as a mountain valley scenery in abstract geometric form. This wooden tangram is designed to engage children's imagination and STEM skills, and is thoughtfully designed with nature in mind.
---
8. Wumba: Magnetic Animal Blocks
Funding Period: June 2018 – July 2018
Magnetic wooden blocks have been gaining popularity in recent years, but most magnetic block sets are too intricate for younger children.
Wumba's imaginative animal block set is changing the game, with these magnetic blocks designed to be safe for even the youngest children.
Wumbas blocks come in the shapes of 5 different animals, cute as could be. The pieces' broad curved shapes and completely embedded magnets allow young children to mix-and-match all sorts of fun combinations.
One thing I appreciate about these blocks is their large, chunky sizes and their gummy rounded edges.
As parents, we'll worry that small blocks could become a choking hazard, especially during our child's teething stage. But this set is designed safety-first, even for our littlest ones.
---
9. Hope Montgomery: All American Wood Blocks
Funding Period: May 2018 – June 2018
As a collaboration between designer Hope Montgomery and manufacturer Maple Landmark, All American Wood Blocks makes a bold statement about diversity in the United States of America.
The set comes with 3 blocks, each as a different section of a character — a head, a torso, and a pair of legs. Painted onto each side of the block, the characters are intended to dispel racial, gender, and classist stereotypes.
In a country becoming more and more divided by invisible lines, this toy delivers an important message.
No matter how you combine the pieces, the words "I AM AMERICAN" will remain.
---
10. Cavalcade: Wooden Rocking Animals
Funding Period: March 2018 – April 2018
Cavalcade is the flagship product line of an Amsterdam-based toy startup founded by toy industry veterans Luca Boscardin and Valentina Raffaelli.
They've taken the old-style drab rocking horse and remixed it into a festive modern collection of wooden rocking animals. 
The founders ideated their design based on the solid principles of simplicity, sustainability, and functionality. Low and behold, their vision of doing well by doing good has culminated into an eye-catching eclectic series of rocking animals — including a horse, zebra, giraffe, deer, and even an iguana!
---
11. Ikonic Toys: Minimalistic wooden animal blocks
Funding Period: October 2017 – November 2017
As the result of a masterful collaboration between Ikonic Toys and Floris Hovers, this innovative wooden toy set includes 13 ultra-minimal animal-shaped wooden blocks.
My opinion is this type of minimal toy design is amply welcome in the modern-day playroom.
These blocks are so abstract — if a piece is viewed in singularity out of context, it's not 100% clear what it is exactly. Viewed in aggregate, however, one can easily connect the dots — they're animals!
That's one of my favorite moments — when the lines between art and toy are blurred.
---
12. Big Future Toys: Earthtiles Wooden Magnetic Tiles 
Funding Period: April 2017 – May 2017
Under the slogan "What if toys could change the world?", the people at Big Future Toys are on a mission to create sustainable toys that inspire creative play.
Earthtiles, their Kickstarter debut, is a modular set of magnetic wooden tiles that fit together to create all kinds of shapes — everything from soccer-ball-like spheres to fully-functional dollhouses. 
Hand-made from high-quality birch, Earthtiles are an innovative and eco-friendly way to play.
The complete 32 piece set comes with 20 squares, 8 equilateral triangles, and 4 isosceles triangles — made from unpainted natural ethically-sourced wood. The magnets are embedded along the full length of each tile's edge, allowing even the youngest architects to find a fit.
---
13. Candy Lab: Americana Wooden Toys
Funding Period: July 2016 – August 2016
Most of the toys in this list have been building blocks for open-ended play, but this one is proof that classic wooden car toys are still kicking!
The Midcentury Americana wooden toy set by Candy Lab is a testament to modernist design and a tribute to good ole' American roadside car culture.
The toy set feels like a road trip to Reno from the 1960s, with nostalgic wood-paneled station wagons, checkered roadsters, drive-in burger joints, and swanky roadside motels.
In starting this Kickstarter campaign, Candy Lab not only reminisces about America's glorious past but looks forward to a promising future.
Proceeds from the campaign were put towards the development of a brand new American toy factory with homegrown, sustainable, All-American values.
---
14. The Empathy Toy: The Wooden Toy That Teaches Empathy
Funding Period: November 2013 – December 2013
I simply love the innovative idea behind The Empathy Toy! As adults, it's so easy to get preoccupied with our own stresses.
It's an important reminder that other people — that our friend, our kids, our parents — are dealing with their own set of strange emotions.
This toy touts "empathy and play are how we learn", and the way they implemented the toy is on-point for helping people of all ages practice empathy.
The set comes with 10 toy pieces, some light, some dark, and each with its own unique shape and texture. 
How to play? You try to connect the pieces into a pattern based on specific instructions. Except there's one catch! Players must put on a blindfold, so they can only rely on their unblinded teammates' verbal help to solve the puzzle.
A toy that builds greater empathy and trust between friends and family? Yes, please!
---
Over to you!
I am still awe-struck by the innovative wooden toys I found on Kickstarter!
I fully support our world's transition towards sustainable, educational, and minimal toys — and general life practice. I believe the creative minds at Kickstarter are doing the world a favor bigger than they know.
And I can't wait to see what's next!
Have you backed a wooden toy crowdfunding campaign?
What kinds of wooden toys do you hope to see next?
What do you think will become the future of wooden toys?
I'd love to hear from you in the comments below!