Hip, Hip, Hooray! — Here's everything new parents need to know about the Pikler Triangle.
It may take your baby months to learn how to climb — but with this comprehensive guide, you'll be a Pikler triangle expert in under 10 minutes. You got this!
Let's go a little deeper than "where to buy" and "which is best".
Let's understand what all the hype is about — and how your child can get the most out of it.
Trustworthy information is hard to come by these days, so today I'll share my own experience with the Pikler triangle — plus some invaluable tips and tricks I've picked up from other parents.
I'll keep things as unbiased as possible to help you make the most responsible decision for your family — all things considered.
I'm glad you're here — let's take a look!
Affiliate Link Disclosure – If you see a product you like and click through to buy it, I would genuinely appreciate it. I may earn a small commission — at no extra cost to you. It would mean a lot, thanks!
In a hurry?
To set you up for success, here's a run-down of this post's main takeaways — Pikler triangle information on a need-to-know basis:
Pikler triangles are

most suitable for ages 6 to 36 months

, but some parents buy even earlier, and some parents report kids as old as 6 years old still climb.
For 3-year-old toddlers, it's probably too late to buy a Pikler but not too late to play on a Pikler.
Piklers develop your child's

gross motor skills

(using large muscle groups for full-body movement) — and several other developmental benefits.
It's called a "Pikler" because it was

invented by a Hungarian pediatrician named Emmi Pikler

about 100 years ago — that means it's backed by a rich history of child development research too.
Pikler triangles typically

range from $100 to $500

, so it's quite an investment.
Today's best Pikler triangles can be purchased online, and are made from either the United States or Central and Eastern Europe.

Get a foldable Pikler triangle

— unless you live in a mansion with unlimited space, you'll thank me later.

Buying a Pikler for your baby early

at just a few month old is the best way to

get the most for your money

— because they'll get plenty of playtime through to their preschool years.
If the timing's right,

Black Friday is your best friend

— with deals up to 45% off top-quality Piklers.
Piker Triangle 101: The Basics You Should Know
If this is your first time learning about Pikler triangles, here you'll learn the basics — things like:
What is a Pikler triangle?
What is a Pikler triangle used for?
How does a Pikler triangle help my child develop?
What Is A Pikler Triangle?
The Pikler triangle is a wooden climbing frame primarily used as a climbing structure for babies and toddlers. 
It's designed to encourage babies' and toddlers' gross motor skills through independent play and free movement. Basically, that means your little one will learn how to climb, build muscle strength, improve full-body coordination, and gain self-confidence.
Shaped like a double-sided step ladder — wider and shorter than the ladders adults use — it's an indoor climbing toy.
Especially after 2020's "special indoor circumstances" — when parents looked for a solution to keep their kids active while staying inside — it's becoming more and more popular in American households.
What Are The Benefits Of The Pikler Triangle?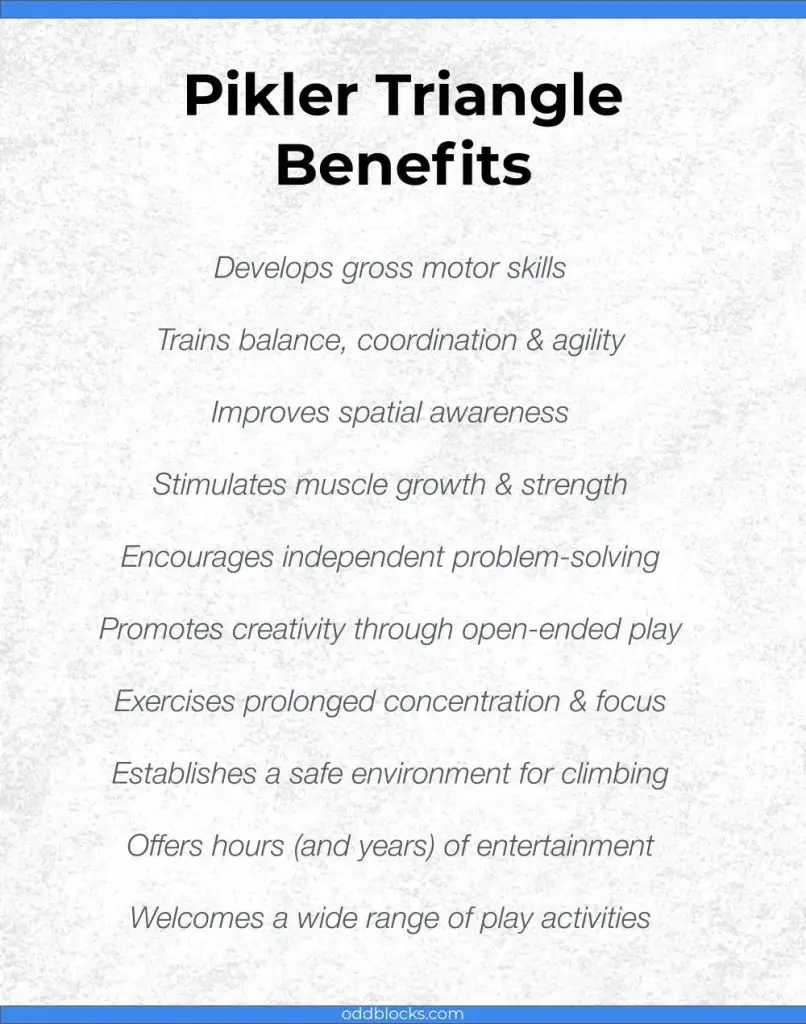 The Pikler triangle has advantages across several core areas of development for babies and toddlers. Before we dive deep, here's a quick list of the Pikler triangle's 10 main benefits.
Develops gross motor skills
Trains balance, coordination & agility
Improves spatial awareness
Stimulates muscle growth & strength
Encourages independent problem-solving
Promotes creativity through open-ended play
Exercises prolonged concentration & focus
Establishes a safe environment for climbing
Offers hours (and years) of entertainment
Welcomes a wide range of play activities
Motor skills. The Pikler triangle is most well-known for helping young children develop gross motor skills — using large muscle groups for full-body movements.
Things like balance, full-body coordination, refined agility, and spatial awareness. Keeping active also promotes muscle growth and strength.
It won't take much time before your child learns how to climb up the toy, but you'll notice it will take practice before he or she learns how to pivot around the top and climb down the other side. That's because transitions between different types of movements require more advanced motor skills.
Following the Pikler approach of self-directed play and natural motor development promotes growing minds' independent problem-solving. Through trial and error, your child will eventually master even the most advanced climbing movements and gain greater self-confidence.
Lesser-known benefits. Climbing is a healthy way for young kids to expend energy. After an hour of climbing, most toddlers will get tuckered out, and be ready for a peaceful nap. That's something parents can enjoy, too!
Not to mention, some parents see the Pikler triangle as an alternative for kids climbing things they're not supposed to. Since the Pikler triangle is designed for climbing — it's much safer than climbing on furniture or kitchen cabinets. 
Similarly, lots of other playground equipment and climbing toys are made for the big boys and girls — they're too advanced for the children at beginning stages of motor skill development.
Since the Pikler triangle works no matter what stage your child is at — it's safer than big boy (and girl) toys too.
Lots of toddlers will start to learn practical life skills — like bringing the Pikler out of storage and setting it up themselves. Older kids can arrange the Pikler together with other furniture to build a fort — or drape a bedsheet over it to make an indoor teepee or camper.
So it's not just for climbing — your little one will learn and experience a wide range of other things, including countless opportunities for pretend play.
Basically, the Pikler triangle does wonders to offer age-appropriate benefits at different stages in your child's growth.
That means you'll get years of developmental milestones out of your Pikler — from the newborn months into the kindergarten years.
Pikler Triangle Backstory: The Research That Started It All
The Pikler triangle is much more than a wooden climbing frame. It's an essential tool for building motor skills backed by a rich history of developmental research.
If you're considering getting one for your child, it's worth a minute or two to learn where and why the Pikler triangle was first invented.
Where Does The Pikler Triangle Come From?
When shopping for indoor wooden climbing toys, you'll see the name "Pikler" come up quite but. But what does it actually mean?
Originally, the word "Pikler" itself is a family name — that of Dr. Emmi Pikler (1902-1984) — a Hungarian pediatrician, author, and theorist known for her revolutionary approach to infant and child care. 
She's the one who invented the toddler climbing frame — what we now call the Pikler triangle.
The Pikler triangle was first put to use at an orphanage she opened and managed by Dr. Pikler herself (closed since 2011). 
No, she wasn't a businesswoman with a plan to profit from pricey toys. She was a monumental thought leader who pioneered an innovative approach to child care — still in practice today.
At present, an organization called Pikler Lóczy carries forward Dr. Emmi Pikler's work by spreading the knowledge and practice of the Pikler pedagogy — "Promoting infants and toddlers well-being through respectful and peaceful care."
What Is The Pikler Philosophy All About?
We've already established that the Pikler triangle was developed through a lifetime of research on infant and early childhood development. So, if you purchase one for your little one — why not benefit from the research as well?
My over-simplified understanding is — the Pikler philosophy aims for a respectful relationship between parent and child and natural-paced motor development, free movement, and uninterrupted play. Basically — that babies have the inherent ability to guide their own development, so parents should take a back seat and let their little ones explore on their own.
No parent enjoys watching their children struggle. When your child hasn't gotten the hang of something yet, it's only natural to wonder — "Should I jump in and help? Should I teach them how?"
The Pikler philosophy urges us to keep those maternal (or paternal) instincts at bay — and let your child succeed and fail on their own.
Following the Pikler approach, your job is to establish a safe environment — where your child can independently explore what their body is capable of!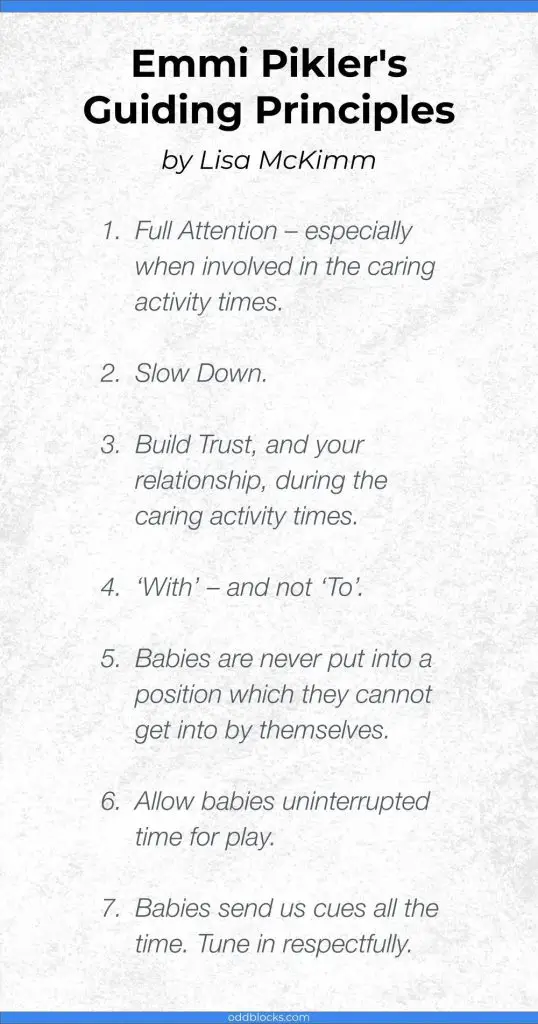 To learn how to approach Pikler triangle play, Lisa McKimm — founder of Parentingworx — says it best. Here's an excerpt from her article "Emmi Pikler's Guiding Principles":
Full Attention – especially when involved in the caring activity times.
Slow Down.
Build Trust, and your relationship, during the caring activity times.
'With' – and not 'To'.
Babies are never put into a position which they cannot get into by themselves.
Allow babies uninterrupted time for play.
Babies send us cues all the time. Tune in respectfully.
A little encouragement here and there isn't so bad. Several parents report positive experiences helping their little ones learn the ropes a little bit. But try and follow the guidelines when possible — it's the way Pikler play was intended.
Easier said than done? Don't worry — I'll discuss practical ways to introduce the Pikler triangle to your baby later in this post.
Is The Pikler Triangle Part Of Montessori?
The Pikler triangle is often found in Montessori-inspired classrooms and homes but is not classified as a Montessori material. The Pikler Triangle does, however, fit well with the Montessori philosophy.
From a pedagogical perspective, both Pikler and Montessori emphasize the role free movement has on healthy child development. Both are heavy proponents of self-directed learning through play. In these regards, the two have quite a bit in common. 
From a modern-day perspective, we'd have to look at the modern-day toy industry — where Pikler and Montessori have been leveraged by toy companies to sell more toys.
Neither Pikler nor Montessori themselves are toy brands, so there is an "original Pikler triangle" for sale — because the Pikler triangle Emmi Pikler built is probably in a museum somewhere. Likewise, "official Montessori toys" simply don't exist. 
No, the Pikler triangle is not a part of Montessori, but the Pikler and Montessori pedagogies share remarkably similar educational principles. Most Montessori teachers agree the Pikler triangle is most certainly Montessori-friendly — and for most parents, that's more than enough!
Pikler Triangle Age: From Baby To Toddler And Beyond
In this section, we'll cover essential questions most parents have surrounding the Pikler triangle and age.
What age is best for the Pikler triangle?
At what age should I introduce it to my child?
What to do if my child's not interested?
When will my child outgrow it?
Stages Of Pikler Play: Supporting Milestones From Basic To Advanced
The short answer is — ages 6 months to 6 years. The Pikler triangle is age-appropriate across the entire span of your child's earliest years.
But that answer doesn't begin to explain the diverse range of opportunities presented by the Pikler triangle at different stages in your child's development.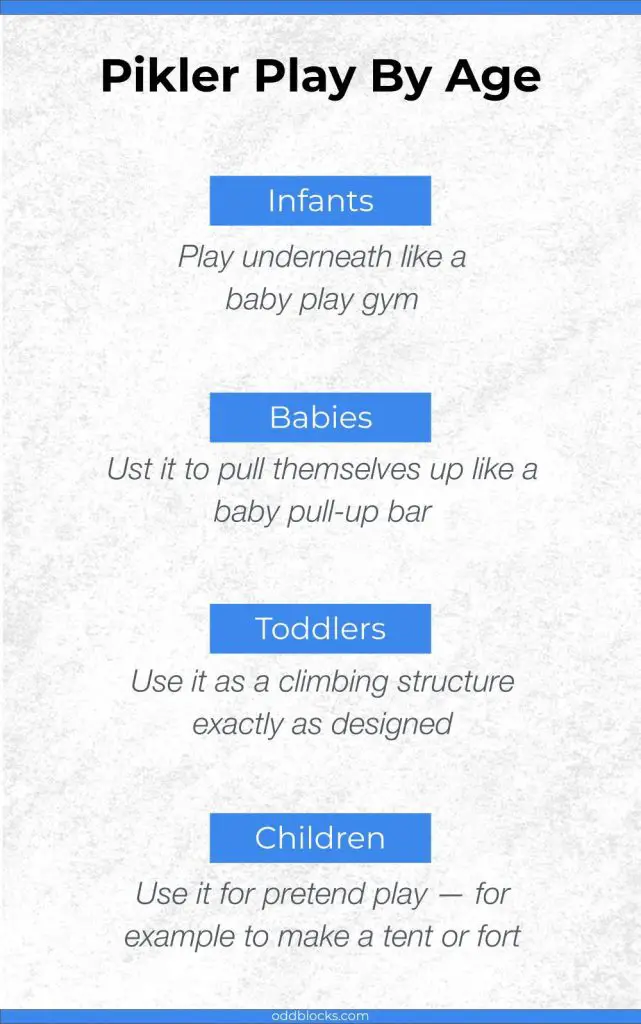 The way babies play with it will vary greatly from the ways toddlers and kindergarten-aged kids do. The applications of the Pikler triangle and the developmental milestones it helps your child achieve — truly grow alongside your child.
Think of it like this:
For Infants. Before your baby can crawl, it can be transformed into a baby play gym and play underneath, improving fundamental eye-hand coordination and stimulating their senses.
For Babies. Before your baby can stand, it can be leveraged as a pull-up bar to support your child towards those monumental first steps.
For Toddlers. Once your child starts climbing everything in the house, it's the best-in-class wooden climbing structure ideal for developing gross motor skills.
For Children. Once your child reaches their preschool, kindergarten, and early elementary years, it's the perfect companion to imaginative pretend play — by making it into a tent, or using it to build other make-believe environments.
The way your child plays with and benefits from the Pikler triangle will change dramatically over time. And that's just one great thing about the Pikler triangle offers — years of enjoyment, entertainment, and education.
How To Introduce The Pikler Triangle Before Your Baby Can Climb
I'll talk more later about why get a Pikler triangle in your child's early years makes it an overall better investment. (Check out the shopping guide below.)
Here, let's pretend you already have a Pikler triangle — and I'm going to discuss what to do if your baby doesn't show interest right away. 
First of all, don't worry — that's totally normal, and something so many parents experience in the first weeks or months of introducing their brand-new Pikler frame into the playroom.
A little creativity on your side goes a long way. Here are my best tips to get started.
Be patient. Some babies will get climbing right away, some babies take a while. Keep the Pikler triangle for at least 6 months — reintroducing it to your child now and again before you completely give up. I've honestly never heard any parents say the Pikler NEVER piqued their child's interest. But I hear all the time of parents worried their child doesn't like it — then just a month later they're climbing like little monkeys!
Park it as a play gym. One tip for those early months 0-6 months — you can hang other toys on the rungs of the Pikler, and make your own mobile out of it. Basically, you've created a baby play gym, that'll become a climbing frame when your baby grows into it! Saving a dime, and making an investment in a toy that'll get its playtime for years to come.
Try just the frame first. Lots of parents buy a Pikler triangle in a set with a climbing ramp or slide included. (For cost savings and added versatility, I recommend you do too). But when you first introduce the Pikler to your baby, keep the ramp out of the equation. Simplifying it like that will make the "strange object" in the living room less intimidating when your baby still doesn't trust the Pikler. Once your baby's climbing all over their Pikler frame, then you can add the ramp into the mix. Viola — you've added a new peculiar play element and increased the lifespan of your Pikler!
Low angle first. Many Pikler triangles come adjustable so that you can set the frame at an angle to match your child's motor skills. Of course, for a first-time Pikler-climber, a low angle is both safer and less intimidating. If you've got a ramp or slide with your Pikler (which I recommend you do), the same principles apply. Propping the ramp on the lowest ladder rung achieves the easiest angle for your baby to start climbing.
(If worst comes to worst, you could always resell it. A good-as-new Pikler triangle should make you back most of the money you spent. You better believe there are moms on Facebook Marketplace and Craigslist who are ready to buy.)
Pikler-Approved Strategies To Get Your Toddler Climbing
Initial disinterest in the Pikler triangle isn't exclusive to babies at an earlier stage of development. Toddlers too may need a little indirect encouragement to warm up to that funky foreign object you've placed in the living room.
Some toddlers may begin experimenting with their new Pikler triangle quicker than others. But again, stay patient and let them explore at their own pace. Do supervise, but don't force your child into climbing before they're ready.
The same principles of patience and respect apply. Here are my best parent-tested tips to get your kid climbing.
Take a Pikler approach. To take a true Pikler approach, let your baby initiate. Setup the Pikler triangle in the middle of the room, and let them explore at their own pace. Don't rush the process. Don't show them what to do.
The good news is even if your baby doesn't use it now, it's a play structure with a long life span. Lots of parents notice their kids' interest come and go in spurts — some months, they're climbing all over it, yet other months they don't pay a bit of attention. It just rotates like that.
That's one reason why choosing a foldable Pikler triangle is highly advisable. In the Pikler off-months, you can just store it away in the closet. Even better, just prop it against the wall in your playroom, so your child can naturally rediscover the Pikler when the time is right.
Bring out the Pikler add-ons. We'll cover the wide variety of Pikler triangle accessories a little later. But if your Pikler came with a ramp or slide — that's one way to get your child excited about it. The Pikler frame alone can seem intimidating at first — something your kid would be afraid of getting their arms and legs stuck in. Since the slides and ramps look more familiar — just like the slides they've used at the playground — it's more approachable for lots of toddlers.
Try a little old-fashioned redirection. Redirection is a pro-tip experienced parents use to steer their child's behavior into a more positive direction — without directly telling the child what to do. Find a time when your child is climbing on other stuff — like couches, chairs, or window sills — and bring our the Pikler triangle at that very moment. Since your kid is already climbing mode already, transitioning from the no-no furniture climbing to the encouraged Pikler climbing is (sometimes literally) just a step away.
Try incentivizing with a reward. No, I'm not talking about bribing your little one — "If you climb on the Pikler, I'll take you to McDonald's for a Happy Meal." Instead, why not try placing one of your child's favorite toys on the top rung of the Pikler? You won't have to say a thing — and your child will put together if they want to get their toy, they'll have to figure out how to get up there.
Try re-introducing it. The idea here is if your child doesn't take to the Pikler right away, and you keep the Pikler in the room — the Pikler might just become like another piece of boring furniture your child doesn't really care about. Instead, stow it away and bring it back at a later date. By introducing your Pikler in and out of the environment at different times, when your child is in different moods, you're more likely to find the right moment to strike your child's interest.
Try dancing to music. Set the mood with some tunes that make you want to move your body. Jiving to the beat naturally translates into a Pikler party! (A personal note — I dream someday of becoming a bubblegum DJ for kid-friendly electronic music, so this one's really close to my heart!)
Try mixing in other toys. With a Pikler frame, hang toys on different rungs or prop another one of your larger toys onto it. If your kid loves cars, break out one of their favorite toy cars and zoom it down the ramp. Or with a Pikler arch, flip it like a rocker and add some of your child's favorite toys inside to see what happens when they rock around. Especially for toy balls and stuffed animals, it's something that can really draw your child's attention and get them engaged.
Use bad weather to set the stage. Even when they're too small to ride the big-boy slide, babies and young toddlers love trips to the playground. But when there's a thunderstorm, when it's 20-degrees below freezing, getting outside is out of the question. Especially when you have the slide attachment, the Pikler triangle makes a wonderful substitute for a day at the playground. You two can interact the same way as you would at the playground — "One, two, three, go!" — this time on a smaller scale indoors.
Where To Buy A Pikler Triangle: An Unbiased Perspective
Where To Shop For A Pikler Triangle?
Before we look at any individual Pikler triangle brands, it'll be helpful to get a feel for the marketplace in general. It's 2021, and most people buy their Pikler triangle online, so here's a snapshot of what you can expect:
Etsy – Hand down, this is the place I recommend shopping, or at least starting your search. Most of the top-quality Pikler triangle brands have an Etsy shop, so Etsy offers the widest variety by far. While you're just window shopping, Etsy makes it easier to discover the style you like, narrow down your search, compare prices, and pick your favorite.
Brand Direct – Buying direct from a Pikler triangle brand's website is a worthwhile option if you've already decided which is your favorite. It's not uncommon to find a lower price on the exact same Pikler triangle model on the company website instead of Etsy. That's because Etsy takes a small cut of purchases on their platform, so companies hike their Etsy prices slightly higher to compensate. Dealing directly with a company — however — you assume more risk. Platforms like Etsy are good for making customer reviews more transparent and offering standard buyer protection. When buying a brand direct, make sure you trust the brand.
Amazon – I know Amazon sells everything under the sky, but they fall short when it comes to their Pikler triangle selection. I can count the number of notable Pikler brands available on Amazon with just one hand, and they're on the low-end of both price and quality. Honestly, the only benefits of buying a Pikler from Amazon are the convenience, speed, and reliability of the Amazon platform itself — nothing about the Piklers though. Try Amazon if you need your Pikler shipped overnight.
Buy Local – If you're lucky enough to have a brick-and-mortar Pikler craftsman (or craftswoman) in your area — I'm all for supporting local wooden toy businesses. For a Pikler triangle, however — you'll have to do your own due diligence. For a climbing frame where quality craftsmanship is paramount, it might be nice to buy from your neighbor even if it costs a little more, but don't compromise on safety.
Buy Used – It's not always possible, but you might get lucky. Your best chances are at the local level — getting in touch with the right people. I wrote a dedicated post describing where to buy a second-hand Pikler triangle — and explain why it might not be worth your time.
Do It Yourself – Sadly, I'm not good with my hands. But if you or your partner know your way around the woodshop, more power to you! Reddit is an excellent resource for free Pikler triangle plans for you to plan your project, or just to gain inspiration seeing how other people's DIY Pikler triangles turned out.
Which Company Makes The Best Pikler Triangle?
In the coming months, I'll write an in-depth review with comparisons, stats, and all that good stuff — so you can pick the best Pikler triangle for your circumstances. Stay tuned for that!
For the time being, here's a quick list of notable Pikler triangle companies — and I think you'll like what you see. I'll be listing them in alphabetical order and linking to their Etsy or Amazon page — where I'd earn a small commission if you make a purchase.
Why Are Pikler Triangles So Expensive? Is It Worth It?
If you've already shopped around — this question is probably top of mind. And I whole-heartedly agree — hundreds of dollars for a toy is nothing to take lightly.
I've even witnessed seasoned woodworkers poke fun at Pikler triangle prices — "$200 to $400 for $50 worth of materials and an afternoon of work?". Sadly, making one by hand is just not an option for most parents.
What's going on here? What merits such a high price? The reality is — skilled labor is not cheap! When you call in an expert to complete a minor home repair, it can easily exceed $50 to $100 for an hour's time.
So, let's add up what goes into making a finished Pikler triangle. Adding up the wood materials, a few fastener bits, a coat of paint, maintenance cost for a workshop full of power tools — plus a few hours of handcrafted manufacturing — then the $100 to $500 price starts to make a little more sense.
Not to mention the brands that offer free shipping — and we all know free shipping isn't really free.
The cost adds up quickly, but there are things you can do to make it worth your while.
How To Make It Worthwhile? (Save Money & Maximize Value)
Unless you or your partner is handy with wood, you've got to buy one. You can't control the market price, but you can take steps to find a suitable option and increase the lifetime value.
Here are a handful of savvy strategies to call your own.
Think Long-Term. The best advice I can give is to Pikler-up in your baby's early months. There are creative ways to use your Pikler even before your baby can crawl, walk, or climb. (Which I'll cover later in this post.) Some children take to the Pikler earlier than others, but the chance your child will lose interest or graduate beyond the Pikler starkly increases after the age of 3. 
Lots of parents report getting a Pikler for their kid between 6 and 24 months, and their child continuing to play with it until ages 4 to 6 years.
We've already touched on this a bit — as your child grows older and masters climbing, the Pikler becomes less interesting as a climbing structure — and more interesting as pretend play equipment. Things like putting a blanket over it to transform it into an indoor tent, or mix-and-matching with other things in the living room to build a more elaborate play environment, hanging ribbons or other doodads on it, or other creative ways to pair it into more age-appropriate play activities.
The point is — by buying early, you maximize the lifetime value you get out of your Pikler.
Like a $100 pair of jeans — if you wear them just once, then the jeans cost $100 per use. But if you wear them 10 times, that's $10 per use — or wear them 100 times, that's just $1 per use. Estimate the time frame your little one will get the most value out of a Pikler (from about 6 to 36 months old), and use it as much as possible during those times.
Alternatively — if you've got a child nearing 3 years old, and another one on the way. That's one more way to justify the purchase. Even if your toddler won't get years of use out of it, the new baby will.
Rent One. Yes, it's possible to rent a Pikler triangle — especially for those of you living in or near a major city. If you're worried your child is too old, what better way to put your assumptions to the test? To my knowledge, there's no nationwide service for this. You'll just have to Google your local area to check if any local businesses have Piklers for rent.
When the pandemic hit in 2020, some preschools and toddler play centers had to get creative — and chose to offer play-at-home rentals for their bulkier play equipment. Ranging from $35 to $100 per week (plus a deposit), you can take a Pikler triangle for a test drive. Renting for your child alone, it's not the cheapest option in the world. But imagine this scenario — a birthday party where lots of little ones can play together. Now it starts to sound a little more economical.
Second Hand. After learning how much Pikler triangles cost, one of the first things that'll come to most parents' minds is whether or not they can buy used. It makes sense since a good Pikler should last for years without much maintenance needed. In general, I support reusing and recycling wooden toys, but to be honest it's pretty slim pickings when it comes to second-hand Pikler triangles. Here's a full post describing how to find a used Pikler triangle.
Bargain Pikler Triangles. Pikler triangles that don't cost hundreds of dollars. Do they exist? Not really. You can hop on Amazon and find a handful of Pikler triangles under $100 — but they're small, non-foldable. That means they're only good for your baby's earliest months and don't store away easily — probably not what you're looking for. Amazon has foldable Pikler triangles just above — which finally falls into a place I'd call reasonable. You'll be being from a less-reputable brand, but for families that aren't made of money (like mine), that's not something to be ashamed of.
Black Friday Deals. Sometimes the stars align, and everything falls into place. For Pikler triangle shopping — that's Black Friday. I've seen reputable brands offer coupons as good as 45% off. Crazy-good deals like that do exist, but they typically only come around once a year. If while you're reading this, it's Christmas time and Black Friday has passed, I'm so sorry — you probably missed your window.
Becoming a parent is like signing up for 22 years of tough decisions. In the grand scheme of things, choosing whether or not to get a Pikler triangle — even if you feel like you made the wrong choice — isn't something that's going to weigh on your conscience for years to come. Just wait for the teenage years, and then college — yikes!
Give yourself a little self-compassion. Whatever you decide, know you are well-intentioned. Know that you made the best decision for your circumstances.
Pikler Triangle Shopping Guide: Picking The Right Pikler
Please take a moment to consider a few key points before deciding which Pikler is right for your family:
Add-Ons, Attachments & Bundles. Pikler triangles are even more fun and versatile with the extras — slides, ladders, climbing ramps, rock walls, and several other lesser-known attachments. And buying a Pikler in a bundle with the add-ons included is another way to save money.
Colors. Pikler triangles are available in a wide range of modern color palettes — plain wood, pastel accents, and rainbow accents being the most popular. Which visual style is your favorite? That's a quick way to narrow down your search.
Foldability & Space Available. I definitely recommend you get a folding Pikler triangle. Since Pikler triangles are bulky, the ability to collapse it down will save tons of space when not in use. After you fold it flat, it will easily fit in a closet or under a bed — pretty much anywhere. 
Adjustable Pikler triangles let you set the appropriate angle for your child too —so you can make it easier or more challenging to climb depending on your child's current ability.
Size. Your child will outgrow a smaller Pikler, faster than a larger Pikler. It seems like a good idea to save money and save space in your baby's early years — but buying small just means you get a shorter lifespan out of your Pikler.
Safety Features. Safety basics include smooth rounded edges, quality non-splintering wood, and sturdy craftsmanship — the kinds of things why so many parents warn against buying a cheap Pikler triangle.
Safety features to look for in foldable Pikler triangles include a "safety stop" for the folding mechanism so that the Pikler triangle won't collapse when your child is on top. In general look for a pinch-proof folding mechanism. To learn more details, check out my dedicated post on Pikler triangle safety.
Country Of Origin. The most popular Pikler triangle brands are made in the United States or Central and Eastern Europe. The kinds of budget Pikler triangles you find on Amazon are typically made in Asia. 
Shipping. Pikler triangles are shipped from all corners of the world — in bulky packages. Before you pull out your credit card, double-check whether or not the shipping cost and delivery speed are reasonable.
Assembly. Finding a Pikler that's easy to assemble is definitely worth some brownie points! Some Piklers will ship in two large parts and two bolts with two wooden heads — making for simple-as-possible assembly. Others aren't so simple and will ship with the ladder steps completely disassembled so you have to literally piece together the entire Pikler. You can guess which one is easier to work with!
Since so many of today's top-quality Pikler triangles are made in Eastern Europe, it'd be a good idea to make sure your tools match up with what's needed to assemble it. I've heard stories from some American parents whose Phillips-head screwdriver didn't exactly fit the PZ2 screws that came with the Pikler. Kind of a downer to find that out after you unbox the thing.
One more assembly tip — imagine what a nightmare it would be if the manufacturer sends incomplete parts. Before you blow a gasket thinking you're the one who can't figure it out — count the pieces to make sure they're all there.
Over to you!
There you have it — the parents' ultimate guide to the Pikler triangle!
I left no stone unturned — and gave you all the golden nuggets of knowledge that I could think of. I hope it was helpful.
I'd love to hear from you! Do you have any Pikler-related questions I didn't answer? Let me know in the comments below.