America's home to the best burgers in the world. In fact, we eat about 50 billion burgers every year!
But when it comes to wooden hamburger toys, it's a whole different story.
It is my deep regret to inform you — America is no longer home to the best wooden hamburger stacking toys. The sad truth is — with our focus on edible burgers, we've left a blind eye to wooden burger play toys. Australia and Italy have replaced us as the kid's burger toy champions.
As a proud American citizen and cheeseburger advocate — today, I will show you the best wooden hamburger toys from around the world and inspire you to take action.
As the people of this great country, it is our civil duty to be the best at all things burger. Make America Burger King Again!
Order up! Let's check out the burger toys!
Affiliate Link Disclosure – If you see a product you like and click through to buy it, I would genuinely appreciate it. I may earn a small commission — at no extra cost to you. It would mean a lot, thanks!
In a hurry?
If you're into fast food toys, chances are you don't like to wait around. Here are my top 5 picks for the best wooden toy hamburgers and cheeseburgers for some beef-tastic pretend play. Show me the beef!
Some Wooden Burgers You Can't Buy
I think it was the 90s when toy burgers reached their peak of popularity in the United States. Everywhere you looked, kids were stacking wooden patties, buns, and toppings.
The classic wooden hamburger stacking toy is known for its unique construction. A long dowel protrudes up from the bottom bun, and each burger topping has an opening drilled through the center so that children can stack toppings on top of each other and they will stay in place.
Today, the Australian brand Make Me Iconic is the champion of this wooden toy burger with their so-called Australian Stacking Burger Toy. Do they even ship to the U.S.?
And on the artistic side, and Italian design group Studio Fludd created a modern wood burger concept toy with all the fixings. It's probably displayed in an art museum somewhere, so you can't even buy it!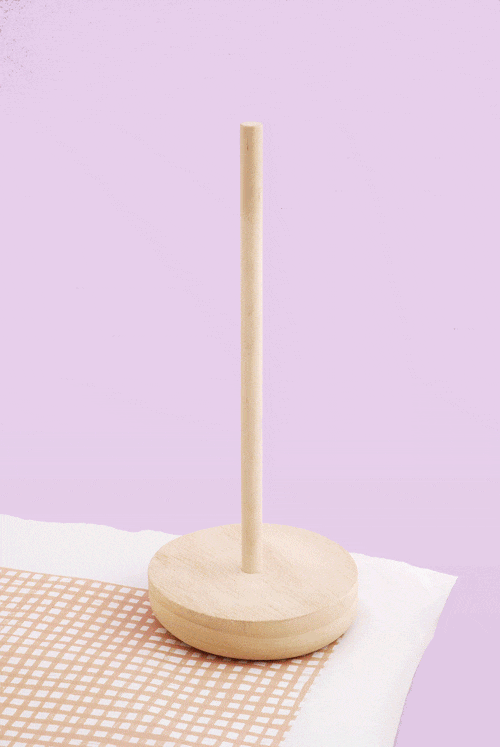 Back stateside, we can only look to burger toy heroes like Jaime Costiglio for inspiration. She's a mom and DIY creative who's sharing her DIY Big Mac wooden toy plans with the world.
But what if you're not handy with wood? What if you're not an art collector? And what if you don't live in Australia?
Next, we'll look at the best wooden hamburger toys money can buy. We'll start with the singles then move to meals. Let's dig in!
First, "just the burger" play toys — without the meal.
---
Small Foot Wooden Stacking Hamburger
Best tall stacking burger toy
Shop on Amazon (Out of Stock)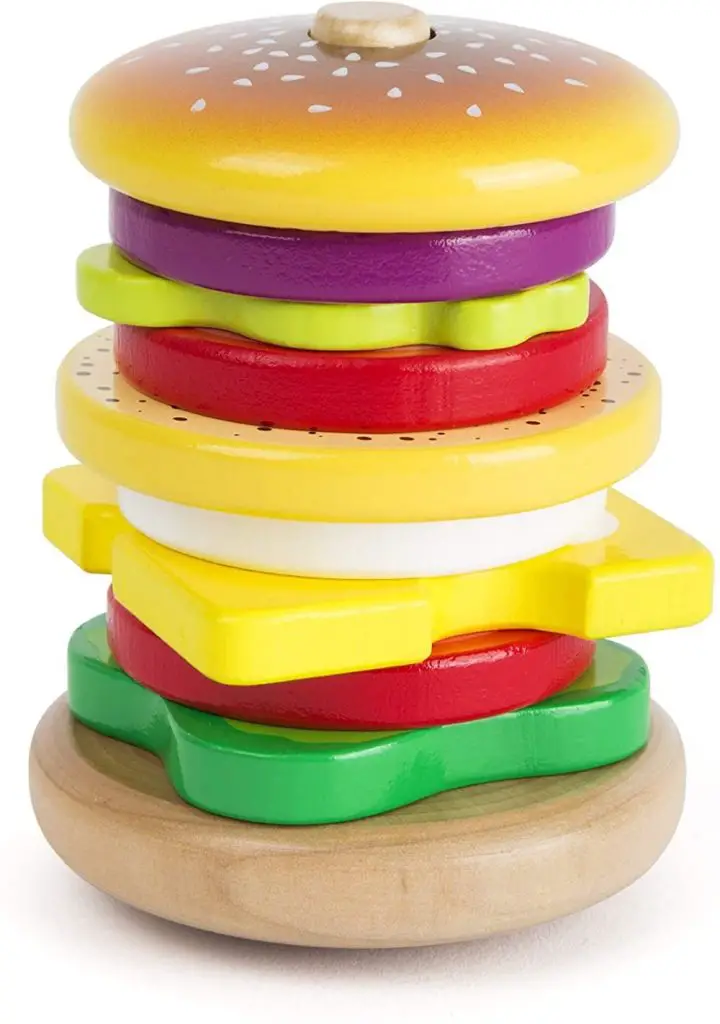 Recommended Age: 18 months and up
If you're like me, the bigger the burger the better! More patties, more toppings? Bring it on! This 10 piece hamburger wooden stacking toy has all the fixings to create all kinds of burger combinations. It's got a rounded wooden pedestal to keep the pieces together while stacking, but it also wobbles as a fun challenge towards your child's burger-making mastery. Made from 100% FSC-certified wood, you can rest assured, this toy meets the highest environmental and social standards to protect and conserve the world's forests. 
The Original Toy Company "Build-A-Burger"
Best single-patty burger toy
Recommended Age: 3 years and up (but some parents say 2 years)
Let's face it, overeating is a pretty big problem. When you put five patties between just two buns, it's a little excessive. Well, here's a single-patty wooden toy burger that will help reinforce healthier dietary habits. With two buns, one patty, a leaf of lettuce, and one tomato, it's a modest-sized pretend play hamburger that's just the right size for tiny toddler hands. Plus, the individual layers of wooden ingredients each feature a velcro dot for easy handling — making it a great first burger for your little food aficionado. 
Banlon Outlet Wooden Stacking Cheeseburger For Kids
Most eco-friendly handmade burger toy
Recommended Age: 3 years and up
As a reasonably-sized handmade wooden cheeseburger for kids, that's already something really special about this role play food toy — your purchase supports a real person hand-making wooden toys with love and care. The other thing I love about this one is — just how little it looks like a real hamburger. With perfectly round buns and perfectly square cheese slices, and brightly-painted three-color bacon — its geometric design makes it really unique. That's one truly beautiful burger! 
Beezer Gurl "Knock on Wood" Mini Wooden Burger Puzzle
Best miniature handmade burger toy
Recommended Age: 2 years and up
Handmade in the U.S.A., here's another burger with homemade appeal. The bun, patty, and tomato are hardwood — and the lettuce and cheese are soft felt. Like other pretend burgers we've seen, a pedestal protrudes from the bottom bun to make for a similar play experience as the toddler stacking rings you know and love. So, go ahead and "Knock on Wood" — because this miniature wooden burger is sure to bring your little one good luck, or at least put a smile on his or her face. 
Lakeshore Create-A-Burger Sequencing Stacker
Best educational burger toy
Recommended Age: 3 years and up
Another great wooden toy stacking burger — this time with a set of sequencing cards, so it's like a puzzle to make it to the customer's taste. Got a picky eater on your hands? Here's a funny way to poke fun. Order #1: Single cheeseburger with extra pickles hold the onion; Order #9: Veggie burger without cheese and extra tomato and make sure the lettuce doesn't touch the tomato. 
Now, burger play sets with more than "just the burger".
---
Hape Hamburger and Hot Dogs Food Set
Best pretend meal for four
Recommended Age: 3 years and up
What goes great with pretend burgers? Pretend hot dogs of course! Here's a set of four all-American wooden toy treats: two cheeseburgers and two hot dogs. Made for young hands to fix up a summertime play meal for a family of four. That's one great reason to go for a burger set instead of a single — for real food and pretend food both — it's more fun when you have friends to share it with! 
Imagination Generation Fast Food Deluxe Dinner
Best burger meal toy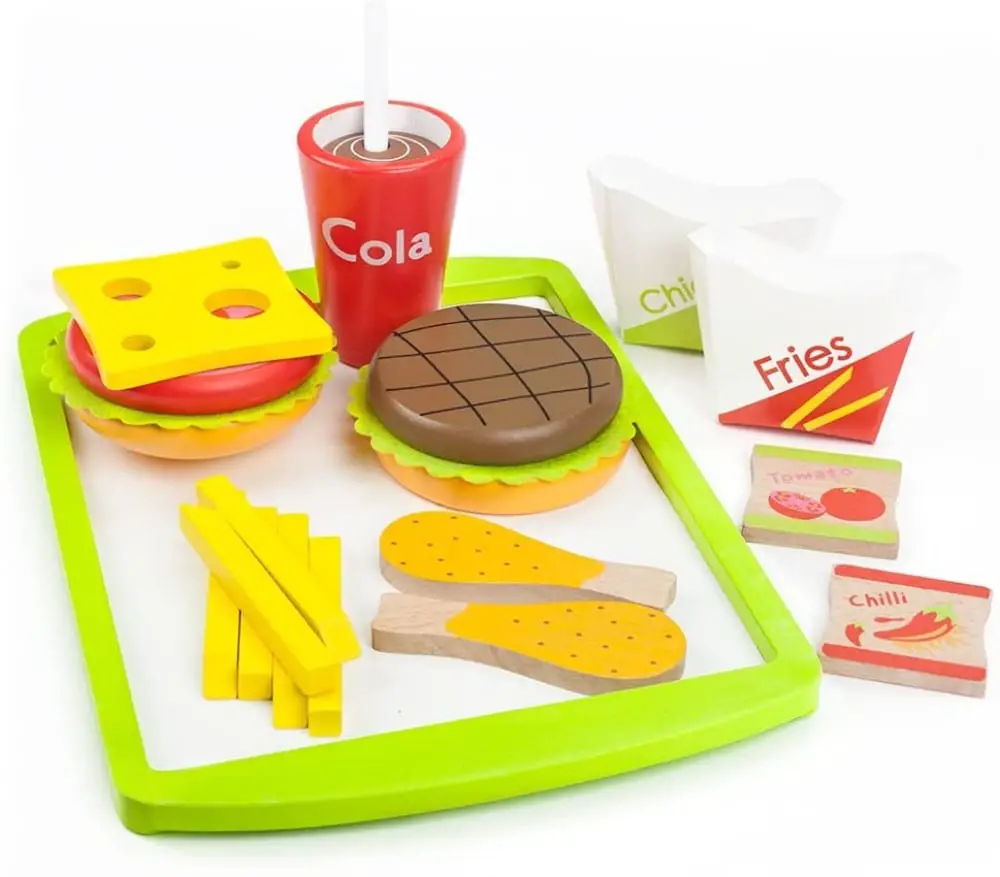 Recommended Age: 2 years and up
For an even more wood-centric burger play food set, here's a 21 piece set that's mostly made of wood. Even the french fries, chicken legs, ketchup packets, and cola beverage are made of wood! Will you take it here or to go? Just like real life, your kiddo can learn to make decisions for him- or herself, and enjoy a smorgasbord of appetizing wood-crafted pretend fast food. 
Hape Kid's All-American Fast Food Set
Best pretend diner experience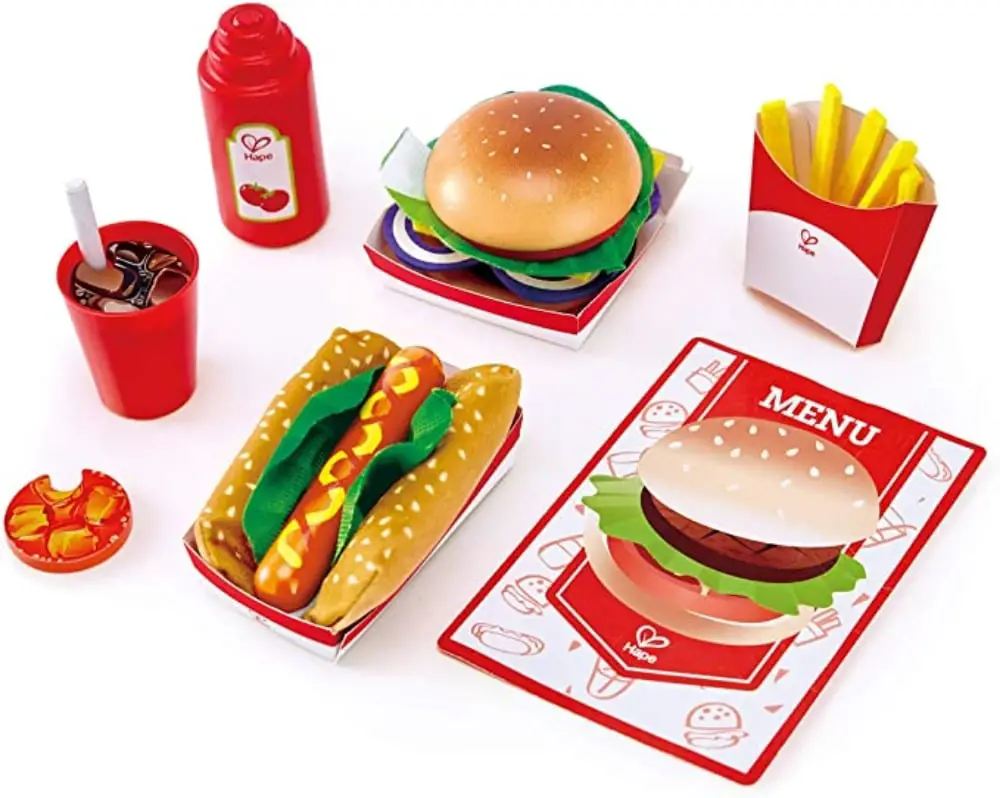 Recommended Age: 3 years and up
Ah, the classic American diner! Whether it's downtown or at a truck stop, I'm always excited to see what's on the menu. This 27 piece set comes packed full with everything your child needs to play out a realistic fast food restaurant experience — including a wooden burger and hotdog, and some felt french friends. All around, this set introduces a nice tactile sensory play experience — with wooden, cloth, paper, and plastic parts all bundled together. 
Melissa & Doug Sandwich Making Set
Best if you like sandwiches too
Recommended Age: 3 years and up
For the burger and sandwich agnostic, here's a play food set that includes both wooden buns for burgers and wooden bread slices for sandwiches. Why make your kiddo watch you prepare lunch when they can make their own? It's a 16 piece set with all kinds of toppings — each with a dot of velcro to keep the finished product from sliding around. The little child-safe wooden knife is an adorable added touch your kid will use to cut veggies and spread condiments. All that, plus a sturdy wooden storage tray to keep a tidy work station. 
Melissa & Doug Wooden Grill & Serve BBQ Set
Best indoor grill toy
Recommended Age: 3 years and up
It's burger time! For summer fun in the sun, your little ones can grill up some burgers, hot dogs, steak, chicken, veggies, and more. The grill itself is a cardboard box, but all those meaty delicacies and the play cooking utensils are made of wood. When the meat's well done, your kids can move them onto a plaid preparation station to put on the condiments before serving up their all-American feast. 
Svan Cook 'N Grill Wood Toy BBQ Set
Best outdoor grill toy
Recommended Age: 3 years and up
Call the neighbors! It's time for a good old fashioned barbecue block party. With a kid-sized stand-up wooden play grill, this is the perfect set for kids who want to take their culinary skills to the next level. With wooden burgers, meats, and veggies all included your little one will be ready to serve up an entire backyard feast. Plus it comes with wooden salt, pepper, ketchup, and mustard bottles to zest things up a bit. There are two racks above and below the grill to provide the surface area needed to season and serve the food just right. 
Over to you!
If you've ever tasted Shake Shack or Five Guys instead of McDonald's, you'd know not all burgers are created equal. So today, we only looked at the most appetizing pretend burgers for kids and toddlers!
Some big, some small. Some with velcro, some to be stacked tall — we've discovered a whole buffet worth of the best wooden hamburger toys money can buy.
I'd love to hear how your little one's burger adventure begins. Let me know in the comments below!