After playing Jenga for countless hours, you finally got to wondering what kind of wood Jenga blocks are made of. Well, here it is…
The best answer in 2020 is Alder wood.
This has been the official answer since back in 2013 when Hasbro — the games company currently responsible for all of Jenga's marketing — wrote:
The wooden blocks for Jenga begin as Alder trees, which grow primarily on the West side of the Cascade Mountains in the states of Washington and Oregon.

— Hasbro circa 2013
But now it's almost a decade later. Does this fact still hold true? I'm not a cat, but curiosity did get the best of me. In the words of Sheldon from The Big Bang Theory:
When I first heard your idea for […] Jenga, I was Skeptical.

— Sheldon from Big Bang Theory
There was no turning back. I felt compelled to look deeper!
Disclaimer: I don't represent Jenga or Hasbro in any way! I love the game, I was curious about the type of wood used, and my search for the answer turned into a fun story. That's all.
Jenga's "Genuine Hardwood" mystery
What got me so focused on this question? I love Jenga blocks and play with them quite often. One notable thing about Jenga, is you want to do everything in your power not to lose the box.
The box encloses the sleeve designed to help you set up the tower. Since the sleeve has only had two sides, you need to keep the sleeve inside the box to avoid losing pieces. (Jenga fans — you know what I'm talking about.)
Admittedly, I've got a somewhat compulsive personality. But the question popped in my head, so I naturally checked the box — official product collateral that should be a source of truth.
But all I found were the words "Genuine Hardwood".
I read all the fine print three times over — still all I could find is "Genuine Hardwood".
OK, but what kind of "Genuine Hardwood"? 
Alder wood from where?
I started reading the package with a simple question: What type of wood is used to manufacture Jenga blocks?
But as I examined the fine print, layers of mystery unfolded. I learned more about Jenga that a normal person ever should.
Hasbro, as it turns out, is a massive international conglomerate.
Jenga blocks are made in China.
Hasbro has business entities all over the globe — United States, Canada, United Kingdom, Switzerland, Australia, and New Zealand.
If Alder trees grow on mountains in the American West and the blocks are made in China, that would mean they export wood from the U.S. to China for manufacture, then import the finished product back to the U.S. for retail. So many questions!
Even for a non-expert like me, a supply chain like that seems incredibly costly and inefficient.
So I looked to Wikipedia — a trusted source — and found the missing piece of the puzzle
Alder trees grow all over the world in China, Asia, Europe, and various other places around the world — not just the U.S.
Jenga blocks are made in China from Alder wood, and it's very likely the Alder trees are grown in China or the surrounding Asian regions.
Now "Genuine Hardwood" is starting to mean something!
Jenga blocks' behind-the-scenes origins
For such a popular game and such a common question, I'm surprised how much it feels like detective work to determine Jenga blocks' origins.
I even contacted Hasbro before publishing this post. You bet, I will update the information here if I get a different answer.
Like a private eye, I'm following leads and reasoning with the plausibility of hearsay I find online. It's kind of fun, to be honest.
This behind the scenes detective work led to lots of other valuable knowledge about the materials Jenga blocks are made with.
What about the "Original" Jenga blocks?
Jenga blocks have a history of almost a half-century. They were invented by Leslie Scott in the 1970s, based on a woodblock stacking game her family had created in Ghana. They were first sold in London in 1982 and finally became available in North America in 1986.
Anonymous insiders claim Jenga blocks have not always been made with Alder wood. From the 1980s through the 1990s, the "Original" Jenga blocks were reportedly made from Beech wood.
My dad helped design the machines that made them in the early 80s. They are beech. It's possible depending on where they were made. [M B Wood manufacturer in Vermont used beech.] I believe they were outsourced to China at some point.

— Tip from Anonymous Insider
Since Hasbro said today's Jenga blocks are made from Alder wood in 2013, this leaves the 2000s as a decade where we can only speculate about Jenga blocks' wood type.
When did they change from Beech to Alder? The world may never know.
Different Jenga blocks, different materials
Affiliate Link Disclosure – If you see a product you like and click through to buy it, I would genuinely appreciate it. I may earn a small commission — at no extra cost to you. It would mean a lot, thanks!
Jenga Giant edition is a "Premium Hardwood Game" made from "Genuine Hardwood", too! We know how difficult it was to determine the kind of wood classic Jenga blocks are made from, so this one's a mystery unto its own. Good luck!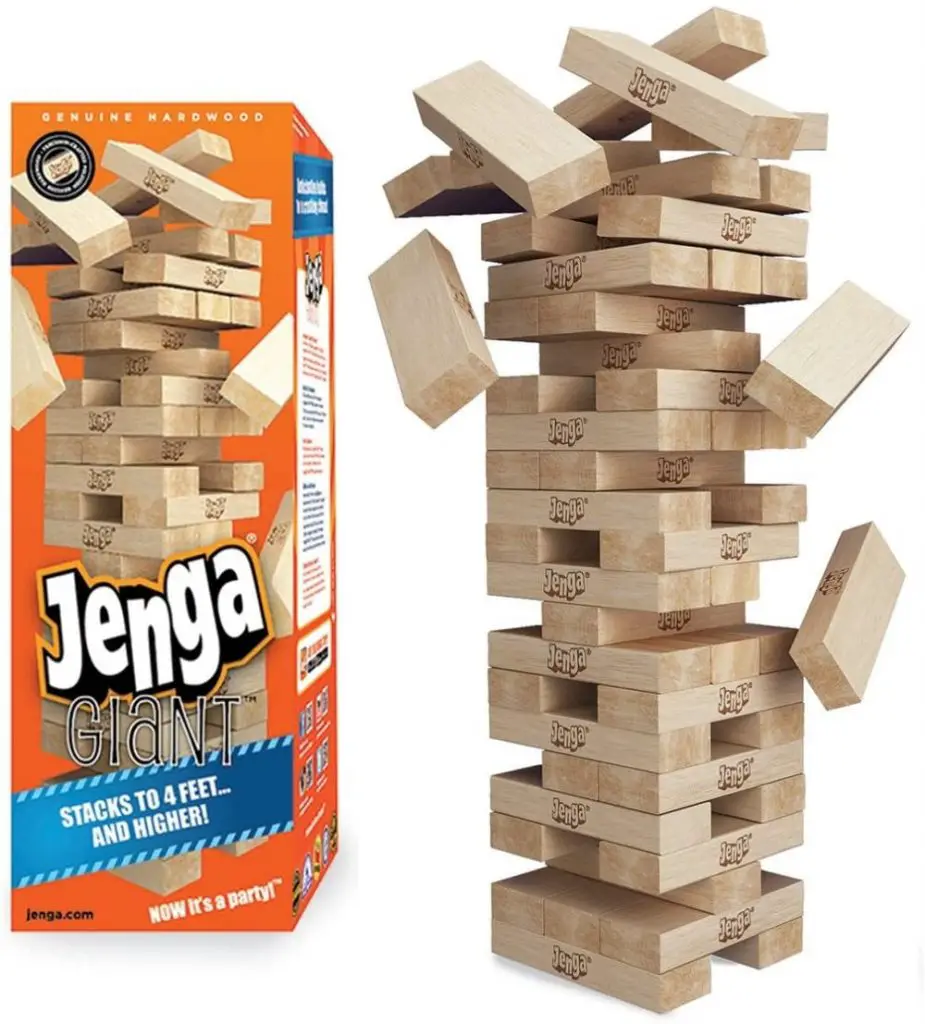 Jenga Tetris edition's translucent colored blocks are made from plastic.
Jenga Ocean edition isn't made from wood at all. It's made from 100% recycled plastic fishing nets. Environmentally conscious with and all new black color — these Jenga blocks are exciting!
For DIY Jenga blocks, it's your choice
If you're preparing to make your own DIY Jenga blocks, you don't necessarily need to choose the same wood type as the Jenga brand.
Handmade jumbling blocks — the generic term for Jenga — can be made with virtually any wood you choose. For your consideration, here are a few types of wood other woodworkers recommend:
Alder wood
Beech wood
Pine wood
Maple wood
Oak wood
Mahogany wood
…whichever type of wood you fancy!
Over to you!
There you have it, you got the answer you were looking for. Jenga blocks are made from Alder wood, at lease since 2013.
As a bonus, you've learned a whole lot of Jenga know-how for the archives.
I hope sharing this sensationalized mystery story with you has made getting your facts straight a little less dull. I'm giving accurate information the best of my knowledge. To reiterate, I do not represent Jenga or Hasbro.
Just like the blocks, it's all in good fun!
If you have any questions or new information, please let me know in the comments below!