Play-Doh is the original sensory toy from before sensory toys were even a thing. Before Montessori and Waldorf hit the mainstream, before you could buy organic toys in just three clicks, Play-Doh was there.
As a kid, I loved the stuff — colorful, squishy, moldable. Back then, the best play dough toys were just my own two bare hands.
Somewhere in the attic, there are childhood pictures of me mixing and mashing together colors into a not-so-attractive yellowish-brown blend, much to my parents' dismay — I'm sure. 
No matter how unsightly my Play-Doh creations ended up, my parents would still reassure me how nice they were and helped me hard bake them. As an adult, I now know just how nice it is to look back on these kinds of silly little childhood peculiarities. Thanks, Mom and Dad.
Modern play dough play
On Instagram…
Versus in real life….
Disclaimer – I don't represent Play-Doh or Hasbro in any way! I love the stuff, I wanted to write this post to help parents navigate the world of play dough play more easily.
Fast forward to today, "Play-Doh" the trademarked brand of children's modeling clay is no longer the only option. Lots of other toy companies offer "play dough" and tools used to play with the stuff. Perhaps due to Instagram, it seems play dough sensory play is at its all-time height in popularity.
What was once just a fun clay play toy, is now the talk of the town for its early childhood benefits. Playing with playdough develops both hand-eye coordination and color recognition — all bundled into one single creative, soothing, and sensory playtime activity. Don't forget it's really fun, too!
Modern-day play dough play is much more in-tune with childhood development best practice. When I was a kid, all I had were my bare hands (still fun), but now kids enjoy tons of different toys for shaping and modeling play dough. 
Household items vs. Store-bought play dough toys
If you take a look around your own home, you might already own plenty of household items that will work well as play dough tools. At Oddblocks, we focus on wooden toys, and the same goes for playdough toys. In general, wooden tools aren't as sharp as their plastic or metal alternatives, which usually makes for a safer play environment. Of course, use common sense to make sure they're kid-friendly and age-appropriate, and use parental supervision when necessary.
To get your gears turning, here are some of the best household items you can use as play dough toys. If you have everything you need already, more power to you!
Rolling pins
Measuring cups
Cooking spoons
Cookie cutters
Tablespoons & teaspoons
Child-safe cutlery (forks, knives & spoons)
Cutting boards & trays
Honey dippers
Chopsticks
Toy hammers
Shopping for play dough toys is tricky
If you do decide to indulge a little, that's what we'll look at next. I've put together my top picks for the best wooden play dough toys out there. You may find inspiration to repurpose some things you already have lying around your home, but I think you'll discover a few new play dough toys you've never seen before, too!
For various reasons, however, shopping for the right playdough toys for your toddler is not as easy as it sounds, and that's what I'll help you with today.
First, that discrepancy between the trademarked term "Play-Doh" and "Play Dough" causes more confusion than you might think. Independent makers of play dough toys need to use roundabout ways to describe their products, so you'll get everything from "play dough" (two words) to "playdough" (one word) to "modeling clay" to "clay dough". It's kind of a mess.
Second, lots of tools you can use for playing with playdough aren't specifically designed for play dough at all. There are two specific camps: bakeware and pottery tools. Baking utensils like rolling pins and cookie cutters are perfect for playdough play, even though they're made for preparing edible treats. Likewise, certain kinds of pottery tools used by adult artisans double as excellent play dough toys.
All the fuss and confusion aside, there's an entire world of toddler-friendly wooden playdough tools out there, if you just know how to look for it. 
Most of the sets we look at are recommended for ages three and up — pretty standard for toddler's wooden toys. But please be aware, there are a few items with pointy-er edges; more appropriate for older kids or when accompanied by parental supervision.
Let's jump right in!
Affiliate Link Disclosure – If you see a product you like and click through to buy it, I would genuinely appreciate it. I may earn a small commission — at no extra cost to you. It would mean a lot, thanks!
All-in-one play dough tool sets
For most parents, getting an all-in-one play dough toolset for your kid is enough, and there are sets to meet every budget. The Play-Doh brand actually offers its own Classic Play-Doh Tools Playset, but if you compare the photo to the product description, you'll find the tools are wood-colored, but they are plastic.
Something's definitely a little off here. When you have to make plastic toys look like wood, it definitely feels like a sign wooden playdough toys are where the magic's at! And that's all we're going to look at from here on out.
This 11-tool all-wooden set from Alex has all the essential play dough tools in one affordable package — everything you need to cut, sculpt, and roll out playdough shapes and patterns. This is one of the only sets on the list with fun colorful little handles to brighten up your day. Plus, it comes with a tray you can use to protect your tabletop and for tidy storage when not in use.
Another 11-tool set, this time from an independent seller hailing from Canada. It's very similar to the first set, with just a few subtle differences. First, I love that grooved wooden pizza-cutter piece. Playdough pizza-cutter tools are a rare find to begin with, but add the funky grooves like a knotty motocross tire — nifty for making tracks in play dough. Second, notice the square-tipped pencil pieces. That'll make quite a unique impression. (Wink, wink.)
The Simply To Play brand is an independent maker from New Hampshire specializing in organic playdough Montessori and Waldorf toys — a top pick for health- and environmentally-conscious parents who prefer natural wooden toys. Their shop offers lots of unique play dough tools to put together a complete playdough play environment, including the two sets shown above if you're starting from scratch. We'll see more from Simply To Play later.
From the Canadian independent Toy Maker of Lunenburg comes a tool set power-packed for pounding! Where other sets focus on more-delicate tools for sculpting and cutting play dough, this set comes beefy wooden mallets and chunky grooved wooden blocks perfect for squashing, cramming, and pummeling that dough. It'll be nice to let out a little frustration. It's a healthy release, and the playdough won't mind — I promise!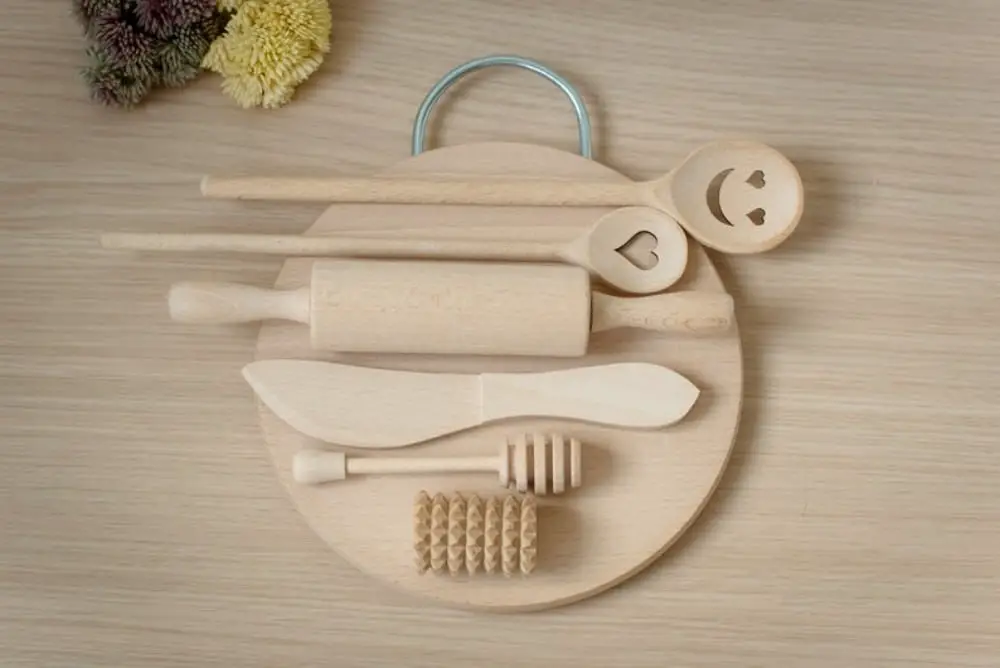 Montessorians is another eco-friendly, non-toxic wooden toy brand I really admire. Their full-featured sensory playdough kits are perfect for safety-first kitchen role-play. Like a child-sized replica of Mom & Dad's baking utensil drawer, you'll be wondering whether you should be prepping real edible cookie dough or playing with toy dough? Hint — you can do either, but if you choose real edible baking, it's best not to use the same set for toy play dough.
Some of Montessorians more complete sets come with a fragrant bundle of lavender, and the smiley face wooden spoon is enough to turn anyone's frown upside down. All around very well thought out ideas!
Play dough rolling pins
From the all-in-one sets above, we've got a well-rounded crash course into the best wooden play dough toys, but there are still plenty of surprises to come! Kid-sized wooden play dough rolling pins are available for purchase alone or in sets, and in both smooth and textured styles. 
One thing to pay attention to when shopping for a rolling pin is whether or not you want the "baker's style" or the "handleless style". Let me explain. "Baker's style" means the common American rolling pin you probably have in your kitchen — that's two pieces and has an actual rolling mechanism so you keep your fingers in place as you roll. "Handleless" means a single solid piece of wood so you need to roll with your palms. It's especially hard to decipher from online pictures, so if you have a strong preference, it's best to confirm before you buy.
Regular & textured rolling pins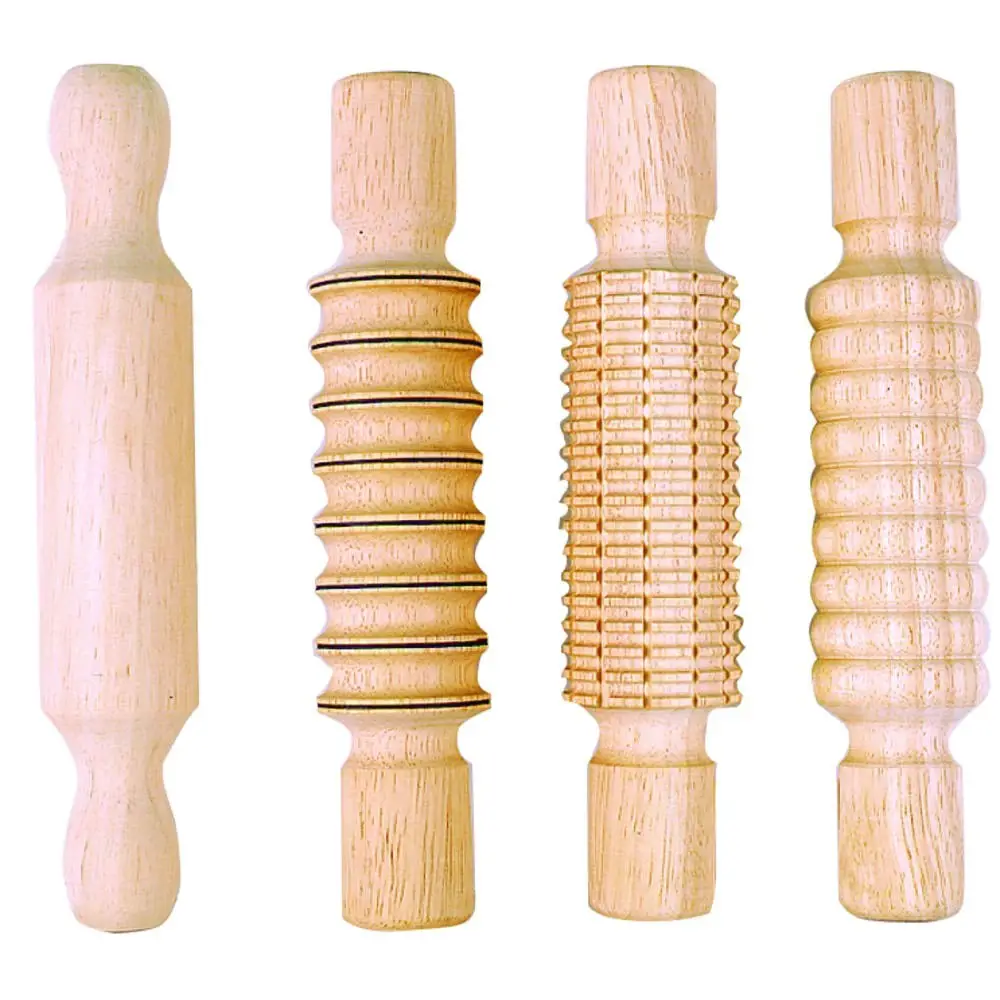 Here are some wooden play dough rolling pins I picked out, to save you the time of searching. There's not much you haven't already seen, so I'll skip the verbose description, but do check out what's next!
Patterned rolling pins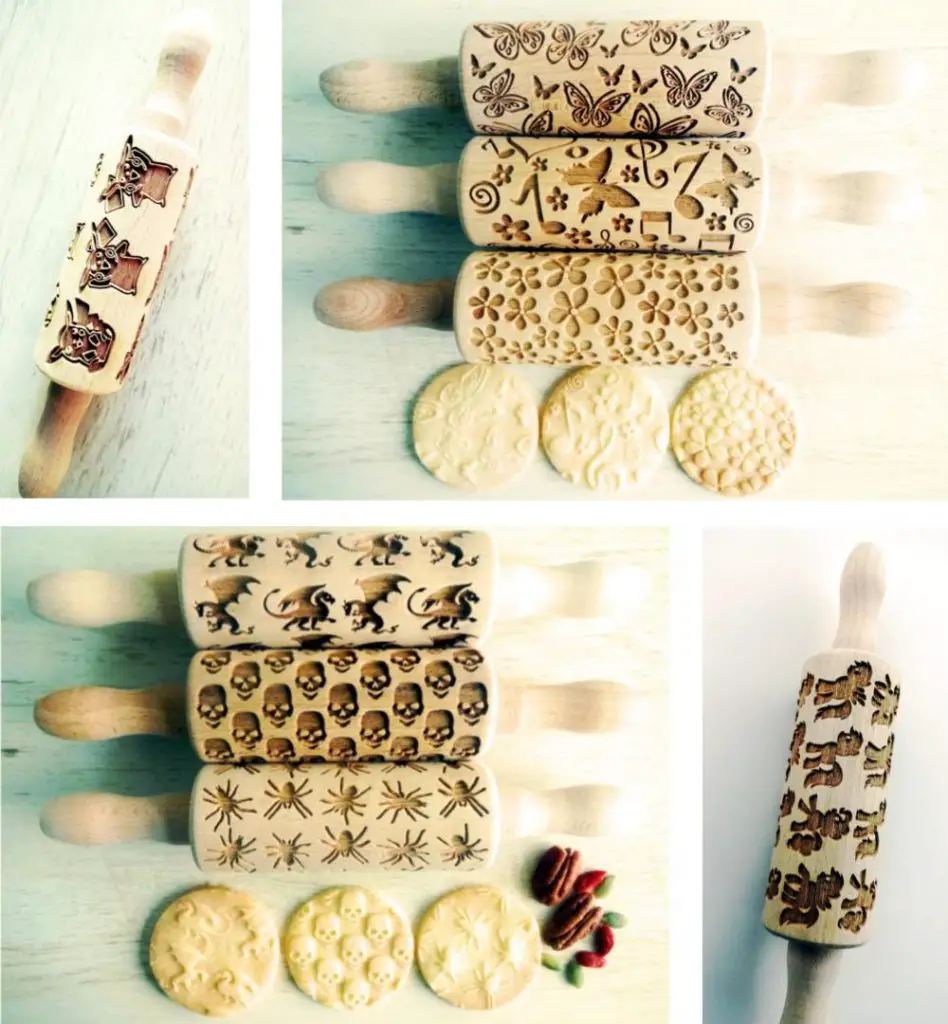 Laser-engraved wooden rolling pins bring a whole bunch of pizazz into your playdough play environment! There are all sorts of themed patterns to pick from — everything from cats to dogs and cars to robots. Pressing patterns into play-dough is so much fun — a very gratifying experience parents and children can both enjoy.
Some people call them "show-off rolling pins" because you'll want to keep it out for people to see. If you're looking for a rolling pin with extra personality, I highly recommend the Dough Roller and Who's She brands, for their wide selection of kid-sized fun patterned wooden rollers!
Personalized rolling pins
Yes, dreams do come true! You can custom-order wooden rolling pins personalized with your child's name or any other word you choose. For a toddler who loves playdough, I can't think of a more memorable gift — which will last for years to come, even into adulthood. You can buy a single rolling pin for your kid, or get a lower price per unit when you buy a set of rolling pins with unique names for the whole family. Check out Dough Roller brand for a single unit, or Algis Crafts brand to buy a set.
Play dough stamps
Wooden playdough stamps add a whole new dimension of fun into your play dough activities. Unlike common rubber crafting stamps made for ink and stationary, these are chunky ergonomic modern wooden blocks easy for toddlers to grasp with pronounced wooden stamp pads to make a bold impression into the play dough.
Alphabet & Numbers Stamps
Alphabet and numbers wooden play dough stamps are 100% parent-approved because they add an educational element into playdough activities — helping your toddler learn literacy and math in a fun new way.
Chickadees Wooden Toys is an independent toy maker from Tennessee specializing in open-ended and sensory play wooden toys, and in my opinion, they make the very best wooden alphabet and number stamps in the entire world. Their alphabet play dough stamp set is double-sided with capital letters on one side and lowercase letters on the other. I don't think there's a more fun way to teach children proper capitalization mechanics. (Mechanics that I seem to have forgotten.)
Chickadees Wooden Toys' numbers play dough stamp set includes five basic math symbols. Again, I just have to give the folks at Chickadees Wooden Toys my grandest star of approval for such an innovative approach to wooden toys Learning math with play dough? Sign me up!
Price is a thing, and Chickadees Wooden Toys' wooden play dough stamps are definitely a bit on the pricier side. The Reverie Kids Shop brand from Oklahoma offers quality handmade alphabet and numbers play dough stamp sets at about half the price. You might even like the playful font Reverie Kids Shop used better!
Themed play dough stamps
When it comes to themed playdough stamps, the tables have turned. Both Chickadees Wooden Toys and Reverie Kids Shop offer fun themed stamps, but Reverie Kids Shop takes home the trophy with their extensive range of playful themed wooden play dough stamps. Animal stamps, nature stamps, holiday stamps, even stamps in the shape of household items — you'll be blown away by their amazing selection. Paper stamps have long been a collectible. Now, I believe wooden play dough stamps are, too.
Play dough sculpting & shaping tools
So far, the rolling pins and stamps we've looked at are well designed with safety in mind for use by young children. If you remember the tool kits before, however, they include some sculpting and shaping tools that are long and narrow pieces of wood, sometimes with pointy edges. So, before I move forward talking about them, I'm going to write it in bold red:
Parental supervision is required for children using sculpting and shaping playdough tools.
Sculpting and shaping tools are an important part of playing with play dough, especially to help your child more precise fine motor skills and dexterity. They allow kids to draw or trace lines in the play dough, which is a very enriching activity. Playdough sculpting tools are the closest thing to professional tools used in pottery and ceramics, so it's no wonder they're less kid-friendly. As a responsible parent, you have a right to be concerned, and I'm happy to report there are excellent alternatives.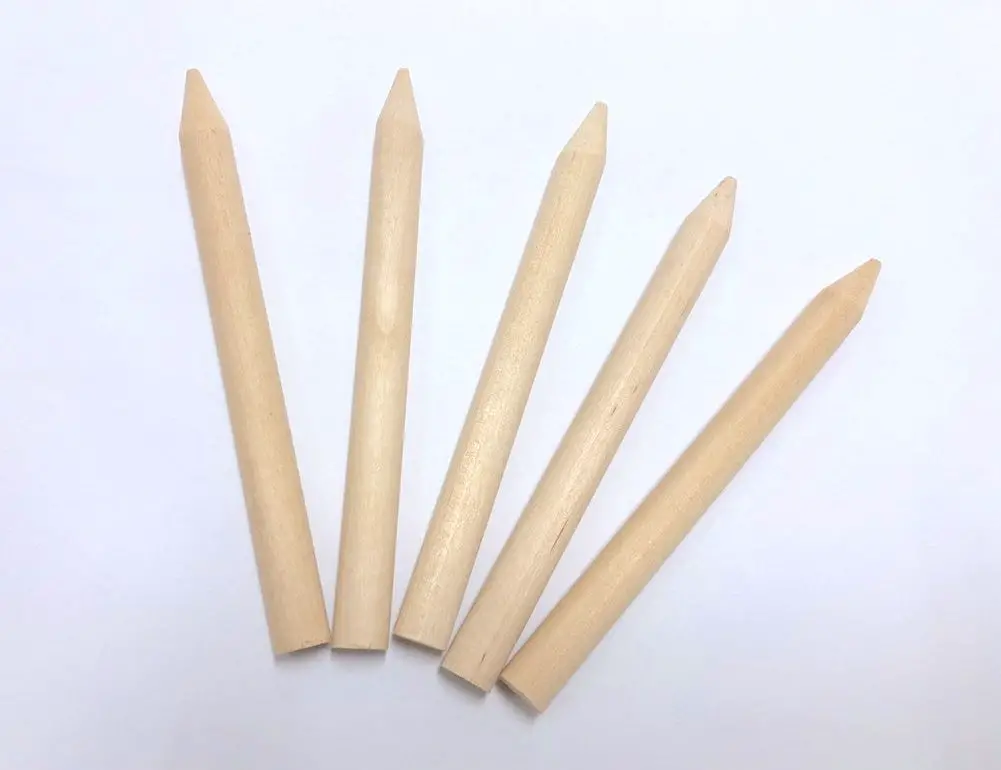 While difficult to find, thick wooden styluses are the safest type of pencil-like play dough tool available. With a bulky circumference and blunt stylus points, independent makers like The Curated Set brand keep preschoolers and kindergarteners in mind when designing their toys. Kudos!
With their smooth edges and rounded shapes, wooden sculpting ribs are the perfect substitute for play dough sculpting tools. Their corners may not be as precise as a pencil-like tools, but that's a worthwhile compromise a concerned parent can approve of.
Over to you!
Colorful and creative — playdough is one of the ultimate sensory toys, even with just your bare hands. Then, when you tool-up with some wooden play dough toys, the experience only becomes more lively and educational.
Setting up an all-star playdough play environment is trickier than most people would think. I hope you've learned something new and exciting today, and I'd love to hear your thoughts.
What's your go-to household item to use with play dough?
Have you ever bought a playdough tool? Wood or plastic?
What's your child's favorite play dough pretend play activity?
Let me know in the comments below!