Tumi ishi blocks are pure beauty in block form — natural wooden balancing stones inspired by the Japanese philosophy of balance, focus, and mindfulness.
Perfect for people seeking simplicity in their complicated lives.
There's good reason to love tumi ishi.
(01) In-Touch With Nature – With unique wood stacking rock shapes and natural wood grains, tumi ishi balancing stones help you achieve balance in your life.
(02) Much Needed Mindful Play – Toddlers, Kids, Teens, Parents — we all need a little more mindfulness in our lives.
(03) For Young People Of All Ages – Enjoy much-needed moments of mindfulness and relaxation through the calming act of balancing wooden stones.
(04) Positive Vibes Wherever You Are – Tumi ishi stones are a welcome addition wherever you and your little one may be — an open-ended play toy in the playroom, a decoration on the coffee table, or a 5-minute relaxation session at the office.
Affiliate Link Disclosure – If you see a product you like and click through to buy it, I would genuinely appreciate it. I may earn a small commission — at no extra cost to you. It would mean a lot, thanks!
Take Your Time
Here's an overview of your zen-tastic balance block options — with more detailed reviews and comparisons below.
Zen blocks? Beautiful tumi ishi wooden balance blocks for kids and adults who appreciate life's simple things.
No need to rush your choice — finding the right set of tumi ishi blocks to fit your family's lifestyle needs to feel good on a personal level.
And if you're interested in a more calm and relaxing playtime — take a peek at our parent's guide to mindful toys.
Top 5 Tumi Ishi Blocks & Wooden Balancing Stones
(01) Rock Blocks Made in USA Wooden Balancing Stones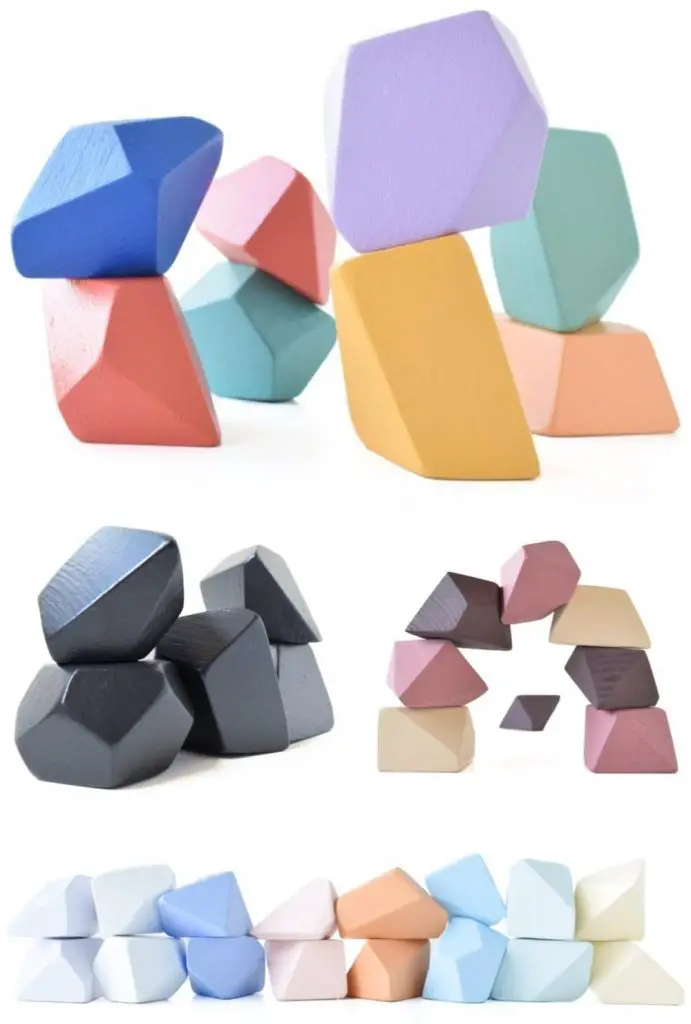 Made in Utah, USA — here's my top pick for modern tumi ishi blocks.
The first thing you'll notice about Rock Blocks brand is their bold angular cut pattern. Each piece is hand-cut with fewer, broader sides than any other tumi ishi block set we'll look at today.
The second thing you'll notice is the wide range of contemporary color schemes. If you love minimal pastels with a nordic feel — you need to check out Rock Blocks brand's tasteful variety of colors.
These balancing rocks are hand-cut and hand-painted — so that no two blocks are the same. Like wooden diamonds — each block is unique.
I recommend Rock Blocks so highly, their wooden zen stones made it into my roundup of the best American-made wooden building blocks.
You just can't find more contemporary blocks — Rock Blocks are fashion-forward!
(02) Tumi Ishi Natural Hardwood Rock Set
Resembling petrified wood — you get gritty knotty wood in all different breeds.
This one's the top pick for parents who prefer organic toys. All-natural hardwood, plus hand-prepared beeswax finish makes this perfectly safe for children and eco-friendly.
Organic-focused parents will be naturally drawn to Tumi Ishi brand's natural wooden zen stones. Each wooden rock set includes a distinct variety of hardwood species sustainably sourced in the United States.
Just like no two blocks are alike — with Tumi Ishi Brand's American-made natural wood rocks — no two toy sets include the same types of wood.
Expect the unexpected — with exciting natural colors, unique wood grain patterns, and different wood densities.
Not to mention — finished with 100% organic jojoba oil and beeswax — Tumi Ishi brand offers a 100% natural wood toy.
Here's a quick tip! Since it's available in 7, 17, or 22 piece sets. If you're on a budget — buying the small set affords you a premium tumi ishi set at a reasonable price.
(03) Areaware Wooden Balancing Blocks
Decisions, decisions!
Areaware brand's vintage wooden balancing blocks are available in vintage-tumbled primary colors or classic whitewash style.
Which one catches your fancy?
For such an innovative type of building block (from the same company who invented the Robot Cube Toy — these oblong balancing rocks have a retro and vintage appeal.
Areaware is a toy company I truly admire. They collaborate and employ some of the toy industry's most forward-thinking toy designers.
Areaware's entire line of wooden toys blurs the lines between toy and art.
For a creative balancing toy like tumi ishi — expect a relaxing break from the rest of you or your child's busy day.
(04) All Alive Colorful Fermented Beech Wood Montessori Stones
Dinosaur & wildlife fans — boy are you in for a treat!
Here's something straight out of Jurassic Park.
With such a wild color palette, All Alive brand's wooden Montessori stones look exactly like prehistoric dinosaur eggs.
With a fermented beech wood texture, I've simply never seen before with other tumi ishi brands — the drastic bold woodgrain lines are absolute eye candy.
They're intentionally handmade to resemble extremely rare petrified wood.
Beech wood Montessori stones like 1,000-year jungle wood? That's a once-in-a-lifetime gift for dinosaur lovers or any paleo-nature historian.
(05) Bestam Toy Budget-Friendly Wooden Balancing Pebbles
Whoever said you can't lead a mindful lifestyle on a budget?
I think a big part of mindfulness is overcoming the grasp of consumerism and financial pressure.
Available in both a 36-piece jumbo-pack or 17-piece large-pack — Bestam Toy brand makes the most affordable tumi ishi balance pebbles.
At under a dollar per zen block (at the time of writing) — this one's your economical fast track to meditative block-stacking stress relief.
Considering most other tumi ishi pebble sets include under 10 or 20 wooden stones — you could even pick up the 36-piece set and split it with a friend. Or keep half at home, half at the office.
With such a variety of calming colors, you can handpick any color palette you fancy, and rotate out colors based on your mood.
Tumi Ishi 101: Gift Guide, Play Tips & Mindful Benefits
What Are Tumi Ishi Blocks?
Tumi ishi blocks are the building blocks of meditation. As irregular-shaped wooden stacking stones, they're a unique type of building blocks for kids and adults.
As a relatively new style of mindfulness toy, they're called by many names — including tumi ishi balancing stones, wooden balancing stones, wooden stacking stones, and the like.
Tumi ishi blocks are rock-shaped wooden blocks that you can stack and balance. As a modern Montessori-inspired version of the spiritual rock-stacking rituals practiced for generations — balancing tumi ishi stones helps you achieve balance in your life.
"Tumi Ishi" (pronounced too-mee ee-shee) is a Japanese word that means piled stones. Why that's translated over to the English language, is because of tumi ishi's reference to the ancient art of balancing stones in nature.
These imaginative wooden stacking stones represent the Japanese philosophy of balance, focus, and mindfulness. We like to think of it like this: zen blocks are like guided mindfulness meditation manifested in the form of a toy.
Believe it or not — despite mindful play's rise in popularity — the "Tumi Ishi" Wikipedia page still doesn't exist!
Regular Blocks Vs. Tumi Ishi — What's The Difference?
Unlike regular flat-sided wooden blocks, zen blocks come in all sorts of odd polyhedron shapes.
They're handmade, so no two blocks are the same.
Compared to square blocks, zen blocks are often considered more challenging to stack. The increased difficulty of stacking tumi ishi stacking blocks is an intentional part of the experience.
Regular building blocks are made for building with blocks — so they're made with broader faces and simpler shapes to make building tall, sturdy block structures easier.
The purpose of zen blocks is different: mindfulness practice for the present moment.
Fashioned from small chunks of wood, and cut like precious gemstones, zen blocks are made for deliberate and delicate balancing — a new type of calming meditation. They offer an unparalleled mindful play experience, boosting focus and attention, and creativity.
Toddlers, Kids, Or Adults – Who Are Tumi Ishi For?
Zen blocks are a soothing balancing toy for children and adults alike. Each set boasts its own unique tranquil color scheme, so it's no surprise they make a unique gift for the people in your life who need a moment of relaxation in their day-to-day lives.
Like your niece, who's already practicing yoga at three years old.
Like your son, who's just starting to learn that math's not that easy.
Like your hard-to-shop-for friend, who spends most of their evenings stuck in the office.
Or for any stressed-out parent who, on a day-to-day basis, has thousands of decisions to make and dozens of errands to run.
Zen blocks offer a moment of peace and relaxation to break up the hectic stressful day and can help anyone gain a little headspace and calmness, even if they're not ready for full-on yoga or mindfulness training.
Think of someone in your life who could use a little break, someone who could use a little stress relief, or someone who's dealing with anxiety and depression. For that very person, zen blocks offer tiny moments of clarity and happiness.
Best Balance Blocks Benefits (Plus, A Meaningful Tumi Ishi Poem!)
Imagine yourself meditating next to a serene rainforest waterfall.
You breathe in and out, listening to the calm trickle water and feeling a cool mist on your skin.
As your mind wanders, you notice a collection of peculiar rocks along the riverside. Full of childlike curiosity, you pick up one stone, and then another.
One by one, you carefully place one on top of the next.
With each stone, you feel a deeper calm, a greater level of focus, and a sensation of oneness with the present moment.

Oddblocks Original Poem 🙂
This is what playing with zen blocks feels like. By simply balancing blocks in any way you like, you can achieve precious zen-like moments full of calm, creativity, and mindfulness.
For children as young as three, zen blocks are a simple sensory toy set for boosting cognitive development, building motor skills, and practicing patience and perseverance.
They'll also teach your little one the beginning steps of how to meditate. For all ages, the benefits of zen blocks extend into various aspects of life. They promote creative out-of-the-box thinking and creative problem solving, as well as offering much-needed moments of inspiration and relaxation.
Balancing, Stacking, or Parent-Child Game – How To Play With Tumi Ishi?
Zen blocks offer a completely open-ended play experience. You can stack, sort, mix, match and balance them any way you choose.
Individual zen block pieces vary in size. Naturally, it's easier to balance smaller pieces onto larger pieces. But if you get into the flow and feel like challenging yourself, try the opposite — placing larger pieces on top of smaller pieces. Whichever way makes you feel better, just follow your heart — that's exactly how you should play them.
Practicing mindfulness with your zen blocks doesn't mean you can't have fun with them, too! Playfulness and laughter are great ways to relieve stress.
Try assigning one aspiration to each piece you put in place. As more and more of your aspirations come together, your wish will come true! Pair up with your child or a friend to play a game of Jenga, taking turns to add a piece without toppling the stacking stones over. There's no winning or losing. Whoever tips over the stone pile has to pay the other person a compliment.
Zen blocks are beautiful. For this very reason, they're wonderful to keep displayed at home or in the office when not in use. Arrange them on your bookshelf or coffee table at home. Or keep them on your desk at the office. Each time your zen blocks enter your field of vision, you'll feel the positive vibes. They just have that kind of aura around them.
3 reviews for Natural Wood Zen Blocks
Spread The Love!
Age-appropriate for ages 3 and up — zen-tastic tumi ishi blocks offer an unusually relaxing block play experience.
Perfect for people seeking simplicity in their complicated lives.
Yes, for young-spirited people of all ages — toddlers, kids, teens, adults, and seniors too — wooden balance stones help you have moments of stress-free and mindfulness through the calming act of balancing wooden stones.
Get in touch with nature, get some much-needed mindful play, and spread the positive vibes!