Achieve the American dream for your child early in life — with a handmade wooden dollhouse prime for purposeful pretend play.
Environmentally friendly, parent-approved for safety, and made by American companies you can trust — today, you'll discover a curated collection of the best non-toxic wooden dollhouses made in the USA.
To practice social skills, learn problem-solving, and create fanciful narratives — dollhouses are a tried-and-true childhood playtime favorite.
For wooden toys made in America, you've come to the right place.
Ladies and gentlemen. Guys and dolls. Let's play house!
Affiliate Link Disclosure – If you see a product you like and click through to buy it, I would genuinely appreciate it. I may earn a small commission — at no extra cost to you. It would mean a lot, thanks!
America's Best Handmade Wooden Dollhouses Quick List
In a hurry? Here's where to buy a non-toxic dollhouse to match your kid's personality. Each one is made in the USA with eco-friendly materials — safe for your child and the environment:
1. Elves & Angels – America's Favorite Dollhouse
Made in Maine
Price: $$$ (Average)
Wood: Northern white pine, birch, or cherry
Finish: Natural Danish Oil
Age: 2+ years

Elves & Angels (a.k.a. A Toymaker's Daughter) is a family-run business selling heirloom-quality wooden toys and furniture for over 30 years.
Alongside their wooden play kitchens and kid-sized furniture — large wooden dollhouses like these are right up their alley!
From a design perspective, you can't argue with Elves & Angels simple classic stylings, some models with graceful Waldorf-inspired curves. The dollhouses are open-faced for easy accessibility — so your kids won't have to stretch to reach the back-end corners.
With details like stairs dolls can climb from story to story, smooth-rounded half-height room dividers, and optional balconies on their two-story models — Elves & Angels' dollhouses are full-featured for playability.
The dollhouse construction is held together by smooth-headed wooden nails — indicating top-quality craftsmanship without sharp metal nails or icky sticky glues.
Their dollhouses are offered in your choice of wood — pine, birch, or cherry. Pine is a softwood and therefore is the more affordable option. Birch and cherry are premium hardwoods and therefore cost more.
Diversifying their wood choices is one way Elves & Angels makes purchasing an American-quality wooden dollhouse more inclusive — and demonstrates their good-natured company values!
One thing to note — their dollhouses do not include furniture or dolls. You'll need to buy those separately. After forking out a few hundred dollars for a handcrafted dollhouse — that's a little bit of a bummer.
→ See more from Elves & Angels on Etsy.
2. Palumba – Waldorf-Inspired Dollhouse
Made in Michigan
Price: $$$ (Average)
Wood: Cherry and maple
Finish: Handmade beeswax polish
Age: 2+ years

Palumba (a division of Camden Rose) specializes in natural toys, wooden kids' furniture, and children's art and crafts.
With a special knack for Waldorf-inspired design principles and a hearty selection of hardwood playthings, it's no surprise they make two extra whimsical wooden dollhouses.
The first thing you'll notice is the enchanting curved shapes incorporated onto the walls and roofs. As a home fit for fairies and gnomes, Palumba's wooden doll houses radiate magical wonder more than any dollhouse under the blue sky.
The endearing feeling it gives you — pondering childhood at its purest — almost brings a tear to the eye.
Palumba's designed their dollhouses with friendship and collaborative play in mind. Their two-story dollhouse keeps the front and back wall spaces completely open — making it easily accessible for two children to play with at the same time.
With iPads, apps, and solitary screen time more and more prevalent in our children's lives — a little face-to-face collaborative play couldn't come at a better time. Palumba understands shared moments are important.
Similar to the Elves & Angels models, Palumba's dollhouses are held together by wooden nails — which is something you only get from top-quality craftsmanship. Perhaps even better than Elves & Angels — Palumba's nails are sanded completely smooth without any protruding nail head at all.
Palumba's dollhouses are both smaller and more affordable than Elves & Angels'. And the price is approximately correlated with size. So, if you have less space to store a dollhouse, you might choose Palumba over Elves & Angels.
Palumba makes an excellent selection of tiny wooden dollhouse furniture — but just like Elves & Angels, you'll need to buy accessories separately.
To be emphasized once more, Paluma offers just two dollhouse models — where Elves & Angels offers about a dozen (at the time of writing). Both brands value quality over quantity, but Elves & Angel's greater number of models may indicate a deeper level of dollhouse expertise.
Why am I comparing the two brands so much? Because their styles are similar enough that if you like one, you like the other. So highlighting these subtle differences can help you make the right decision for your circumstances.
→ See more from Palumba on Etsy.
3. Manzanita Kids – Modular Dollhouse
Made in Washington
Price: $$ (Affordable)
Wood: Baltic birch plywood
Finish: Unfinished
Age: 18+ months

A refreshing take on the classic dollhouse — Manzanita makes wooden modular dollhouses.
The walls, floor, and roof pieces slide together like a 3D puzzle — with literally hundreds or thousands of possible combinations (depending on the model you purchase). By adding a DIY element of construction play — Manzanita adds a stimulating educational experience to a toy that's traditionally pre-constructed.
Manzanita offers an ample selection of about 12 different dollhouse sizes, models, and themes. That gives shoppers a flexible price range to choose between — from budget-friendly dollhouses alongside their full-featured modular sets.
Not to mention the variety in styles lets your kiddo make a different world each day — check out their wooden castles, forest tree houses, schoolhouses, firehouses, owl houses, octopus houses, elephant houses, and of course regular houses. 
If you fall in love with your first modular dollhouse — there's tons of opportunity to build out an entire neighborhood with their interchangeable modular pieces.
The unique modular design also means easy storage. When not in use you can take the wall pieces apart, stack them back to back, and store them flat on a shelf. Compared to most bulky dollhouses that don't disassemble at all — Manzanita's build-it-yourself dollhouse a great pick for families living in small apartments without much space. There's something very "Marie Kondo" about that!
At face value, a dollhouse made of plywood doesn't sound that attractive. For people who appreciate wood's natural beauty, hardwoods like cherry and maple are probably a better choice.
But that's not to say Manzanita's choice of unfinished birch plywood is poor quality. Not at all! For the purpose of modular panels that fit together, plywood is a good choice — lightweight, sturdy, and still looks nice with its light-colored wood grains.
→ See more from Manzanita Kids on Etsy & Amazon.
4. Lapp's Toys – Amish Made Dollhouse
Made in Pennsylvania
Price: $$$$ (A little pricey)
Wood: Maple
Finish: Unknown stain & varnish
Age: 3+ years

Handmade by Old Order Amish craftsman in Lancaster County, Pennsylvania — here's a foldable wooden dollhouse crafted using traditional woodworking methods passed down from generation to generation.
Alongside their wide selection of traditional Amish wooden toys and furniture — Lapp's specialized in large wooden children's items. (I think we're starting to see a pattern here!)
Back to the dollhouse at hand — with metal hinges on the chimney — the boxy house quickly folds out 180-degrees, so your child can tinker inside rooms on both sides of the interior.
Plus the handle on the top makes for easy carrying and transportation. At least by an adult — made of hearty maple hardwood, the dollhouse weighs 15 pounds!
Lapp's makes wooden furniture to perfectly fit — but you'll need to buy those separately. Unfortunately, it appears just about every USA-made dollhouse makes accessories into an upsell. (Not only Lapp's.)
One thing to note — some shoppers might be immediately attracted to Lapp's merely by the fact it's om Amish made. However, Lapp's only offers one single dollhouse model. Compared to other dollhouse companies we've looked at so far — Lapp's is the least specialized in dollhouses.
Especially considering its small-ish size and high-ish price — Lapp's isn't the one I'd personally recommend. You are entitled to your own opinion, of course.
→ See more from Lapp's Toys on Etsy & Amazon.
5. Martin Dollhouses – Dollhouse Kit For Barbie Dolls
Made in Texas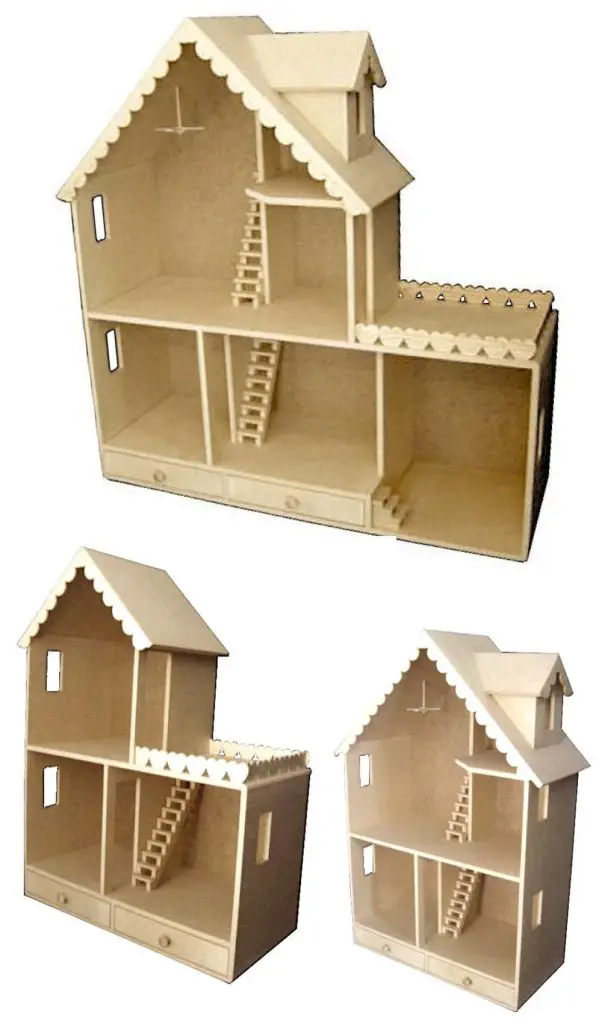 Price: $$$$$ (Very pricey)
Wood: Baltic birch
Finish: Unfinished (Ready to paint)
Age: 4+ years for play, Adult needed for assembly & painting

As an unusual entrant into the world of wooden dollhouses — Martin Dollhouses exclusively makes Barbie-sized wood dollhouse kits.
The very first thing you'll notice about Martin's Dollhouses is their tall and lofty stature. The standard height of a Barbie doll is 11.5 inches. Martin Dollhouses range from two to three stories tall — with each story nearing 20 inches tall. Even the new "tall physique" Barbies will comfortably stand inside.
But before she moves into her new dollhouse mansion — remember this is a DIY dollhouse craft kit. Full assembly is required, and you'll need to paint and decorate it to Barbie's personal taste.
The dollhouse itself is designed for children ages 4 and up, but putting it together will need full attention from an adult. If you're up for the project, the kit comes with all crafting tools included — wood glue, wood putty, a hot glue gun, glue sticks, nails, and a carpenter's square. You'll still need to pick out your own paints.
If that sounds intimidating to you, you'd probably be better off buying a good ole-fashioned pre-made dollhouse.
The bottom of each dollhouse is lined with functional pull-out drawers — because we all know Barbie needs storage space for her wardrobe. Martin's accepts custom orders too, for personalizing the look of your windows, doors, and roof shingles.
Personally — not my cup of tea. But for Barbie-doll lovers — this is the kind of dollhouse that makes dreams come true.
→ See more from Martin Dollhouses.
Where To Buy American Made Dollhouse Dolls & Accessories
Your brand new dollhouse arrives in the mail, but you forgot the dolls — wouldn't that be an awkward situation?
You'll be happy to know that some of the same American companies that make dollhouses also make dolls and doll furniture to inhabit them.
Wildflower Toys (Available on Etsy) — Famous for their handcrafted fairy dolls, here's a Californian dollmaker who carries forward a tradition of kindness — with America's best selection of felt dollhouse dolls. Check out their DIY peg doll painting kids and doll sewing kits, too.


Palumba (Available on Etsy) – Yes, the same Palumba out of Michigan as above! Before you hit the checkout button, check out their adorable selection of tiny hardwood doll furniture. They're made to perfectly match Palumba dollhouses, but fit other dollhouses too.


Wooden Peg Dolls on Etsy – Just in general, Etsy offers the world's best selection of hand-painted peg dolls to go with your dollhouse. Since each peg doll creator adds their own artistic personality — I couldn't possibly pick just one. But you can for yourself!
How Doll Play Helps Your Child Learn & Grow
Dollhouse play has all kinds of developmental benefits for your child's growing mind.
From a cognitive perspective, handling and manipulating dolls and tiny furniture helps boost basic cognitive abilities — like fine motor skills and hand-eye coordination.
From a socialization perspective, doll play means playing house on a miniature scale. 
Your child plays out the same kinds of situations they see in their own home. They'll take care of their dolls, have the dolls interact with each other, and reenact household scenarios they've learned are the social norm. 
For parents, it's a reality check to understand the kind of social norms your child is learning in daily life. What he or she imagines is based on their understanding of the world around them.
You can get involved to direct your child's doll play in a positive direction — acting as a role model of best behavior.
For example, you have an opportunity to teach your child how to resolve conflicts constructively, how to collaborate with friends — or even more practical — how to pull your weight doing household chores.
Non-Toxic Dollhouses 101: What To Look For
When choosing a dollhouse for your little one, safety and durability matter. Before you buy, there are a few main things to think about.
Choosing a wooden dollhouse is a step in the right direction, yet not all wooden dollhouses are created equal. Hardwoods like maple, cherry are the best kind of wood — both high-quality and long-lasting. 
To double-check that the dollhouse is chemical-free, take a look at what finish is used on the wood. Some varnishes and stains contain formaldehyde, phthalates, or lead — not good for your little one. Look for dollhouses with a non-toxic finish — like organic beeswax or natural oil.
Buying a dollhouse made with top-quality materials keeps your child safe, gives you peace of mind — and leaves a smaller footprint on the environment. You'll find American-made dollhouses adhere to these standards much better than those made overseas.
One thing to watch out for. Lots of companies (none on this list) try to hide the fact that they're using sub-par materials by using blanket terms like "natural wood" or "child-safe finish".
So when a company tells you upfront — specifically what kind of wood a dollhouse is made of and what finish is used — that's a really good sign.
Wooden Dollhouse Showdown: Made in America vs. Made Overseas
For all the reasons we've covered so far — I'm pretty pro-American when it comes to dollhouses. It's true, however — that American-made wooden dollhouses typically cost more than their cousins made overseas.
As a person who knows money doesn't grow on trees, I appreciate the value and cost savings that overseas-made dollhouses offer. And honestly, there are some great brands and wonderful products, too.
You can expect lower-quality wood and a few more plastic or metal parts than an American-made dollhouse — but no one should feel ashamed for trying to save a buck where they can. 
Here are a few "NOT made in America" wooden dollhouses to check out. Not just any dollhouse — in Oddblocks style, these too are beautiful simple wooden dollhouses: 
In Wooden Dollhouses We Trust
There you have it — a coast-to-coast road trip of the best handmade wooden dollhouses America has to offer!
You and your little one are sure to enjoy countless hours of pretend play — with a little doll family as happy as your own.
I'd love to hear from you! What are your favorite doll house play activities? What other accessories go great with a dollhouse? Let me know in the comments below!