Creating a safe environment for your child to play is as easy as following a few simple steps. Let's check them out.
Today you'll learn everything you need to know about (1) climbing activities that are safe for your toddler (2) parent's guide to toddler climbing safety guidelines (3) the safest climbing toys to start with.
Affiliate Link Disclosure – If you see a product you like and click through to buy it, I would genuinely appreciate it. I may earn a small commission — at no extra cost to you. It would mean a lot, thanks!
Toddler Climbing Activities & Ideas
1. Make An Indoor Obstacle Course
What's not to love about a DIY obstacle course made from materials you already have in your home?
Turn furniture and other household items into a little playground in your living room. Including climbing activities like:
Walking across the couch cushions
Crawling under the dining room table
Stacking up a pile of pillows
Building a play fort with furniture
Stepping stones to practice balance
Constructing a couch cushion wall
Crawling through large cardboard boxes
CLimbing adult-sized stairs with supervision
Other creative ideas in your home
2. Give Toddler Yoga A Go
Yes, toddler yoga is a thing!
Yoga is great for young kids with benefits like:
Strengthening muscles
Getting healthy exercise
Increasing balance & flexibility
Improving focus & mental health
You could try this idea now without any equipment at all!
A simple set of kids' yoga cards will give you unlimited ideas about how to do yoga with your toddler.
It's activity parents can do together with their child.
Naked floors with or without carpeting are suitable for yoga. As long as you and your toddler are comfortable, any surface is OK.
For added comfort and a professional feel, check out toddler-sized yoga mats and yoga blocks.
Both make yoga a little more soothing — and may make it easier to introduce yoga to your toddler (with these shiny new toys).
3. Build A Giant Block Tower
Here at Oddblocks, we love blocks!
Indoor block towers present (1) a creative opportunity for your child to build cognition and problem-solving (2) a healthy physical activity where your toddler reaches both high and low.
If you're looking for things in your home to substitute for building blocks, try couch cushions or yoga blocks for best results.
Or if you're looking to buy a giant block tower — try a set of wooden building blocks or cardboard building blocks.
Yoga blocks make a perfect large building block set for babies and toddlers. They're light and fluffy and stack like bricks. You may only need a set of two or four to get your baby started.
4. Wear A Safety Harness
Some parents don't like safety harnesses because — they say it's like a pet leash for your toddler.
But if you're looking to keep your toddler within close reach during climb time, a toddler safety harness certainly does that!

Toddler Climbing Safety: Parent's Guide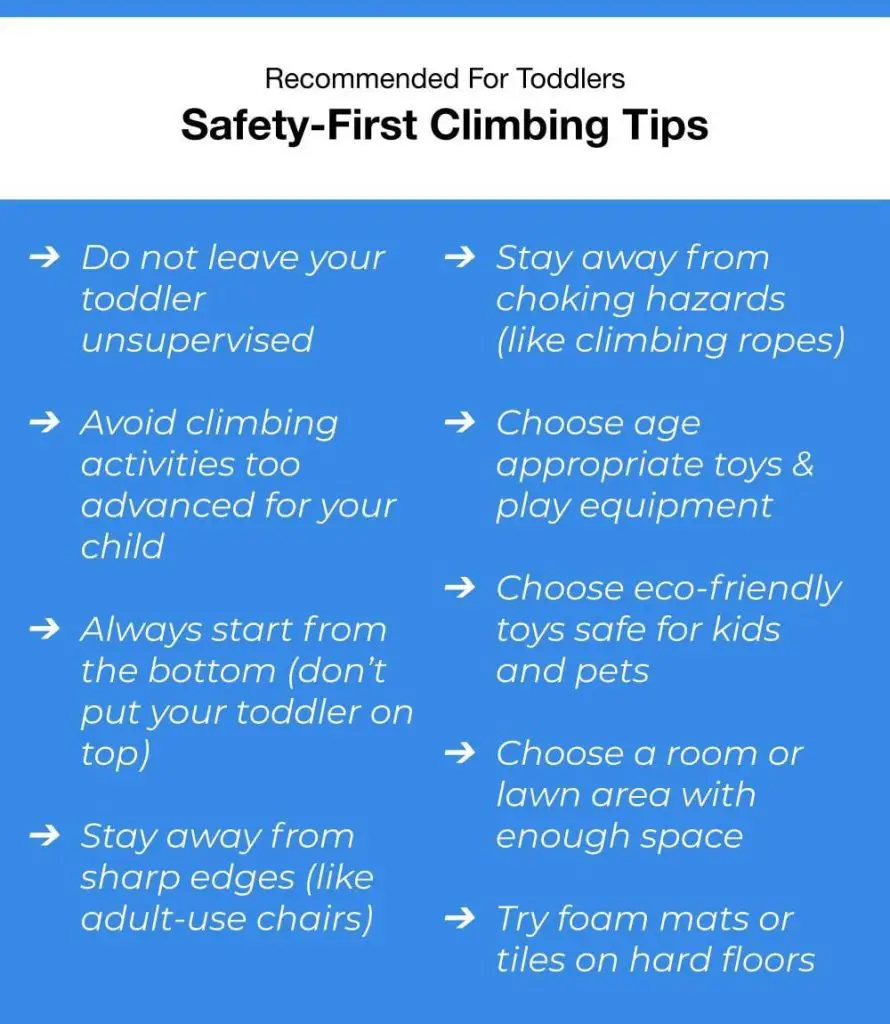 Climbing For Toddlers? Why It's A Great Activity
Climbing activities promote toddlers' gross motor skill development and strength building.
That means large muscle groups and full-body movements.
Giving toddlers space to explore their body's abilities and try new things is so important!
For families where sports are important — starting climbing early will put your toddler on the right track to sports success down the road.
Staying healthy and active with routine exercise is the perfect way to instill positive habits from an early age.
You can start without any equipment at all. Or you could shop for indoor climbing toys for the best experience.
Is Climbing Safe For Toddlers — Or Dangerous?
With proper preparation and supervision — yes, climbing is relatively risk-free for toddlers.
Common toddler climbing injuries include things as minor as skiffs and scuffs to more dangerous accidents like falling down and bumping their head.
Preparing correctly will make your climbing environment safer and reduce the chance of injury altogether.
Remember, not all climbing activities are suitable for toddlers. Don't introduce your toddler to any climbing equipment that's too advanced for their stage of development. Don't encourage your toddler to attempt feats beyond their level.
If we provide enough space and possibilities for moving freely, then the children will move as well as animals: skillfully, simply, securely, naturally.
Dr. Emmi Pikler
Let your child go at their own pace. They may start out slow, but believe me — they'll be climbing soon. Eureka!
Climbing Safety Setup & Precautions
How to set up a safe climbing environment for your toddler?
Here's a list of things to look for — and a few things to avoid.
By making the right preparations you'll reduce the chance of injury for your toddler, and provide an even better environment for gross motor development.
Do not leave your toddler unsupervised
Avoid climbing activities too advanced for your child
Always start from the bottom (don't put your toddler on top)
Stay away from sharp edges (like adult-use chairs)
Stay away from choking hazards (like climbing ropes)
Choose a room or lawn area with enough space
Choose age-appropriate toys & play equipment
Choose eco-friendly toys safe for kids and pets
Try thick foam exercise mats or interlocking tiles for an added level of safety on hard floors
How do I stop my toddler from climbing on furniture?
When toddlers start climbing on everything — lots of parents wonder just how safe climbing on furniture is.
They may be climbing on something dangerous. And there are ways to manage your climbing toddler.
To stop your toddler from climbing, try to redirect them to superior exercise activities. Ask them to go to the backyard, maybe go for a walk in the neighborhood.
Indoors, you could break out the couch cushions or try toddler yoga without any specialized equipment. The idea is to present a better climbing option to your child.
Truth be told — it's often better to provide play equipment designed for climbing.
For example, a Pikler triangle is much safer than climbing on chairs. It's designed specifically to promote toddlers' gross motor skills.
Safety Recommended Climbing Toys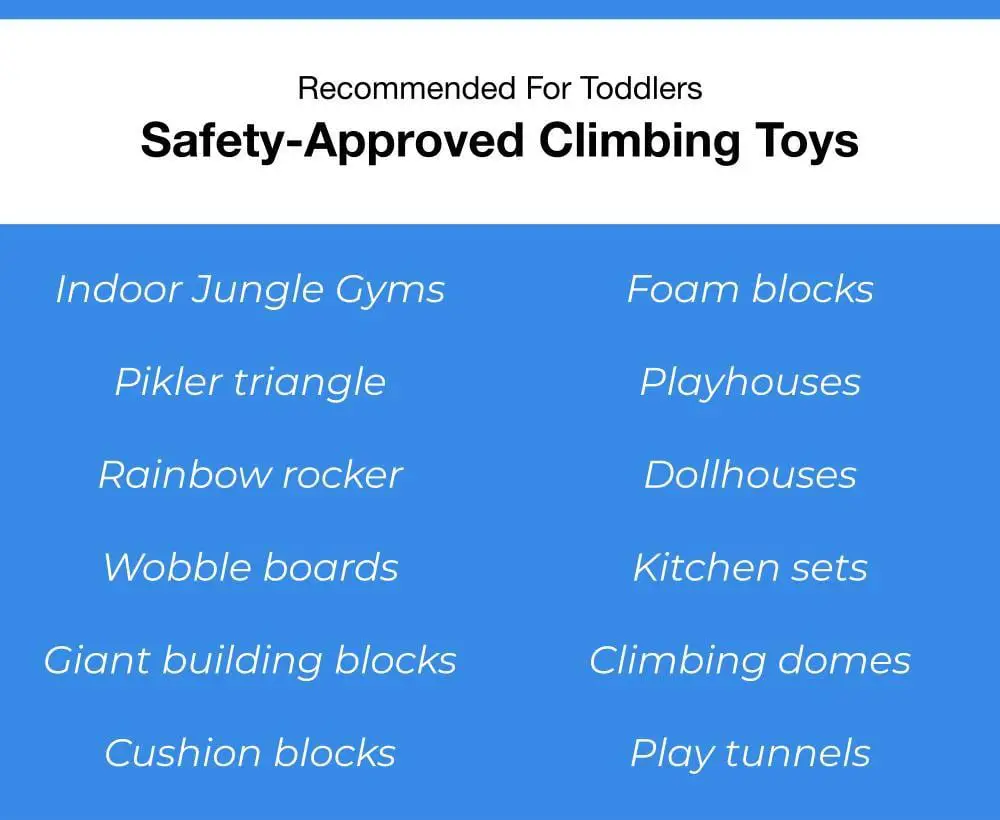 Buying products specific for toddlers' indoor climbing is like buying a tool specialized for the job.
Getting your toddler up and running doesn't have to be as labor-intensive as installing a rope ladder or rock climbing wall.
Most toddler climbing equipment requires light assembly and comes with everything you need right out of the box. It's easy to set up.
Especially when your toddler's safety is in question, it's worth the investment.
Safety-approved toddler climbing toys offer dozens of different play activities — plus an age-appropriate climbing environment.
Here's our parent-approved list of safe toddler climbing toys to start with.
Indoor Climbing Toys – All kinds of large-scale toddler climbing toys like playgrounds, jungle gyms, ladders, slides, and other toddler climbing gear.
Pikler triangle – The best value starter-pack for indoor climbers
Rainbow rocker – A climbing arch that flips over to rock back and forth
Wobble boards – Delightfully curved multi-use toddler balance boards
Giant building blocks – Things like Giant Jenga, cardboard bricks, or foam climbing blocks
Soft climbing toys – To make a cushion castle like The Nugget or foam blocks
Dollhouses – Multi-story wooden play buildings as tall as your toddler
Kitchen sets – As long as your toddler can reach over the counter
Indoor wooden climbing dome – A super innovated climbing toy like modern Montessori
Play tunnels – A tubular way to get your toddler crawling
Let the climbing begin!
By following simple advice, you can enable your toddler to explore the world of climbing, and set them on the right track towards a healthy lifestyle for the future.
I'd love to hear your experiences managing a toddler who just wants to climb — or your parent-tested safety tips! Let me know in the comments below. How did it go?